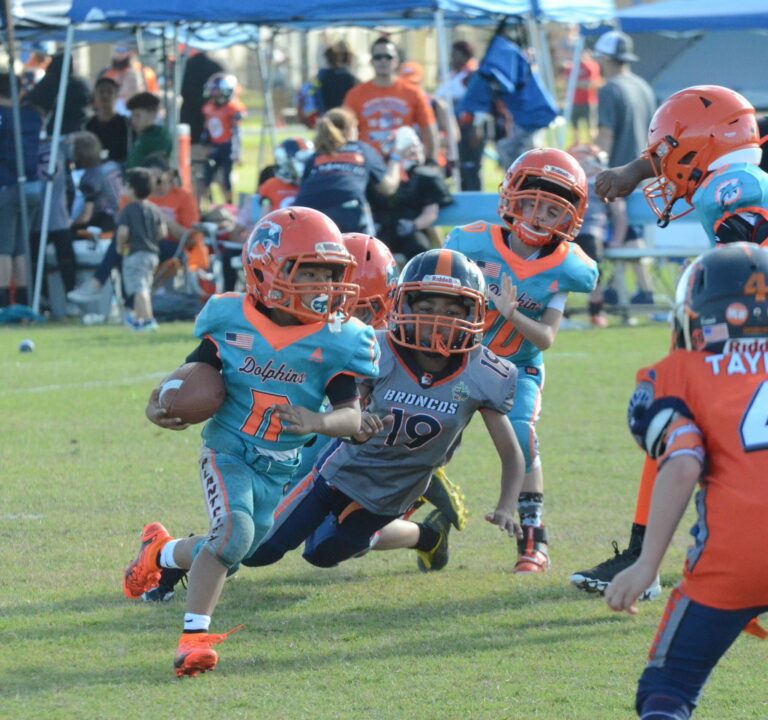 The Colts and Dolphins are geared up for youth football again.
The Plant City Colts' and Plant City Dolphins' youth football and cheer organizations are primed and ready for the 2021 season.
The Plant City Colts shut down their organization last season due to the COVID-19 pandemic following a successful season in 2019, a year in which all five of the organization's age groups reached the Mid Florida Football And Cheer Conference playoffs, so a return to the field couldn't come quick enough for players, cheerleaders, coaches and parents.
Despite fears that some players who had opted out of the season or played with other organizations in 2020 would not return, the Colts' community proved strong as teams once again filled their rosters quickly.
In July the MFFCC held their yearly jamboree and it appeared as though the Colts were ready to return to action. The following week however, as the Colts prepared to kick off their season against the Lakeland Storm, positive tests in both organizations forced their Week 1 slate of games to be rescheduled.
The Colts, led by president Angelo Murray, then held an event that allowed all players, parents, family members and coaches who were eligible and willing to be tested and vaccinated.
"You must always think about the kids," Murray said. "That should be the first and foremost thought about what's safe for them and what's good for the kids, that was my thought process when I started trying to figure out how we get tested and be proactive."
The following week the Colts' games were cancelled again, this time due to inclement weather. But by Week 3 their teams were finally able to get back on the field and playing against the Frostproof Dawgs, with three of their five age groups successfully playing and winning their first official contests in over a year.
2021 proves a new horizon for the Plant City Dolphins as well. After being long-time members of the Tri County Youth Football & Cheerleading Conference, the Dolphins made the transition to Pop Warner Football.
In 2020 the Dolphins opted to play, avoiding any COVID-related issues other than a late start, en route to a playoff appearance for each age group that included two undefeated Super Bowl winning runs from their tiny mite and mighty mite teams and an undefeated run that fell just short of perfection with a loss in the Super Bowl from their junior varsity team. Outside of the white lines, the Dolphins racked up multiple cheerleading championships last year as well.
Buck Chapman, the equipment manager for the Dolphins' organization, pointed to opportunities for a full schedule of games, academic scholarships for players and a higher level of competition — in both football and cheerleading — as reasons for the move to Pop Warner.
"They've got scholarships, they provide scholarships to kids for college," Chapman said about Pop Warner. "It's academic. [It shows that] it's not all about being a great athlete, it's about being academically strong, that's the main thing. Cheer is really, really competitive and we're hoping that the football is more competitive. They do have a National Championship, a true National Championship, that you have to reach and play in to win."
The Dolphins played in their jamboree last weekend with their season opener scheduled for this coming Saturday.