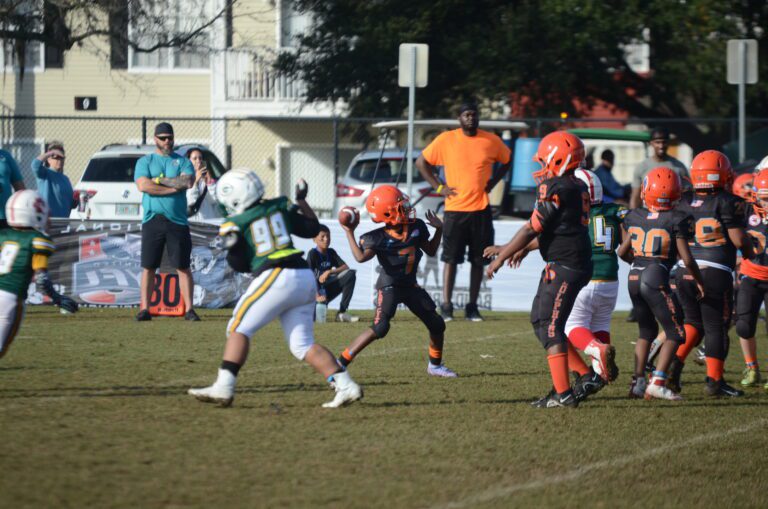 2022 Football Preview
Last year the Plant City Dolphins made their move away from the Tri County Youth Football & Cheerleading Conference to Pop Warner in search of a higher level of competition, making their mark immediately.
In the FYD/Tampa Bay Conference, the Dolphins were able to secure conference championship appearances for all four of their teams, coming from the 8U, 10U, 12U and 14U divisions. And while all four made conference championship appearances, the 8U, 12 U and 14U teams were crowned champions and advanced to the regional tournament.
It was an easy move to Pop Warner according to new organization president Van Paulk, and he's excited for their second year in the organization to get rolling.
"It was a smooth transition," Paulk said. "Pop Warner is pretty structured, a very structured organization. With FYD we represent our community, we represent the Dolphins but we also represent Pop Warner. It was a lot smoother then we thought it would be and we're running pretty smooth right into it again this year."
Paulk took over as president of the Dolphins' organization this year, following his long-time friend Eric Lawson.
"Me and Eric Lawson, the old president, we used to play youth football together," Paulk said. "So being at the Dolphins is just a family thing, being there for the kids. And what the Dolphins do for the kids in this community is just very inspiring and I want to give back to the kids, the same thing that was given to me when I was a youth. It all makes the organization stronger because we are a family and that's what makes the Dolphins who we are, we're just a big family out there. Everything we do is for the kids."
The Dolphins are going strong with 270 kids participating, enough to easily fill all five football teams and even add an additional sixth cheerleading squad for the upcoming season. The organization will take part in a jamboree in Fishhawk this Saturday, Aug. 20 before hosting the Fishhawk Spartans for their home opening weekend the following week on Aug. 27.
After sending all five of their football teams to the Mid Florida Football and Cheerleading Conference playoffs for the first time in 2019, the Plant City Colts temporarily shut down their program in 2020 due to COVID-19. The Colts rebounded in 2021 with a resurgence, returning to nearly full participation and once again finding success.
Last season the Colts sent three teams to the Super Bowl, with their Pee Wee and J.V. teams coming away victorious and their six-and-under flag football team falling just short of a championship of their own.
In 2022 however, the Colts will be shutting down again for unrelated reasons and hope to once again bounce back stronger in 2023.
Alternatively, a large percentage of parents and players from the Colts organization have made a move to revive the Bealsville Eagles' program that hasn't been active since shutting down due to COVID, according to former Colts coach Bryant Stallworth.
"We've retained about 90 percent of our kids and parents," Stallworth said. "If anything, our word of the year is perseverance. It's been a lot but in the same token, we've been blessed. A lot of local businesses have donated to us and we've been able to do some tremendous things as far as fundraising despite being behind the eight ball."
A coaches and parent association was formed — led by Stallworth's brother Clifford — and signed a three-year agreement with the Eagles.
"What you have here is two halves of an organization," Stallworth said. "You have one organization that has the facility but not the children, then you have another organization that has the children but no facilities… So right now we've locked into a three-year agreement with Bealsville to use their facilities and their name and we'll provide the children and the coaches and we're kind of seeing how that'll work instead of starting a new organization from scratch."
The Eagles will have all five of their youth football teams active this fall, playing out of the "House of Pain" at the Bealsville Sports Complex and competing in the Tri-County Youth Football and Cheer Conference.