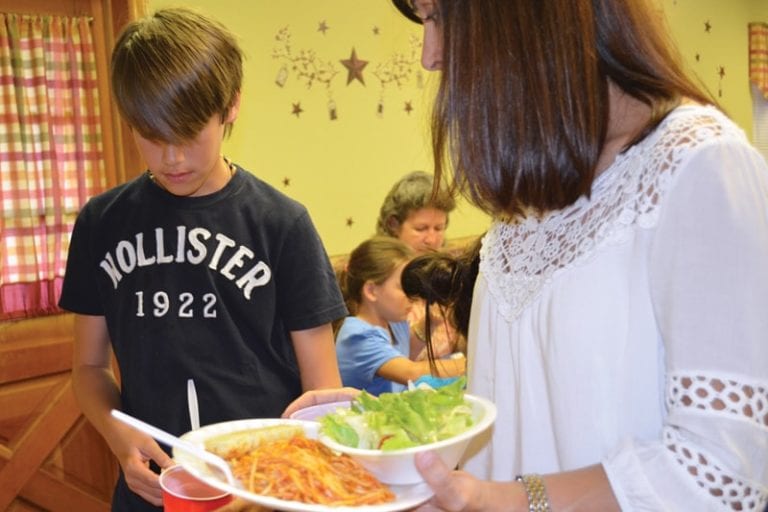 By Amber Jurgensen | Staff Writer
Family members described Angela "Angel" Nester as "sweet," "a powerhouse" and "a beautiful singer" during a fundraiser for her family July 21, at Youman's Praise and Worship Center.
"She is probably the most-loved person you'll ever meet," Lynn Pointer, her aunt, said. "There's been such an outpouring of people supporting her family. Her house hasn't been empty for weeks."
Mrs. Nester, a mother of four, died July 7, from injuries she sustained during an ATV accident. She was 33.
During the fundraiser, guests purchased spaghetti dinners for a $6 donation and also bid on items in a silent auction. Money raised will benefit her husband, Michael, and children: Dylan, 13, Megan, 11, Austin, 9, and Cory, 4.
Area businesses donated a variety of goods and services for the silent auction, including Tampa Bay Buccaneers tickets, an iPod Touch and various gift cards from restaurants, including Sonny's, Outback Steakhouse and Esposito's Pizza.
Irv Potter, of the Music Academy, donated a new Fender guitar and eight free lessons to Dylan.
"It seemed like a good thing to do for the family," Potter said. "I love to see people move forward."
"She was energetic and fun-loving," Connie Capatino, another aunt, said."She always said think positive — not negative."
Every morning, Angel posted inspirational speeches on her Facebook page, something Capatino misses.
Angel attended Youman's Praise and Worship Center for 18 months. She was the Praise Team director and also took care of cleaning the church.
"She was very involved," Pointer said. "If she was here right now, she would be in charge of decorating and putting together her own fundraiser. She would have loved it."
Online condolences may be made to the family at haughtfuneralhome.com.
Contact Amber Jurgensen at ajurgensen@plantcityobserver.com.
HOW TO HELP
To donate to the Angela Nester Memorial Fund, submit cash or check to MidFlorida under Michael or Angela Nester. You also can donate through PayPal to angelnester@yahoo.com.
Wi-Fi Pirate 13 Wi-Fi Pirate 13