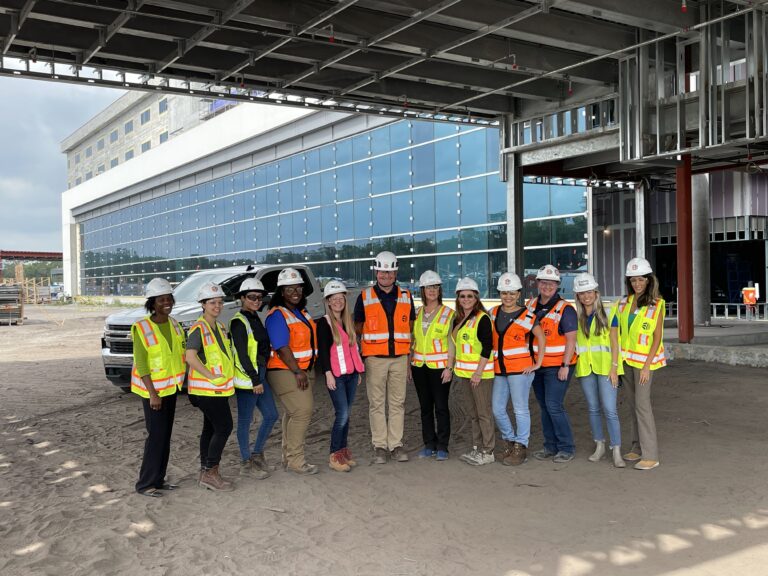 Meet some of the women working to build South Florida Baptist Hospital's new campus.
Alex DeYoung wanted to grow up in her father's footsteps. Her dad's a contractor and, like him, she loved the construction industry. He encouraged her to pursue her dreams and become an engineer, a field dominated by men.
"In my graduating class at Florida State University there were about four women out of about 50," she recalled. "In general in the construction industry there's not many women."
Barton Malow Assistant Project Manager, Julia Davis, knew she wanted to put her talents to work in the industry since she was a little girl. "I was always building things with Legos or erector sets," she said. After earning a degree in mechanical systems design from Penn State, she realized she was not satisfied with a desk job. "Being at the construction site and seeing what's on paper becoming three-dimensional is fascinating for me," she said.
DeYoung and Davis are both working the project to build the new South Florida Baptist Hospital. "This project is really special to me because it's the first hospital I've been able to see built from the ground up," said Davis. "I spent my days making sure my scopes are going correctly per the documents."
Though more women like DeYoung and Davis are joining the construction industry than ever before, they still make up a very small portion of the workforce. According to The National Association of Women in Construction, only 10.9% of the construction workforce is made up of women.
In addition to DeYoung and Davis, other women helping to build the new South Florida Baptist Hospital include Project Engineer La'Toya Tyson, Virtual Design + Construction Manager Lis Lay and Senior Cost Analyst Olga Dunham, all employees of project contractor Barton Malow. These and other women are being recognized during the first full week of March, when Women in Construction (WIC) Week is held nationwide to celebrate and honor the role of women in the construction industry.
"Inclusivity and diversity in the workforce is a growing goal for Barton Malow Builders," said Barton Malow Senior Director Matt Wood. "Women in the construction industry was almost unheard of when I started in this business 35 years ago but now they're some of our most valuable team members."
Other women who've been instrumental to the project's success are South Florida Baptist Hospital President Karen Kerr and Director of Operations Beth Tancredo. "It's great we're partnering with Barton Malow and they're focused on diversity in the workplace but really focusing on women," said Kerr. "These ladies play a big part in this project and it's great to be able to celebrate these women who're having a positive impact in the construction industry."
The original South Florida Baptist Hospital opened in 1953 and has undergone 12 major additions, renovations and expansions since then. The new 420,000 square-foot hospital will feature 146 private rooms (with room to expand if necessary), 26 ICU beds, a 30-bed emergency department, four interventional/cardiac Cath suites and an eight bed surgery center. An 85,000 square-foot medical office building will include physician offices, outpatient laboratory, imaging, rehabilitation, wound care, infusion services and administrative offices.
The $326 million project, which broke ground in August 2021, is scheduled to open this fall.
"When this project is completed we look forward to providing great healthcare to our community for years to come," said Kerr.
For more information, visit www.baycare.org.