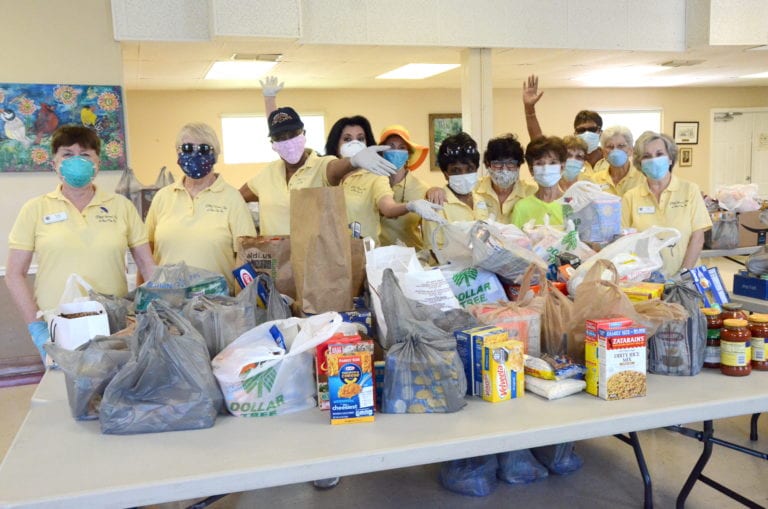 The club has been collecting food items to benefit the United Food Bank of Plant City.
The GFWC Woman's Club of Plant City wants to continue lending a helping hand in the community, and this time it's the United Food Bank of Plant City reaping the benefits.
"Demand for food assistance is rising at an extraordinary rate, just as the nation's food banks are being struck by shortages of both donated food, monetary donations and volunteer workers," the club said in a Facebook post advertising its food drive. "The GFWC Woman's Club of Plant City wants to do our part to help as best we can."
The club hosted the food drive for the UFB from 10 a.m. to 2 p.m. Tuesday, rounding up non-perishable goods like canned foods, oatmeal, cereal, peanut butter, breakfast bars, beans, pastas and more to deliver later that day.
"When I thought about this, I knew the food bank needed a lot of help and many organizations were giving money here and there," Woman's Club president Patricia Wolff said. "I thought we needed to get hands-on and do something, so I called Mary Heysek and I asked her if it was OK that we do this."
Though Tuesday was the big day, the Woman's Club's efforts to collect food for the UFB didn't start that day. Margie Gonzalez, best-known for her "87 Miles for Smiles" fundraising project, hopped into her golf cart last week and drove from door to door around her neighborhood to collect groceries. Some of her neighbors even donated checks for the food bank
"She's my 'jumping bean…' as soon as she (Heysek, UFBPC director) said yes for us to do the food drive, I called Margie and she immediately, the same day, got on her golf cart, went around her community and started picking up groceries and checks and everything," Wolff said.
Bettye Goodwine also went around her neighborhood and collected donations of both food and money from her neighbors to help out. In addition, members of Lone Oak Baptist Church stopped by Tuesday morning with a big delivery for the club.
The total amount of food donated, according to the UFB, was 2,000 pounds. The total amount of money donated was $245.