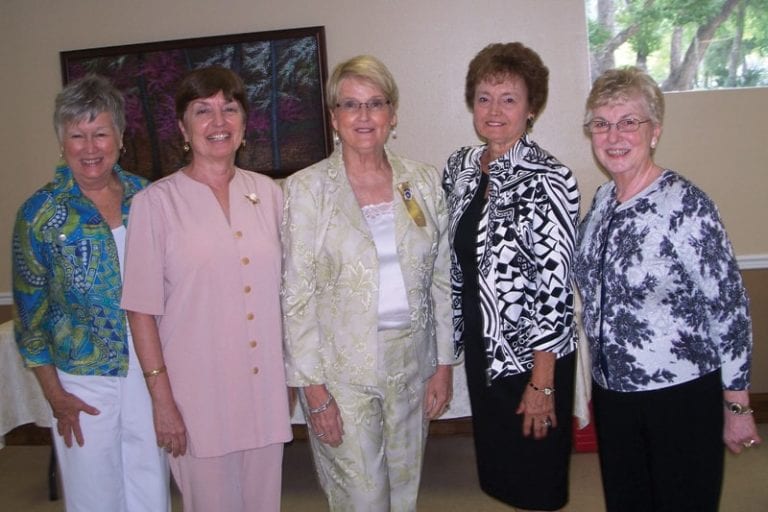 By Amber Jurgensen | Associate Editor
The Woman's Club of Plant City will sweeten the fall season with an ice cream social from 2 to 4 p.m. Sept. 20,  at its clubhouse, 1110 N. Wheeler Street, Plant City.
The club is looking for new members to join the 90-year tradition of service it has brought to the community. The club has long been involved in beautification projects and raising scholarship funds for local students.
One of the club's crowning achievements is the Bruton Memorial Library. In 1932, the club made a proposal to the city to donate more than 2,000 books that belonged to the club's library collection and offered to renovate and repair an old tax-foreclosed residence serve as a library.
As a past member of the Officers's Wives' Club, President Judy Glorioso always has been active in service. Upon coming to Plant City, she learned of the Woman's Club and felt it was a perfect fit. She has been involved for 12 years.
"There is a niche for anyone," Glorioso said of the club's six different committees: International, Homelife, Public Issues, Education, Conservation, and Arts and Crafts. Each committee explores different issues, such as domestic violence, recycling and art. Current projects include adopting a girl in need from Indonesia and helping wounded warriors find canine service dogs.
"People need to know it's not just a bunch of silly women having lunch," Glorioso said. "You have to work and provide service."
This year, all clubs will raise money for four scholarships. The Plant City club hopes to complement the focus by completing 100 hours of service in schools.
Contact Amber Jurgensen at ajurgensen@plantcityobserver.com.
EVENTS
Ice Cream Social
WHEN: 2 to 4 p.m. Sept. 20
WHERE: 1110 N. Wheeler Street, Plant City
Annual BBQ Dinner
WHEN: Oct. 18
WHERE: Plant City Train Depot
COST: $10 per ticket available through members
Spring BBQ Dinner
WHEN: March 23, 2013
WHERE: Browlee's Barn
About the Club
The Woman's Club of Plant City is part of the The General Federation of Women's Clubs. The GFWC is an international organization with more than 100,000 members. The national headquarters are in Washington, D.C.; the state headquarters are in Lakeland.
The Woman's Club of Plant City
ADDRESS: 1110 N. Wheeler Street, Plant City
PHONE: (813) 752-4871
MEMBERSHIP: Barbara Miller, (813) 752-2847