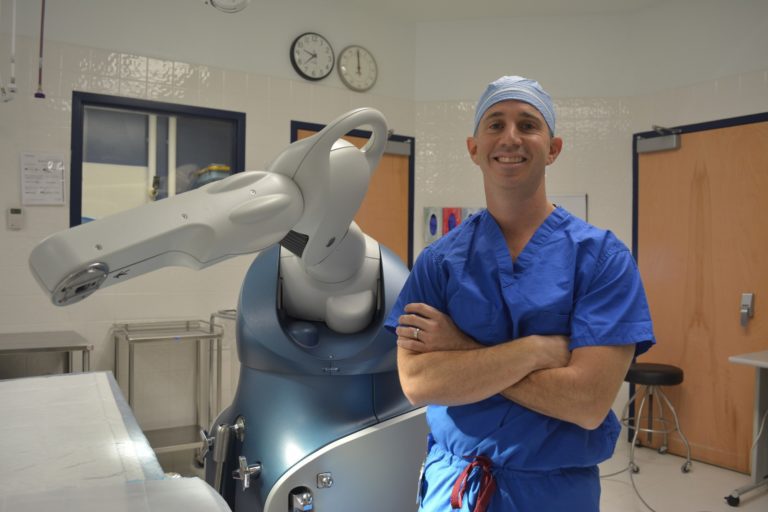 The Robotic Arm Interactive Orthopedic System, RIO, makes hip and knee replacement procedures more precise.
Dr. Scott Goldsmith knows the operating room in South Florida Baptist Hospital like the back of his hand. He's a prior chief of surgery and current chief of staff at St. Joseph's Hospital South in Riverview. He specializes in total joint replacement surgery, including surgeries for shoulders, knees, elbows and hips.
This month, Goldsmith performed a total hip replacement surgery. As he worked, he looked up to a screen monitor showing him exactly where he was placing the new implant, as though he had a GPS leading him to the perfect spot.
"I believe this is the beginning of the future, so to speak. I don't see this as a passing fad, which is why I wanted to get involved now."

— Dr. Scott Goldsmith
The pinpointed accuracy is courtesy of RIO, a robot that has been trained to help surgeons make total hip and partial knee replacements as perfect as possible through MAKOplasty surgeries.
"It was exciting," Goldsmith said. "The surgery itself is the same as we've always done, but the robot assist allows a more precise and immediate feedback as far as where you're putting the implants."
HOW IT WORKS
South Florida Baptist Hospital debuted RIO, the Robotic Arm Interactive Orthopedic System, in January, but staff had to be trained before the robot was put to use. The goal of RIO isn't to perform the job of a surgeon, but to be a surgeon's extra set of eyes, eventually allowing for a patient to have a quicker recovery and less pain post-surgery.
It was Goldsmith's idea to bring RIO to South Florida Baptist Hospital. The robot is the only robot for orthopedic surgery in eastern Hillsborough County and all of Polk County.
"I brought it to their attention," Goldsmith said. "Some of my cohorts were using it. I went to several courses to learn how to use it and felt it would be a great addition to this community."
The price for obtaining RIO was about $1.1 million dollars, but Goldsmith said it's a significant investment.
"There's a degree of variability with humans," Goldsmith said. "It's not always exact. With a robotic assist, we know exactly where we're putting it."
Prior to surgery, a patient undergoes a CT scan. The scan provides a surgeon with an X-ray, which is then evaluated in great detail.
"This allows us to be specific to every patient's anatomy," Goldsmith said.
Goldsmith then conveys to the robot what was discovered in the scan. Specific cuts and images allow the robot to help pinpoint the perfect location for an implant, customized for the benefit of each individual patient.
"This brings pre-operative planning to a whole new level," Goldsmith said. "At the time of surgery, I tell the computer and the robot the specific anatomic location of what I'm looking at. The robot makes it precise."
In surgery, Goldsmith can attach devices to the robotic arm, which locks itself into the exact degree needed to put the implant in the right place. Though a surgeon is able to override the robot if need be, the locking mechanism is
what helps the positioning of the implant stay in place. Unlike robots for general surgeries, which are operated from a console, RIO is used at the operating table.
"I'd say overall it was a very secure feeling," Goldsmith said. "It's a little bit of a different feel. There's an arm now attached to it that ensures I don't move my position. There are certain aspects of surgery that you can't see, certain anatomic landmarks you can't visualize. The robot is able to do that for you."
The robot's precision is especially beneficial during partial knee replacements. Though most surgeons are comfortable replacing the ball of the knee, replacing the cup of a knee is challenging. RIO helps remove the diseased portion of the bone in the knee.
"Anything we can do to narrow our bell curve is ideal," Goldsmith said. "The literature has clearly shown that even for doctors who do hundreds of these per year … the robotic assist is far more accurate than a surgeon
alone."
Contact Emily Topper at etopper@plantcityobserver.com.