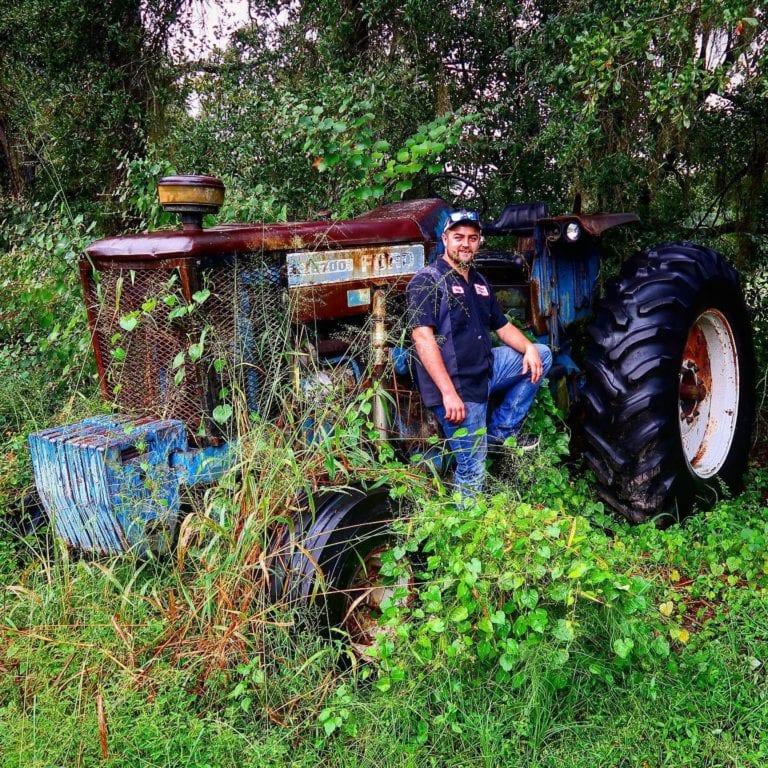 Bruce Wilson's YouTube channel is teaching the community that with some foundational knowledge and a lot of determination nearly any mechanic job — no matter how formidable — is doable.
A local YouTuber is changing the way the public views mechanics thanks to his comedic and down-to-earth vlogs on his unique projects.
Bruce Wilson grew up with tools in his hand. His family owns Wilson's Tractor & Supply Co. in Dade City and he said he's been "working on things and fixing things" for as long as he can remember. Now he's sharing that passion with the world with his YouTube channel, which currently has more than 348,000 subscribers. 
"A very good friend of mine, Cleatus McFarland, is a successful YouTuber and as I was watching him I realized this was something I might like to try, too," Wilson said. "He really encouraged me and taught me how to get started. I think it's always been a passion of mine and growing up with my family's business, I learned really young how to do all kinds of things. Fixing things became my passion."
His father started the family business in 1992 and Wilson said he's been tinkering around the shop since he was probably around four years old. He picked up some unique skills along the way and when he realized other people were just as interested as he was in learning how to take old vehicles and bring them back to life he decided to give this "YouTube lifestyle" a chance. He kicked off the channel in October 2017 and now dedicates his entire schedule to the ever-increasing project load. He films, edits and publishes content six days a week and you never know what he'll tackle next. 
Over the years, he has done everything from working on an old-school bus to saving an old Ford Tractor from a viney grave to even purchasing an old fire truck. He will frequently be on calls with his family's business, stumble upon a decaying truck, tractor or piece of equipment and then start chatting with the owner. Usually he discovers the owner simply didn't have the knowledge on how to repair the broken machinery and let nature take over. Cutting back vines and weeds, Wilson will then buy the dilapidated product and take it home, where he'll spend the next few weeks doing everything in his power to bring it back to the land of the living.
If you drive the back streets of Plant City, there's a chance you've seen him examining an old tractor or truck that he later took home to his shop. As his finds and projects continue to evolve and push the boundaries, so does his audience. Wilson is now able to do the channel full-time and it's not uncommon to see someone around town rocking his merchandise.
"The main thing I hear people say is they can't believe that some of this stuff can be done in the back yard and with just a little bit of knowledge," Wilson said. "I get tons of personal emails and messages on social media nearly every day from people thanking me for encouraging them to get back on a project they had walked away from or for giving them the confidence to start a project they've been wanting to do for a long time. That's what this is all about."
Wilson says his age has also played a role in making the videos accessible for all. He's 25 years old and said that many younger viewers are inspired by seeing someone their age successfully pull off some of these massive repairs. Older viewers have reached out saying they're thrilled to see someone of a younger generation perform skills they thought had become a lost art.
His success is largely in part to his support system, Wilson said. Every day, there are things he feels he needs guidance with and his father is always just one phone call away. All of the knowledge at his fingertips and the skills he's acquired came from learning from his dad and Wilson said it's been amazing getting to explore some of these — admittedly insane — projects together. His younger brother Aaron Wilson also plays a key role in helping bring the videos to life. Though Bruce Wilson is always on camera, Aaron helps film and make the videos possible. Their cousin also recently came on as the team's IT guru and they're reaching wider audiences together.
Over the years, the channel has brought some unique opportunities into Wilson's life. He was able to track down his father's old truck, which Wilson had always dreamed would one day belong to him. It needed some major work, but he was able to restore it to its former glory and still uses it to this day. 
Like the rest of his family, Wilson said he has a big heart for the community and has been humbled by what the channel has allowed him to do. He said he's making both his dreams and the dreams of those around him come true. Whether he is able to give back to a charity or donate one of his renovated projects — like he plans to do with the fire truck he's working on — he said it's been incredible to use his passion for good.
As his reach has grown, he's also had the opportunity to purchase vehicles for the channel that he said "every child" dreams of one day owning.
"Little kids have always loved trucks, they love playing with those toys and dreaming of the real thing," Wilson said. "I've had the opportunity to actually work on them, to own them and drive them. It's incredible and I don't take it for granted. One day maybe I'll even get to own a steam locomotive. I've always loved trains and I think that would be an awesome project to take on one day."
For more information 
YouTube and Facebook: Bruce Wilson
Website: brucewilsonshop.com.
Email: brucewilsonshop@gmail.com.