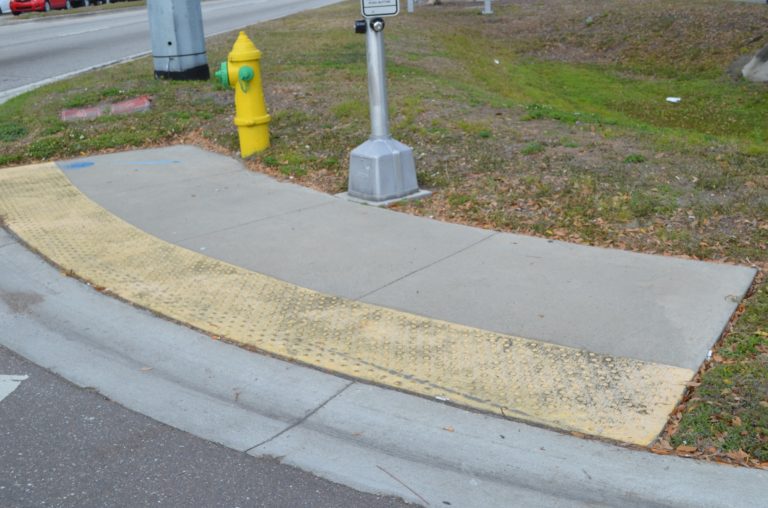 The Hillsborough County Metropolitan Planning Organization is working with the City of Plant City to determine a potential walk/bike plan for the community.
Attempting to walk around Plant City on Alexander Street, residents may notice one glaring problem: they won't get very far.
At least not on foot. Much of the same could be said if they tried to take a bicycle out.
This, many Plant City residents agree, is not an isolated problem.
"I live in north Plant City, where there are no sidewalks or lighting or anything," Jillian Wilder said. "I have to travel somewhere else to feel safe."
Wilder, 29, is a manager at the John R. Trinkle Center at the Hillsborough Community College campus in town. She moved to Plant City a year ago from Winter Garden, and said she would like to see similar development in Plant City to what she saw in her old home. Winter Garden, Wilder said, has a strongly connected bike and pedestrian system.
The desire for a better connected system brought her to Bruton Memorial Library Thursday, Feb. 2, to learn about the joint Walk/Bike Plan presented by the City of Plant City and the Hillsborough County Metropolitan Planning Organization (MPO).
Designed to get public input on proposed additions to Plant City's current infrastructure, the Walk/Bike Plan project is being overseen by the Hillsborough MPO, with inputs from outside consultants.
The project is still in the early stages of conceptual development, according to Wade Reynolds, a community planner with the Hillsborough MPO and the Plant City Walk/Bike project manager.
"Plant City has a pretty clear vision of how they want the undeveloped areas to look," Reynolds said. "We have a pretty good idea of what some of those development patterns will be and what they will look like."
Included in the current plans are additional pedestrian and bicycle facilities, including bike lanes, wide sidewalks, raised crosswalks, wayfinding signage and more that could better connect the Historic Downtown area and surrounding areas, according to Reynolds. The addition of multi-use facilities can not only increase safety, but economic growth as well.
The type of facility used at various roads throughout town will be determined by the needs at that road and the surrounding area.
Similar projects, like the Pinellas Trail connecting much of Pinellas County and the Tampa Riverwalk, Reynolds said, have led to an increase in safety and economic performance in those areas.
Increased safety and efficient connectivity were one of the things that brought Wilder to the Winter Strawberry Capital of the World. It also brought 34-year-old Charles Galvin and his wife, Rebecca, to Plant City two years ago.
"When we were looking to buy our house, my wife and I saw the potential within Plant City," Galvin said. The couple works at The Art Lounge Gallery in Historic Downtown. "We saw they had a lot of the right elements that are there. They just needed for those (transportation) things to be sowed in order to create a greater community."
The town has great possibilities for connectivity, Reynolds said.
"Every point in Plant City is accessible from every other point by bike," he said. "Many other destinations are a reasonable walk, particularly in historic area around downtown."
LET'S GET CONNECTED
The Plant City Walk/Bike project is also part of a larger effort to enhance safety among pedestrians and cyclists as the culture of planning shifts from auto-based designs to more multi-functional roadways, Reynolds said.
In the time of aging Baby Boomers and the rise of active-adult, 55+ communities, there is a new urbanism and development concept focusing on an equality of modes. We still need to plan for autos, Reynolds said, but we also need to have safe areas for cyclists and pedestrians.
Much of the public safety aspect of the Plant City project and similar efforts throughout the county, state and country tie into an international effort to reduce traffic fatalities and serious road injuries to zero. The efforts are known as Vision Zero.
According to the Hillsborough MPO, the state of Florida leads the nation in pedestrian and bicyclist deaths. Additionally, Hillsborough County's crash rates are consistently one of the worst in the state and consistently exceeds the national average each year.
Locally, the results are similar. Within Plant City, there have been 15 instances of traffic incidents involving death or an incapacitating injury among pedestrians and cyclists since 2005, according to data provided by the MPO.
The Vision Zero action plan was created and adopted by Sweden in 1997. Since then, the plan has been adopted by countries all across Europe and many cities and counties throughout the United States.
Hillsborough County's MPO Planning Board is in the process of incorporating a Vision Zero action plan, including the Plant City Walk/Bike project, into its Long Range Transportation Plan, a prioritization of county-wide transportation needs and goals that extends into 2040.
The long-term plan also includes concepts for county-wide trails that could connect Hillsborough to adjacent counties.
"We recently completed a county-wide trails plan that envisions larger trails that connect across our county and into neighbor counties," Reynolds said. "Conceptually, we've identified so that someone could bike safely from Tampa to Plant City and beyond. The MPO's role is to help our municipalities both with long range efforts and getting those funded in a five-year funding cycle."
As the plans continue to develop, many residents still hope the vision comes to fruition so that Plant City may blossom.
"We mostly walk," Gavin said. "This is a really nice area that could be great for people walking around. It'd be nice for businesses to grow … downtown, and make it so we have an easy commute to work where we're not having to depend on our cars."
With citizen feedback, the plan will be re-evaluated and updated. A final proposal for the Walk/Bike Plan is expected to be ready for presentation to the MPO, Plant City Commission and Planning Board by early summer 2017.
Contact Daniel Figueroa IV at dfigueroa@plantcityobserver.com.