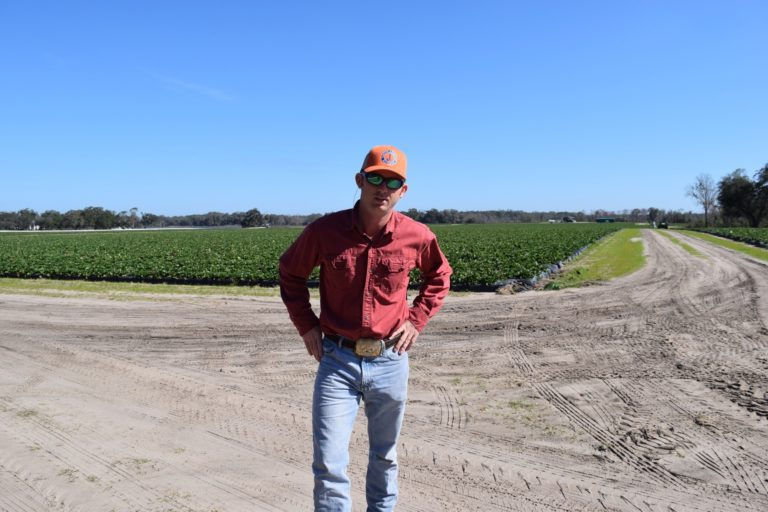 In Plant City, a town built on agriculture, some are concerned over the future of farming in and around the growing city.
The land of Oak Ridge Fish Hatchery pushes up against some of Plant City's northernmost boundaries in the city's wooded northeast quadrant.
The land there is still quiet and expansive. The density of subdivisions and industrial expansion hasn't reached that part of the city. However, plans are already in place to change that, and farmers, like Oak Ridge's David Drawdy, are trying to keep hold of Plant City's agricultural identity as the city moves toward its 2040 comprehensive plan.
"Twenty years ago, there were a little over 300 fish farms between Hillsborough and Polk County," Drawdy said. "Now there are about 70. The price of land got high and some of the old-timers sold to the developers."
According to the Hillsborough County Farm Bureau, tropical fish farms like Oak Ridge, along with ornamental horticulture and strawberries, are some of the largest agricultural
industries throughout Hillsborough County.
Abutting the Oak Ridge land is city property designated for the upcoming North Park Isles development, a planned community of more than 1,000 homes. Drawdy said he's concerned over the density of the development. A canal that would drain water from the development runs along his property and flooding already threatens the ponds that are the lifeblood of his land, without any homes built.
"Our concern is, when they put 1,000 homes in, where's that water going to go?" he said.
According to the adopted Imagine 2040: Plant City Comprehensive Plan, the goal for Plant City in the coming decades is "embracing the future while preserving our past."
The plan also states that "most lands within the municipality that are in agricultural uses are expected to transition to other uses within the planning horizon year of 2040." Though the city was named to honor Henry Plant and its railroad routes, it grew to pride itself on being the "Winter Strawberry Capital of the World," the headquarters of Florida's nearly $1 billion strawberry industry.
Drawdy said he feels some in city leadership aren't listening to the surrounding farmers' concerns. According to the Hillsborough County Environmental Protection Commission and the Southwest Florida Water Management District, the city has asked those organizations to look favorably on permit request for North Park Isles.
Both organizations have requested more information from the developers before approving permits.
Just to the east of the North Park Isles development, the city is also looking to enhance its east-west connectivity by extending Sam Allen Road to County Line Road in anticipation of residential growth in the area.
To the south of the city, the Astin family, major purveyors of agriculture in Hillsborough County, have recently annexed more than 160 acres of land into the city and are in the process of converting its zoning and land use designations to residential. The land would still be able to be farmed under those designations, city documents state: "The purpose of the voluntary annexation is the potential for future single-family development."
"We need to try and keep as much (agriculture) as we can here," Dennis Carlton, Jr., a rancher with land throughout Plant City, Hillsborough and five other counties, said. "Plant City is a big (agriculture) town with strawberries, but let's be honest. We're on the I-4 corridor between Orlando and Tampa. The real estate prices make it tough through development."
It can be quite enticing to some to sell off land, Carlton, 32, said. Drawdy, 58, said he would like to pass his fish farm, which he took over from his father, to his 34-year-old son, Dustin. But he knows developers will likely come calling to their land as well.
"I don't know if I'll see it," he said, "but my son will probably see it."
But selling isn't the only option. Carlton works primarily in cattle, but has plenty of viable strawberry fields he leases to other growers. The rising density and urban expansion throughout the Bay Area and eastern parts of Hillsborough are making getting into farming more expensive, he said, but agriculture is still viable.
According to the Hillsborough County Farm Bureau, the average age of farmers in the county is approximately 65 years old. Carlton said cultivating younger farmers might lay in niche markets like organics and all-natural foods. In those instances, he said, a young farmer could get started with a smaller farm.
"You've got to think outside the box," he said.
Trends in Florida show a switch to smaller farms. According to the Department of Agriculture, the number of farms in Florida has gone up by a few thousand since 2002, while the acreage of land being farmed has gone down by almost 1 million acres.
Still, development issues seem to come back to water. But while Drawdy's current concern is too much water, Carlton is worried about too little of it. As areas around farms grow, population density puts more strain on utilities like water, which are essential to any farm. Last month, freezes threatened crops in the county. Farmers relied on water flow to combat freezing crops. Carlton worries that might not be an option in the future.
"Water is the golden nugget," he said.
Neither Carlton or Drawdy said they are against development. It's inevitable and they know it can be great for the city. They just want to see it done responsibly.
"You're not going to prevent growth," Carlton said. "It's about maintaining the lands we have and being good stewards of the land."
In the heart of Plant City, just a few blocks from City Hall, Judi Whitson, executive director of the Hillsborough County Farm Bureau, sits at her desk with her back to a window facing Village Green Park. The Farm Bureau recently moved from Valrico to Plant City. Now, it's located right across the street from Midtown, one of the most anticipated areas for development in the city. As development comes, she still believes in the resilience and necessity of Hillsborough's farming community.
"I think it's still going to be strong. This is perfect land for strawberry growth," Whitson said. "Any expansion in Plant City is going to bring more jobs which means more food production and more support for the agriculture industry."