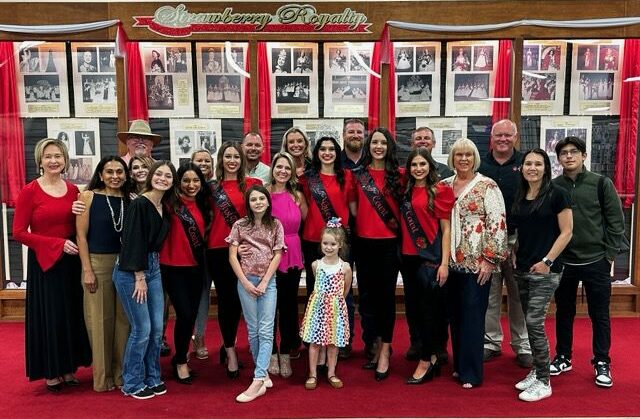 The exhibit allows visitors to take a journey through the history of Plant City's Strawberry Queens and their court.
As you step through the doors of Neighborhood Village at the Florida Strawberry Festival, you are greeted by a flowing gown illuminated by the soft glow of the spotlight that sits above it. Encapsulated in a glass case along with the gown is photos of this year's Strawberry Queen, Kennedie Clinton, and her court — featuring First Maid Jaida Davis and court members Addison Raburn, Fe Ramirez and Kaleigh Salmon.
The stunning display not only welcomes you to Neighborhood Village, but serves as a centerpiece for the annual Strawberry Queen's exhibit. Put together each year by sisters and Plant City natives Marsha Passmore and Dodie White, the exhibit features countless photos, memories and highlights from each individual Strawberry Queen — along with their court — in the pageant's history, dating back to 1930.
"We're so proud of Kennedie and her court," Passmore said. "They're very genuine young ladies and they're the real deal, that's the way I look at it. They're so solid and they're so good and they make us smile when we see them because they're just infectious… Their smile is infectious, their personality is infectious and that's just the true quality of a good-hearted person."
"What makes it so great as well is that, yes, they do represent the Strawberry Festival, but they start the very night they win and go the entire year representing not just the Festival but Plant City and the surrounding areas and they represent us so well," White added. "They make us proud to send them out for interviews and to be represented in other affairs wherever they go. They just make us proud, they resonate happiness and they remind people why the Strawberry Festival is so important to this area."
For Clinton, her role as Strawberry Queen is only a continuation of what has already been a year-long commitment as a proud representative of Plant City, being named Strawberry Queen just one week after concluding her reign as the 2022 Florida Strawberry Festival Junior Royalty Queen — while also finishing as a semifinalist for Miss Florida Teen USA 2021 and 2022 and being named Face of the Year at the 2022 National Princess America Pageant along the way.
"All I can say about Kennedie is that we loved her from the first minute we saw her, she is like a magnet," Passmore said.
"She represented Junior Royalty with such grace and such beauty and it says it all when she stepped out of that role and a week later she became our Florida Strawberry Festival Queen," White said. "I think that not only do we recognize that about her, but the judges and other people recognize it as well. We saw it the day we really got to know the personalities of the Junior Royalty, when we got to know her as a person and a young lady — a very genuine young lady. So when she was crowned, we were thrilled."
And while you walk across the red carpet that lays at the floor of the exhibit — with all of the past queens and court members displayed on one side of you and a dazzling display decorated in accordance with 2023's Festival theme, We Have A Winner, on the other — you will eventually arrive at another special display that highlights each year's featured queen. For 2023, the featured queen is 1997's pageant winner Stephanie St. Martin (Bikowski).
"We try to use the theme when deciding the featured queen, when we find out what it is," Passmore said. "This year, when we found out that it would be, 'We Have A Winner,' well, is Stephanie not a winner? She's a winner inside and out because her heart's the size of this room so she was very easy to select."
In addition to being named Strawberry Queen in '97, Bikowski has continued to make an impact on the Plant City community ever since. As a reading coach at Robinson Elementary School she was named Teacher of the Year this past year, her second such accomplishment after previously being named Teacher of the Year at Burney Elementary School in 2008 — along with being named a Top 10 finalist for district-wide Teacher of the Year. And each year Bikowski and her sister Jennifer Morgan — the public relations and media representative for the Florida Strawberry Festival, as well as a former court member herself in 2000 — organize the choreography for the Strawberry Queen's Pageant.
On Monday night, Passmore and White hosted the grand unveiling, where the exhibit was viewed for the very first time by Bikowski and this year's court.
"Seeing the gown tonight, it was just so surreal," Clinton said. "I've always done plenty of pageants but that dress was so special to me, I cried when I put it on. It made me feel a movie star, it made me feel amazing, and now to have this dress that made me feel so beautiful up where I don't even know how many, probably thousands of people walk through here and see the dress that was so special to me, it's just such an amazing moment. Miss Marsha and Miss Dodie set it up so gorgeously, I was just so full of ecstasy. I'm so excited and I'm so happy and I can't wait for everyone to see it at the festival."
The honored guests joined Passmore and White throughout the night, along with their families, Florida Strawberry Festival president Paul Davis, future president Kyle Robinson and several Festival staff members as they shared stories and took in this year's rendition of the exhibit for the first time.
"It was so beautiful and surreal and so many memories pop up in your head as you're going through and you're seeing different people," Bikowski said. "I know so many of the former queens and court members so seeing each of them it kind of takes you back to when they were on the court. And then when I got to walk around and see the display they did for me on the end, it was just awesome because all of the little itty bitty things are there… Every year we walk through, I walk through with my daughters and they say, 'mommy, look at your big blonde hair, it's so big.' But then I get to show them how my sister was in the court and that my mom was in the court back in the 1970's."
The Strawberry Festival has been a passion for the Passmore and White for over 40 years, where they first served as tram captains for several years before transitioning to the festival's ambassador program, working in the Business and Professional Women's Club booth and eventually spending the past nine years bringing the Strawberry Queen's exhibit to life.