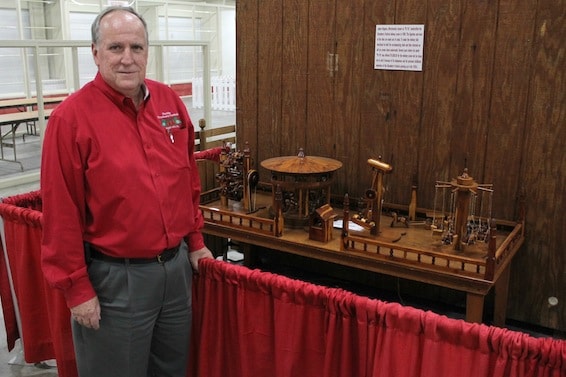 Dan Walden has lived in Plant City his whole life, and his earliest memories of the Florida Strawberry Festival conjure a mental image that is much simpler than the event that now draws more than 100,000 people annually.
"I remember coming to it with my dad when I was 8, 9, 10 years old," Walden said. "At that time, there was one building, and maybe five or six rides, with no headline entertainment, and it was very small."
When Walden was 12, his father died in a vehicle crash. But the festival always brings back fond memories of the times they shared there when Walden was a child.
Now that he has been elected as president of the festival, Walden hopes to foster an environment that can help other families have those same kinds of cherished moments that they will never forget. He will serve with Vice President Sandee Parke Sytsma, Secretary Floyd Hall and Treasurer W.D. "Dub" McGinnes.
Walden first got involved with the festival 31 years ago. He was asked to help with logistics for the Grand Parade.
Since then, he has served on a number of committees, such as those for parking lots, the Strawberry Ball and the youth swine show. He served as chairman of some of these committees.
Walden is particularly fond of the livestock shows at the festival, not only because he has spent so much time there as a volunteer, but also because his children used to participate as competitors.
But it takes the cooperation of every staff member, volunteer, board member and committee in order for the festival to keep on running.
"We operate as a family," Walden said. "We're a rather large family, but there's a family atmosphere. I realize that it takes every individual, committee and area to make the festival successful every year."
It's early for Walden to identify specific ways the festival will improve in 2016, but he hopes to continue the growth it's experienced in past years.
"We are continuously looking to expand in areas where we need to have growth, and every year, we look at the overall operations and strive to make any changes that would be beneficial to the patrons and the operations of the festival," he said.
When he is not tending to his festival-related duties, Walden is a commercial agent with Poppell Insurance Inc. In the past, he has served Plant City as president of the Lions Club and chairman of the Greater Plant City Chamber of Commerce.
The rest of Walden's family is also known for their involvement in the Plant City community. His wife, Pam Walden, is the supervisor for agriculture and JROTC for Hillsborough County Public Schools, area VI. Their son, Beau, is a banker with Rabo AgriFinance, and their daughter, Natasha, is a doctor of physical therapy at South Florida Baptist Hospital.
For the Waldens, Plant City will always be home, and there's no place Dan would rather be.
"I think it's the strong family values, and those are some of the same things that we try to continue to do with the Strawberry Festival — to take into consideration that everything we try to do out here is family-friendly," he said.