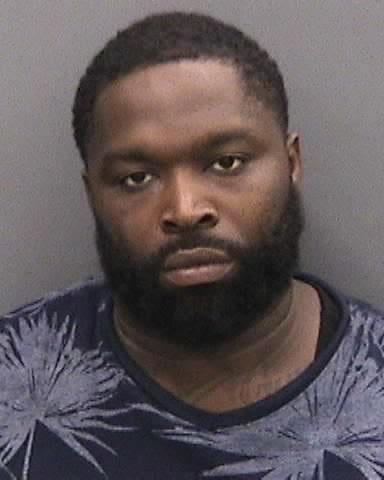 PCPD pursued a man through town yesterday after he robbed and assaulted a victim at gunpoint.
A man is behind bars following a violent robbery that occurred Tuesday evening.
An elderly man had just returned to his home on Silvermoon Drive from grocery shopping around 2:29 p.m. when an unknown masked man, who was later identified as Melvin Denard Duekes, 30, approached him in his driveway and demanded he turn over his wallet. According to Plant City Police Department, Duekes pointed a semi-automatic firearm at the victim in an attempt to convince him to hand the wallet over. When the man refused he was pushed to the ground by Duekes, striking his head on the concrete.
PCPD said Duekes demanded the wallet again and the victim still refused, so Duekes struck him in the head several times with the firearm before taking the victim's wallet from his pant's pocket and fleeing the scene in a black, four door Chevrolet Impala.
The victim's grandson was inside the residence during the incident and called 911 to report the robbery. PCPD officers spotted a vehicle matching the description within minutes and activated their emergency equipped to initiate a traffic stop. The report said the vehicle drove away at a high rate of speed and refused to stop for the officers, which resulted in a short vehicle pursuit. The Impala crashed into an uninvolved vehicle at the intersection of W. Grant St. and S. Collins St. and Duekes fled the crash on foot.
Officers initiated a foot pursuit and repeatedly told Duekes to stop and surrender, which he refused to do. PCPD said Duekes ran into a shed in an effort to hide and officers surrounded the building. He was told again to surrender and finally complied. He was taken into custody and a Glock 19 pistol was located within the Impala, which had previously been reported stolen by the Cape Coral Police Department. The victim's wallet was also recovered.
Duekes was was placed under arrest and transported to the Orient Road Jail where he was charged with Robbery With a Firearm, Aggravated Battery With a Deadly Weapon on a Person Over 65 Years of Age, Resisting Officers Without Violence, Felon in Possession of a Firearm, Wearing a Mask/Hood in Public, Theft From Person Over 65 Years of Age, Reckless Driving, Fleeing to Elude a Police Officer and Driving While License Suspended or Revoked.