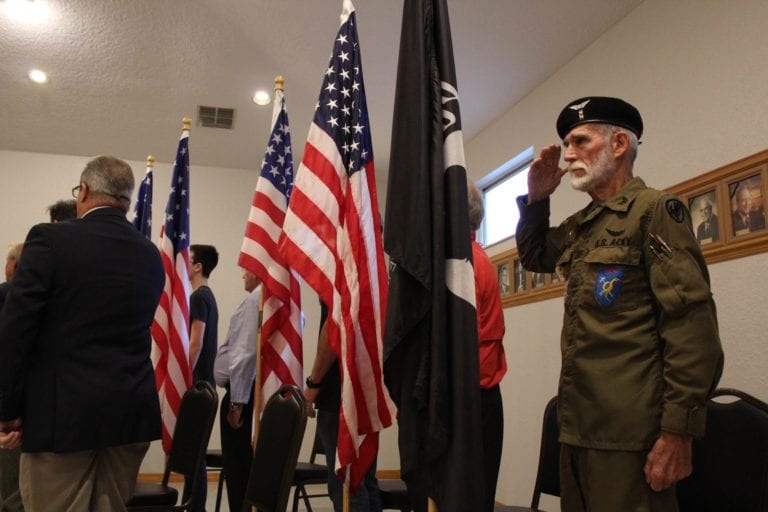 Thanks to the partnership of a variety of city-wide organizations Plant City will be hosting a week-long Veterans Day celebration.
Plant City is coming together to offer a one-of-a-kind tribute to veterans in honor of Veterans Day.
From Nov. 5 to 11, a variety of merchants throughout Plant City will offer special discounts for those who have served to show their support for the military. A special logo will be displayed on the front door or window of all those participating in the event.
A committee comprised of Plant City Elks Lodge members David Brewington, David Davenport, Dee Spivey, Frank Cummings, Judy Wise and many more arranged for community members to buy American Flag Kits to fly Old Glory proudly from the front of their stores or homes. While some individual homeowners are hopping on board, Walden Lake has stepped up emphatically to join the movement.
"This has been something that I've wanted to do for the last two to three years and it felt right as far as the calendar is concerned as far as Veterans Day falling on a weekend," Judy Wise, veterans chairman for the Elks Lodge, said. "I took it to the board at the Elks and they said go for it. I had no idea what I was biting off."
The week ties into other events the community is hosting in honor of the special holiday. There will
be a special concert honoring veterans and the military at Plant City High School at 7 p.m. on Nov. 9. On Nov. 10 Hopewell Funeral Home & Memorial Gardens is hosting its 33rd annual event at Veterans Memorial Monument Park at 10 a.m.
At the end of the week, the celebration will culminate with a special barbecue meal catered from Mission BBQ at the Elks Lodge on Nov. 11 at 1 p.m. There will also be a coffee truck serving free coffee and tea donated by Joffrey's Coffee and Tea Company in Tampa.
A WWII Army jeep will be at the picnic as well. A Lions Club member, Paul Gasca, will be the DJ at the event. The color guard by Scout Troop 744 will also be on site.
The Elks have partnered with a variety of other organizations throughout the city like the Greater Plant City Chamber of Commerce, Plant City Main Street, Fryed Egg Productions, the Plant City Noon Rotary and the Woman's Club of Plant City to spread the movement throughout town.
"It has grown so quickly, the next thing I knew this was like a big snowball rolling down a hill," Wise said. "I kind of wanted it to be this big. It all started when I was driving home through Maine and other places like that and in the small towns every business, every house had flags flying. That's just what their summers look like up there. I came back and I thought, 'I don't know why our city can't look like that.'"
Originally, Wise expected the Lodge to see approximately 250 people attend the event. With the community partnerships and support from the city, she now anticipates they will quickly reach their 400-attendee cap.
Tickets to the picnic are $10 and every veteran or active military member will get two free tickets with valid military IDs. The free veterans tickets, $10 civilian tickets and the flag kits can be purchased at Bruton Memorial Library, the Plant City Family YMCA, Walden Lake Car Wash and Pinch-a-Penny Pool Supplies. Only approximately 400 tickets can be sold so Wise recommends purchasing in advance.
The Lodge is also seeking sponsors for the special event ranging from $100 to $2,500. The first 200 veterans at the picnic will receive a special goody bag with gifts, coupons and pertinent information.
Wise said it was important for the Elks to be able to offer a special service for all veterans in the area. Because of their dedication to those who have served they have arranged for ambulatory veterans from James A. Haley Hospital to be able to take part in the event.
The special week is also receiving a proclamation from the city on Oct. 22 during the scheduled city commission meeting at 7:30 p.m. A proclamation was written from the county as well and County Commissioner Al Higginbotham is going to end his political career at the event with a reading of the proclamation.
This is the first of what is to hopefully be many Veterans Week celebrations, according to Wise. Next year she hopes they outgrow the Lodge and are forced to move to an even larger venue. She said the plan is to extend the celebration to all first responders next year as well.