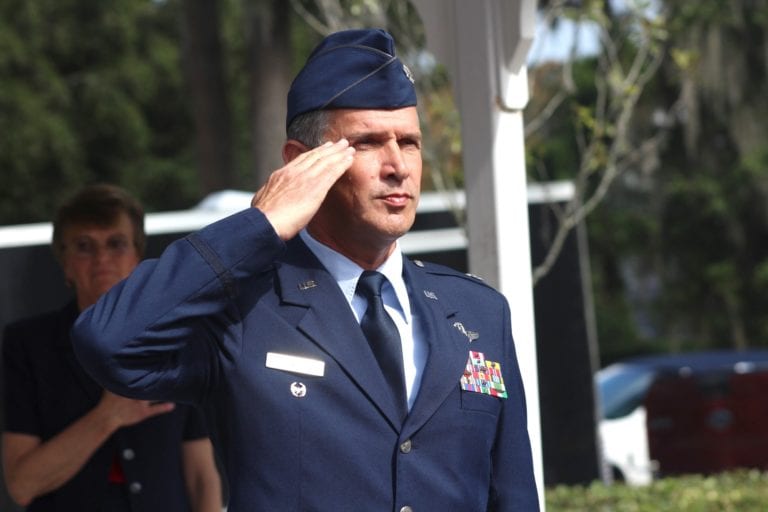 There are countless events coming up to honor local veterans. If you want to plan to go out with your family, check out our list to find a perfect fit.
The community is gathering all weekend long to offer veterans and their families multiple opportunities to celebrate and honor those who have served.
Some traditions have been around for years, drawing massive crowds for the beloved events, while others are new to the scene and hoping to become a staple in the community. Thanks to a variety of submissions we've compiled a list of a few of the can't miss events so you and your family can find the perfect fit for your Veterans Day celebrations.
Saturday, Nov. 9
Hopewell's Honoring Those Who Served program
10 a.m. One of the largest events each year is Hopewell Funeral Home's Honoring Those Who Served program. This is the 34th year the event has been held in town. This year, the event is held at Veterans Monument Park, Courier Field at 703 N. Wheeler St. Local schools have their students enter a contest featuring a paper written to the theme of "What Veterans Day Means to Me." Two winners are chosen from each school and the students read their essay at the program. Later, their work is displayed at the Plant City Photo Archives & History Center.
There are speeches from city and community leaders as well during the event. Founded in 1971 by Army veterans Glenn and Doris McDonald — Glen served overseas in WWII, Doris stateside — Hopewell has long made it a point to give back to the community, especially those who have served. The duo dedicated the Garden of Honor in Hopewell Memorial Gardens years ago to kickstart their yearly event and it has continued to grow ever since.
Salute to Labor & Veterans
12 to 4 p.m. The Plant City Area Democrats is hosting a Salute to Labor & Veterans at Marie B. Ellis Park, 601 E. Laura St., that includes food, fun outdoor games, music, guest speakers, a fundraising dunk tank and community fellowship. All are invited to come on out and attend this festive and fun event.
Sunday, Nov. 10
Plant City Honors our Veterans and Active Military
1 p.m. Last year, a group of community members from the Elks Lodge partnered with the City of Plant City, the Greater Plant City Chamber of Commerce and Plant City Main Street to throw an inaugural picnic event for local veterans. The party has only continued to grow. This year, veterans were given two free tickets for the event, which features a lunch from Mission BBQ, live music, a presentation of the colors and giveaways.
The event is held at the TECO Expo Hall at the Florida Strawberry Festival Grounds. Free tickets were given out to veterans and other tickets were sold for $10 each. The event requires advance tickets only, there are no tickets available at the door. This year will also feature a variety of special guests including Captain Danny Burgess, executive director of Florida Department of Veterans Affairs, Congressman Ross Spano, who will sing the National Anthem, and Mark Stephens, a veteran from the US Special Forces, Delta Force, Black Hawk Down.
Monday, Nov. 11
Coffee with Veterans — Saluting those who served
10 a.m. to 2 p.m. The Bing Rooming House Museum, 205 S. Allen St., is opening its doors to all veterans in honor of Veterans Day. The organization is hosting a free community coffee social for all who have served. Please bring a photo that can be added to the museum's wall honoring local veterans.
Free haircuts
Sports Clips Plant City, 2404 James L. Redman Parkway, is offering free haircuts to active military members and veterans all day long. All paying customers will have $1 of their total donated to Help a Hero as well. It's a tradition the group has done for years and is just one of many ways the store gives back to the community.
Sport Clips Plant City's hours of operation are 9 a.m. to 8 p.m. Monday through Friday, 9 a.m. to 6 p.m. Saturday and 10 a.m. to 5 p.m. Sunday. Visit the store for more information.
Veterans Day Special
11 a.m. to 9 p.m. Keel & Curley Winery, 5210 Thonotosassa Road, is hosting a special for all local veterans and active serving military. Swing on by the winery anytime during operating hours and receive a free meal and drink, just bring a valid military I.D.
Free beer at Roots
3 to 10 p.m. Roots Tap Room & Wine Bar, 101 S. Evers St., is throwing a special event like no other to "pay homage to the military, both past and present, who have defended our freedom with honor."
Throughout the event any veteran or active military personnel that walks through the door will be given a free beer or a glass of wine on draft.
"These brave men and women deserve the world, but we'll start with beer."