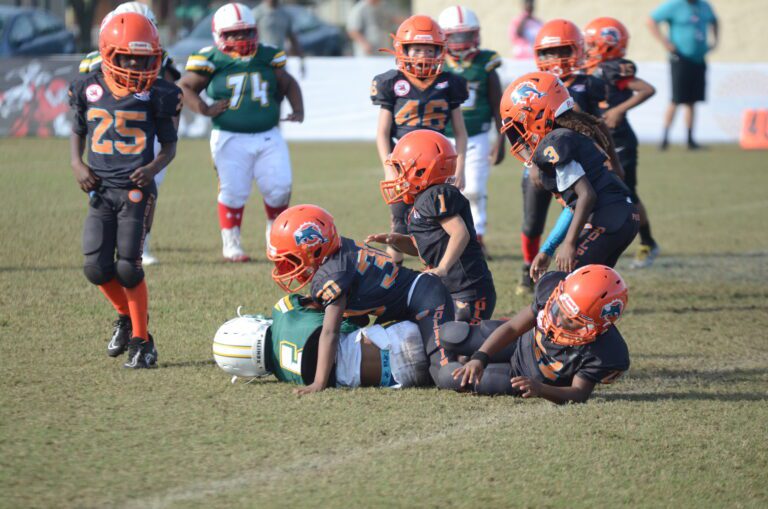 Youth football teams from across the country meet in Plant City for the 11th year.
Dozens of youth football teams from across the country have once again converged in Plant City for the United Youth Football League Championships this week, the city's 11th consecutive year hosting the event.
The event takes place at Ellis-Methvin Park where seven different fields were set up for the games to be played, with games running throughout each day from the early-morning kickoffs at 8:30 a.m. to evening games starting at 7 p.m. Signups took place on Saturday, Dec. 4, games began on Sunday, Dec. 5 and competition will run through the championships on Friday, Dec. 10.
With over 200 listed teams in attendance, five come from right here in Plant City. The Plant City Colts have one team entered from their 12U division and the Plant City Dolphins are represented with four teams at the event, with two from their 14U division, one from their 12U division and one from their 8U division. The tournament provides an opportunity for youth football players from all over to meet at one central location, facing a high level of competition that they may not have the opportunity to see anywhere else.
Four local teams started their tournaments on Sunday. The Dolphins 8U team fell 12-6 to the Motor City Chiefs in the 8U Open Division bracket but bounced back with a 33-6 win over the BGC Packers on Tuesday. They lost their third game 14-0 on Wednesday to the Pinellas Park T-Birds and their next matchup will be played against the Northside Pride on Thursday at 12 p.m.
Following the Dolphins 8U team on Sunday, the Dolphins saw both of their 14U teams take the field in the 14U Open Division. The Dolphins A team lost 40-0 to the Peach State All-Stars while the Dolphins B team came away with a 51-0 victory over the Atlantic Stingrays. Dolphins B then moved to 2-0 with a 22-6 win over the Westside Wolverines on Tuesday night.
Sunday evening, the first day of tournament play was capped off with a local rivalry game in the 7 p.m. window as the Plant City Colts and Plant City Dolphins faced off in the 12U D2 All-American Division, with the Dolphins coming away victorious in a 16-0 contest. The Dolphins 12U team then returned to action on Monday, scoring a game-winning touchdown with 37 seconds remaining to stay undefeated with a 13-6 win over the Upstate Titans. The Colts 12U team couldn't keep their run alive on Tuesday though, facing elimination before falling narrowly in a 14-13 contest against the Ormond Beach Pride.
"It's great," Dolphins' equipment manager Buck Chapman said. "Sometimes you even have kids where their cousins and stuff come down from up north and play and they get to see them. So it's really great that they get to play in this atmosphere and sometimes even see some of their kinfolk by chance. And the level is really up. It's really high-level, all of the teams are good and it's just fun for the kids. That's what it's got to be about, the kids. You can't make it about anything else."
Last year, the event brought thousands of spectators to Plant City as they cheered on over 5,000 players and coaches that made up 185 youth football teams over 16 different age and weight divisions. Of those 185 teams, 151 came from outside of Florida with 26 different states represented. And this year looks to be even bigger.
According to the Tampa Bay Sports Commission, the UYFL event is one of the largest annual youth amateur sports events held in the county and the event generated 15,163 room-nights in 2019, not including the positive economic impact on other businesses including restaurants, grocers and convenience stores.
Games will continue to be played throughout the week and you can attend, with adults tickets running $15 per day or $30 for the week and children's tickets — for those age seven to 15 —running $10 per day or $20 for the week. Children six and under can attend for free.
Can't make it out but still want to see the action? All games will be streaming live and in high definition at www.box5tv.com, with a streaming cost of $25 per day or $99 for the week.