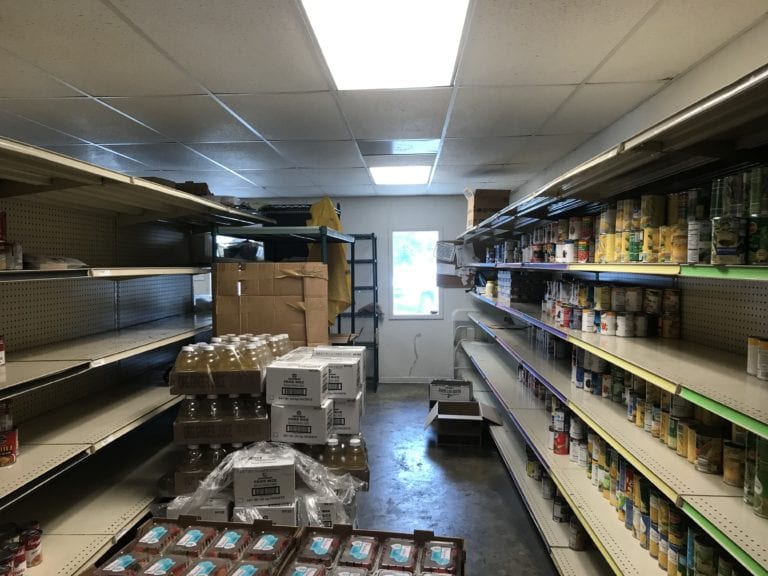 "Hurricane procedures" are in place at the United Food Bank of Plant City as it tries to meet the growing needs of a community sidelined by the COVID-19 coronavirus.
The most popular running joke about the COVID-19 coronavirus is that you'd have better luck finding the Holy Grail than finding toilet paper in a store right now. Mary Heysek, executive director of the United Food Bank of Plant City, knows it's true because she's not only seen the empty shelves in local stores, she's also heard it from the people running them.
"Publix and Winn-Dixie told me… within 20 minutes, the paper goods and cleaning goods are off the shelves," Heysek said. "Within 30 minutes, 90 percent of the meat products are out of their containers."
The lack of toilet paper isn't a huge problem for the food bank. The lack of meat, however, is one of several big obstacles life has thrown in the UFB's way since the pandemic created a trend of panic shopping not unlike something you'd see during hurricane season.
In fact, that's exactly how Heysek said the UFB is handling the COVID-19 situation.
"We've broken down the barriers like we would do during a hurricane," Heysek said. "So if you're a new client, although we're not accepting new clients because we just don't have the manpower to do the intake and all the information, we're giving them food and taking care of them. We're getting the basic information of how many (people) are in the household so we have good numbers. We're taking care of them and serving them, but we're just not adding them into our system as a regular client until they're verified to make sure they qualify as a client."
If you look past the fact that nothing has been damaged by a massive storm, it does look a lot like hurricane season at the food bank. Shelves are going completely empty just days after they're stocked. People picking up food have to wait in line outside for pick-up service, as the UFB isn't letting anyone but its own staff and volunteers in the building as a safety precaution. Heysek said the UFB is seeing two and a half times as many people coming in as usual and that virus-related disruption of life has been a significant contributor to the growth, which the food bank has calculated in a survey.
"Thirty-eight percent of the people who are coming in, they're coming in because they have to stay home without pay," Heysek said. "Businesses are saying 'don't come in.' It went up from 35 to 38 percent last week — last Friday alone increased us by three percent. Twenty-five percent of the people are coming in, they can't go to work because there's nowhere to put their kids."
Heysek believes the growth is temporary and should taper off if they can get through the next four to six weeks. The food bank's network of volunteers hasn't taken much of a hit, though a few daytime volunteers are needed at the moment. They've also been able to mobilize somewhat and deliver food to local senior living facilities.
Unfortunately, less than a month after most of America started making moves to "flatten the curve," March's uptick in service has already done major damage to the UFB's budget between people whose work situations have taken unexpected turns, people who can't put their children in day care while they work and kids who can't get food they would normally have at school, to name a few. And since the coronavirus has prompted the suspension or cancelation of numerous events — such as the annual Strawberry Ball, which has been a consistently strong fundraiser for the food bank for several years running — raising money for the UFB has gotten trickier.
"What's happened to us financially and the reason it's so important to us right now is that in order to buy food, we have to have funds," Heysek said. "We've gone into our summer budget and our fall budget, so our budget doesn't look very good right now. We're putting it into buying items right now that we would have been buying in the summertime for the kids' programs, heading into fall and getting ready for the holidays, our normal cyclical type of work that we do."
Increased buying at grocery stores has made it more difficult for the UFB to get people what they need, let alone for them to go find things themselves before trying the food bank. The rapid buying of meat in particular has led to more drastic measures being taken: the state has been sending MRE meal kits, self-heating field rations often used by the military, to the food bank and those kits have helped make up for what would otherwise be a lack of protein caused by a lack of meat.
"A lot of people can cushion themselves for a couple weeks, a couple months, whatever it is," Heysek said. "But these people don't have a cushion. That's why it's so important. The people who are coming here, they do live week-to-week."
Local businesses and residents are stepping up, though. Last week, for example, Heysek said an area man bought 3,000 juice boxes from Sam's Club specifically for the kids' bags. Wish Farms is donating strawberries so that those who get a kids' bag or a monthly bag can also enjoy a flat of fresh berries. Panera Bread donated bread earlier this week and Plant City commissioner Nate Kilton has called "every day" to see how he can help. Heysek said more groups that have been helpful during this time include Gordon Food Service, Winn-Dixie, Star Distribution and the Noon Rotary Club, among others.
If people, businesses and groups aren't donating money, Heysek said, the best thing one can do to help is to donate specific items so that the UFB doesn't have to spend any time going through boxes of mixed goods and sorting the contents apart. Keeping things organized saves much time and effort and enables the UFB to start making bags immediately.
Members of the GFWC Woman's Club of Plant City gathered close to 100 boxes of cereal between them and donated them all on March 11. President Pat Tillman-Shadd brought the idea to the club's attention in its February board meeting, well before coronavirus panic spiked in Florida, and they chose cereal because it's something kids can eat all day.
"It ended up being such a success," Judy Wise said. "We wanted to do it again this month, but we can't have a meeting in April because we can't have gatherings of more than 10 people. We're assuming it will still be on in April. If it isn't, we will do it again."
RAOK Boutique lived up to its name ("Random Acts of Kindness") this month with a cereal and mac & cheese drive that started last Monday and is still ongoing. Though the storefront itself is closed, there's a collection bin out front for people to donate to either on their own or when they come for curbside pickup of items they bought from RAOK's website. The boutique is also getting ready to roll out a new graphic tee and donate 100 percent of the proceeds from its sales to the food bank in order to help with the kids' bags. The shirt's release date wasn't set at press time but will be posted on shopRAOK.com and RAOK's social media accounts sometime this week, if it hasn't already been.
"We love being a partner in the community," co-owner Hannah Hodge Benton said. "Plant City is near and dear to our hearts, so it was important for us to find a way to give back during this difficult time."
For more information or to inquire about donating, visit ufbpc.org or call 813-764-0625.