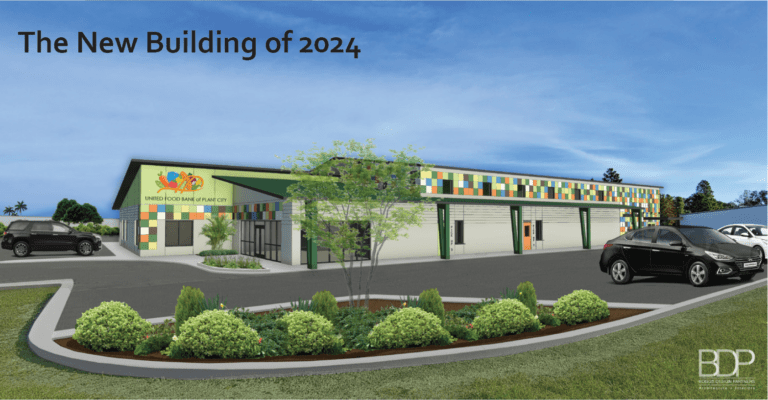 The United Food Bank of Plant City hopes to build a larger facility on its existing property to meet growing demand for food.
For 32 years, United Food Bank of Plant City (UFBPC), located at 702 East Alsobrook Street, has been serving food to individuals and families facing food insecurity. In recent years the food bank has more than tripled the number of people it serves. In 2021-2022 it served 16,880 individuals and distributed more than 2.7 million pounds of food.
As it strives to meet the ever-growing food needs of the community, it's become clear that it's 10,021-square-foot space situated in a one-story shopping complex is inadequate to accommodate the large quantity of food that passes through its doors on a daily basis. The organization cobbled together rented, refrigerated storage units behind the building to increase its footprint but other logistical constraints, including the absence of a loading dock, necessitate the construction of a larger building.
"We're going to double our population within 20 years so we need a space that will facilitate the growing needs of our community," said UFBPC Executive Director Mary Heysek.
An ambitious $5 million capital campaign has been announced to make the vision of a new building a reality. It's already off to a good start with more than $1.6 million raised thanks to the generosity of local businesses and donors, including $300,000 from the Florida House of Representatives through a Local Support Grant via Representative Lawrence McClure, $200,000 through a Hillsborough County Government capital funding grant via Commissioner Stacy White and $50,000 from the Florida Strawberry Festival with support from Paul Davis and his team.
Heysek hopes to break ground on the new headquarters, which will be located on its existing land that it owns, by summer 2023 with completion in Jan. 2024. Plans for the new structure include a 16-foot ceiling height for stacking pallets, a 3,547 square-foot office space, a 1,847 square-foot sorting/kids room and larger warehouse storage, one-to-one client intake stations classroom space for group instruction (financial and health literacy) and a demonstration kitchen for healthy, affordable, multi-cultural cooking instruction.
The new building will be more energy-efficient due to the removal of the refrigerated pods, improved HVAC, LED lighting and higher-grade insulation. "We're confident we'll be able to build a facility that will serve the needs of this community for years to come," said Heysek, who is hoping government officials, foundations, local businesses, community groups and individuals will help them reach their fundraising goal.
"This is where we have the hope with a lot of faith that the Plant City community and beyond will come forward to help us build a new facility that will better accommodate our low-income residents from nine communities in the eastern portion of Hillsborough County that we serve," she said.
To learn more about making a donation to its capital campaign visit www.ufbpc.org or call 813-764-0625.