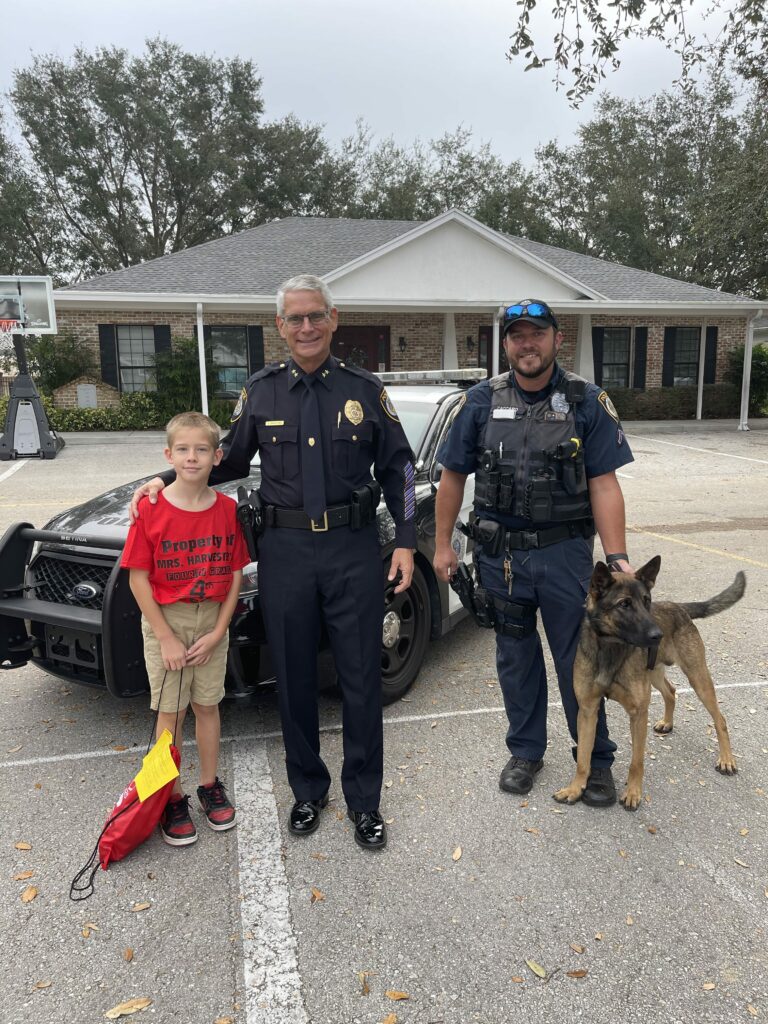 Plant City Police Department unveiled the chosen names at a ceremony at Advantage Academy.
Advantage Academy students got the chance to meet the two newest members of Plant City Police Department's (PCPD) K9 Unit, a purebred German shepherd and a German Shepherd/Belgian Malinois mix, and witness the announcement of the names of the two animals.
Last month, students at the school submitted more than 300 name suggestions to PCPD. Each handler sorted through the submissions and selected the name most fitting for their dog.
Fourth-grade student Gabe Ogle submitted one of the winning names. Officer Mike Zaccaro's German shepherd/Belgian Malinois mix was named Dexter.
Ms. Curry's third-grade class submitted the second winning name. Officer Quentin Garrell's German shepherd was named Odin, not for the destructive and fearsome Norse-Era God of War but for the class' pet lizard.
"It also sounded like a strong name," said Curry.
A runner-up was also announced: student Alex Coronado's name suggestion of Rocket almost made the cut. All the winners received string bags filled with school supplies and other goodies.
A few of the most memorable names not selected were: Black Spiderman, Fluffy, Fido, Flower Power, Marshmallow and Police Dog. One kindergarten student suggested Pico, short for Pablo Picasso, the name of his family's pet dachshund.
PCPD police chief James Bradford said the event was an excellent way to share its latest four-legged additions with the community, in this case children. "We're making connections," said Bradford. "Kids will see these dogs out in the community and know they had a hand in naming them."
School principal Keith Miller agrees with Bradford. "I believe in creating an environment where our students learn that the police department is a valuable part of our community," he said.
The 18-month-old dogs were born in Hungary and purchased for $10,000 each from Southern Coast K9 in New Smyrna Beach. Zaccaro and Garrell , who took delivery of the animals last Friday, didn't just choose their dogs' names, they chose the dogs. They visited Southern Coast K9 to view a selection of dogs and run through training maneuvers, including bite work, building searches and apprehension, to see how the dogs reacted in those situations. Zaccaro said they were also looking for animals that would interact well with their handlers.
Dexter is Zaccaro's second police dog. His first, Leto, retired last month and lives on his property. Both dogs have their own kennel and are getting to know each other. "Dexter is the opposite of Leto, who was very calm but I'm up for the challenge," said Zaccaro.
Garrell is new to the K9 unit.
While the dogs have joined the department, they're not certified as law enforcement K9 until they complete 480 hours of training with their handlers. Class begins on Monday.