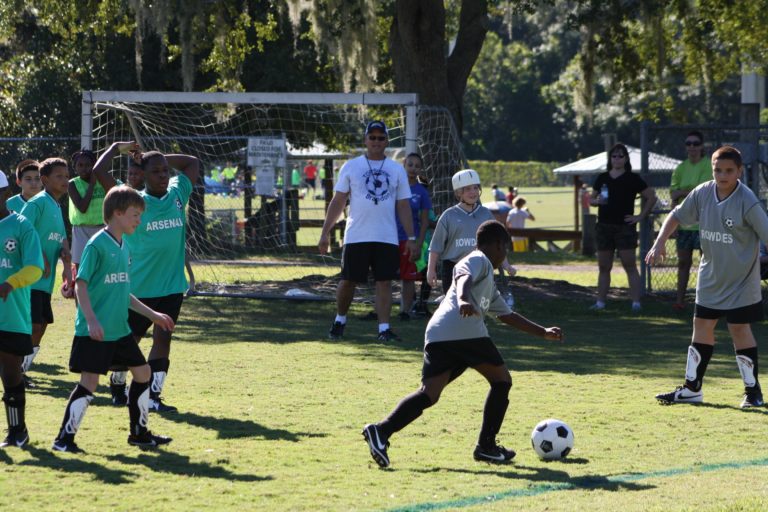 Brandon-based TOPSoccer gives Plant City's special needs athletes a soccer league to play in.
Special needs athletes can get a chance to play soccer with the TOPSoccer program. TOPSoccer, also known as "The Outreach Program for Soccer," is a US Youth Soccer program with ties to the Florida Youth Soccer Association. Its goal is to give special needs athletes a chance to play in a soccer league and learn the game, while having fun and socializing.
For 18 years, Plant City's special needs soccer players have been able to get that experience in nearby Brandon.
BUILDING UP
Brandon's program, based out of the Brandon Area Youth Soccer League and West Florida Flames facilities, was born when the park's board of directors were looking to go beyond the men's, women's and co-ed leagues it had set up. When the board first heard of the TOPSoccer program, it went all in.
The program, with all costs covered by sponsors, marketed itself as a free, volunteer-run group through word of mouth. In 1998, it was able to get the ball rolling for the first time.
"We started with 25 kids," founding board member Ken Muzyk said. "Probably 20 of those kids are playing for us. They're in their late 20s."
The program developed partnerships with the now-defunct Major League Soccer edition of the Tampa Bay Rowdies, who sent players to the fields to help, and the Tampa Bay Buccaneers, who sent the organization 35 single-game tickets each season before stopping in 2013. According to Muzyk, the program's profile grew noticeably in 2003 and has steadily increased membership ever since.
It now pulls in athletes from Hillsborough, Pasco, Polk, Pinellas and Manatee counties. Muzyk said last year's total of 145 players gave the Brandon program the highest registration total among TOPSoccer clubs in Florida and one of the highest in the country.
The FYSA has named the Brandon program its TOPSoccer Program of the Year twice, in 2010 and 2015.
Generally, he said, 10 to 15 Plant City athletes participate each season.
HOW IT WORKS
TOPSoccer is open to special needs soccer players as young as age 5, and has around 12 teams. Divisions are set according to both age and skill level, but skill level alone can determine which age group a player is assigned to.
"Just because a child may be 10, he may not be able to play with 10s," Muzyk said. "He may have to go down to 8 year olds."
The best part is that the program has enough sponsors to cover everything: uniforms, cleats, shin guards, balls and food. There's no cost to register.
Muzyk said the program has a network of about 35 volunteers in high school, all of whom serve as assistant coaches, referees and other on-field roles.
"We've had some that start as freshmen in high school, and they come here every year for four years," he said. "Even a couple that go to Hillsborough Community College or USF still come out on Saturdays and work with us."
BAYSL and the Flames reserve three fields for TOPSoccer every Saturday during the season and also allow the program to use the clubhouse and other buildings as it pleases.
"Without them, we couldn't have the program," Muzyk said.
This season begins Saturday, Sept. 10, and runs through Saturday, November 19. There are no standings kept, practices held, drills assigned or scores recorded; athletes simply show up, warm up and play.
"The whole name of the game is to come out and have fun," Muzyk said.
Contact Justin Kline at jkline@plantcityobserver.com.
SIGN UP
Where: Brandon Area Youth Soccer League clubhouse, 3104 S. Kings Ave., Brandon
When: 6 to 8 p.m. Fridays, from Aug. 12 through Aug. 26; 9 a.m. to 12 p.m. Saturdays, from Aug. 13 through Aug. 27.
Season start: 9 a.m. Saturday, Sept. 10.
Cost: Free
Contact: Ken Muzyk, (813) 657-5271; Fred Englehart, BrandonTops@aol.com; Website: BrandonTopSoccer.com
Facebook: Facebook.com/BrandonTopSoccer.