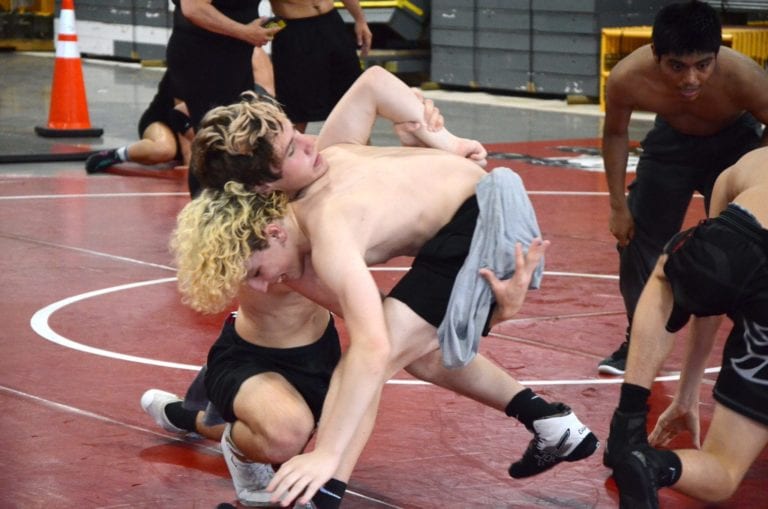 The Plant City-based wrestling club will operate out of Carlson Gracie Plant City through July.
It's been close to three months since wrestlers like Andrew Raab last stepped onto a mat to grapple with another person. So two recent pieces of news — the state lifting restrictions on youth sports and summer camps last week, plus Top Gun Wrestling Academy's upcoming return this weekend — were great for him and his fellow wrestlers.
"I've been working out every other day to keep in shape," Raab said. "I've been missing wrestling and you can't really do it online. I'm really glad the gym's gonna open up again next Saturday."
Top Gun is reopening at noon Saturday, though things are going to be very different for the time being.
The club was kept off the mat by a combination of the state's COVID-19-related restrictions and the Florida Strawberry Festival's decision to close its facilities until July. Coaches searched for a temporary new home for the club and found it downtown in Carlson Gracie Plant City, the Brazilian jiu-jitsu gym at 109 E. Reynolds St.
"They're just gonna come in and do the club in our facility," gym owner Samuel Kimmel said. "A lot of the guys are really excited to have them here."
Top Gun will share the space on a schedule that doesn't interfere with CGPC's activities, as the new space is considerably smaller than they normally have in their auxiliary building on the festival grounds.
"We're working with about a third of what we normally have," coach Will Terry said. "We normally have close to 5,000 square feet of mats and now we'll have 800. We'll have to do dual sessions."
Kimmel said CGPC has been diligent about bleaching, spraying, mopping and disinfecting everything after every activity, and that will continue while Top Gun's there. The wrestling club is going to operate under the National High School Coaches Association's COVID-19 guidelines, which means no one's getting in without first being screened.
"We're gonna follow NHSCA guidelines for small groups, keep the same kids with each other as much as we can," coach Blake Olson said. "No-touch thermometers at the door and when they sign to come in, they have to tell us if they've had any symptoms in 14 days."
Though "The Last Dance" recently brought Michael Jordan's "Flu Game" performance back into the national spotlight, Top Gun coaches don't want kids pulling an MJ and trying to wrestle through any illness.
"If you're sick, don't come," Terry said. "It's just being smart about it. This isn't a time for a kid to be tough and power through practice or anything like that. If you're not comfortable or your family's not comfortable, we're not twisting anybody's arms to come to practice."
The club has anywhere from 30 to 35 kids who come regularly for sessions, but the club is expecting some extra numbers to come in while it's open. Not many wrestling clubs are currently up and running, and that's because many of them are heavily tied to schools — which are currently closed and don't have any firm date for reopening their facilities. Though Top Gun does have connections to Strawberry Crest High School (it started as Charger Wrestling Club and Crest coaches have always run the program), it doesn't operate on Crest's campus and therefore has much more flexibility than most. That puts Top Gun in a position to accommodate other wrestlers from other clubs who want to work and need a place to do so.
"There's been a ton of teams around the area looking to get in there and work out with us while all this is going on," Olson said. "Those clubs share spaces with their high schools, but since the schools are closed they can't access their wrestling rooms."
Kimmel said having Top Gun come in was a natural fit because wrestling "goes hand-in-hand" with jiu-jitsu. Though the virus threatened CGPC, the gym adapted to the changing times and added a program providing childcare for essential workers to help keep the business afloat.
"We're making it," Kimmel said. "Luckily we pushed through everything, haven't had anybody sick over here. It got scary for a bit, like maybe a month and a half where we didn't know which direction things were going. It got freaky, but we made it. Thank God."
The club's plan is to work out of CGPC until the Florida Strawberry Festival reopens its facilities, which is expected to happen in July shortly after Top Gun's kids and coaches get back from the 2020 Florida Pride Wrestling Camp in Lake Wales. They'll move back into their regular space as soon as they're able to do so.
Before anyone can get back on the mat, parents must complete and turn in a waiver. The cost per wrestler is $5 per practice or $60 per month. The new sessions are split between kids in elementary school through sixth grade first and those in seventh through 12th grade second. Saturdays start with E-6 kids from 12 to 1:30 p.m. and 1:30 to 3 p.m. for the older kids. Mondays start with E-6 kids from 5 to 6:30 p.m. and 6:30 to 8 p.m. for the older kids. Advanced wrestlers can also participate in invite-only Sunday sessions from 6:30 to 8 p.m. Visit facebook.com/topgunwrestling for more information.