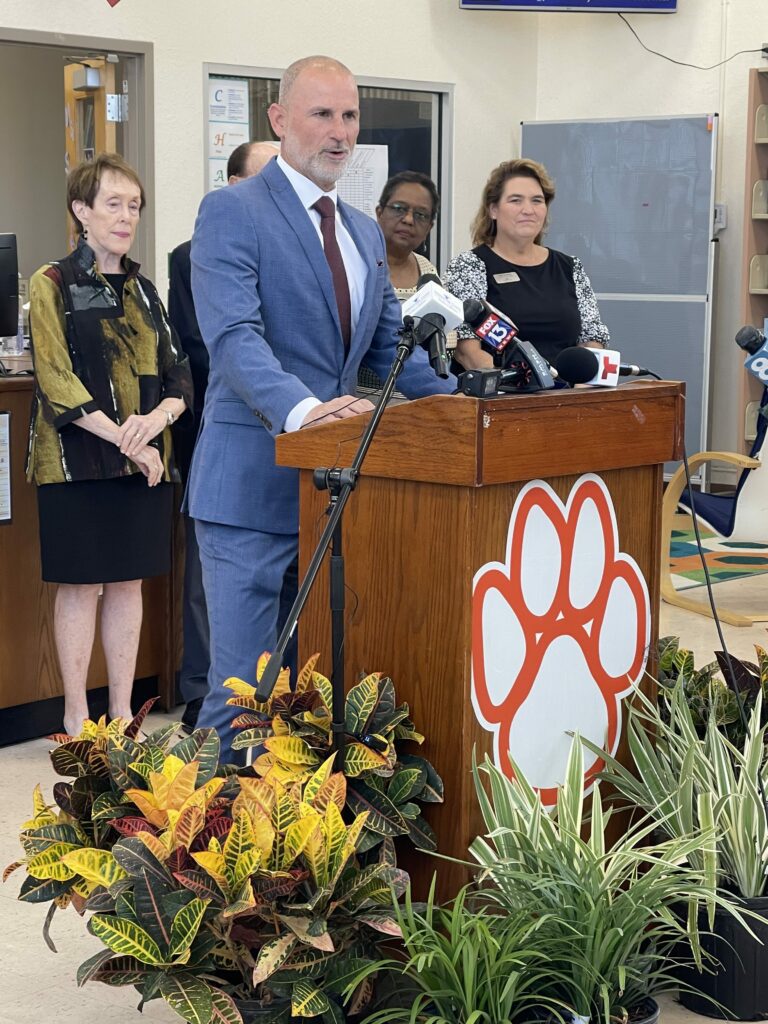 More than $25 million will be spent to make improvements to its HVAC system, roof and gymnasium.
Amidst a flurry of construction activity at Tomlin Middle School, Hillsborough County Public Schools Superintendent Addison Davis held a press conference in its media center yesterday to highlight summer Education Referendum projects happening in schools throughout the county.
One of the schools reaping the benefits of the tax dollars is Tomlin, where more than $25 million is being used to replace the roof, bring in new insulation, repair floors and windows, overhaul the HVAC units and renovate its gymnasium. The project contractors are Core-Horus Construction and Wilder Architecture, Inc.
To date, the county has invested more than a half a billion dollars and completed 600 projects, thanks to the half-penny sales tax that voters passed in 2018.
"Coming into Hillsborough County over three years ago, one of the things I had the luxury of inheriting was a community that truly cared about education, truly understood about the millions of dollars of deferred maintenance that had to be addressed within our facilities," said Superintendent Addison Davis.
Plant City resident Rick Lott is a member of the Citizen Oversight Committee, a group of seven members (six independent citizens and one school principal) that oversees the spending on school improvement projects funded by the Education Referendum.
"I want to thank the voters for the confidence in the school district to pass this referendum to make the investment in our schools," he said. "If it wasn't for the referendum there's no way what we're celebrating here could have been accomplished."
The school, located at 501 North Woodrow Wilson Street, was built in 1955 and housed Plant City High School until 1972, when Tomlin Junior High School moved to the building. It was renamed Tomlin Middle School in 1995. The building hasn't had any major renovations completed since 2001.
Principal Traci Durrance, who attended the school in her youth, said she's grateful for the renovations that have been needed for a long time. "First of all, it says a lot to the community and to the task force that said Tomlin needs some love over here," she said. "This is a community school and it's got a lot of history and it feels like people care."
Lott said the renovations will foster a sense of pride. "We can walk into a school that has been remodeled and brought up to standards and it gives our children a chance of being the best they can be in our community," he said.
For more information about Hillsborough County Public Schools visit www.hillsboroughschools.org.