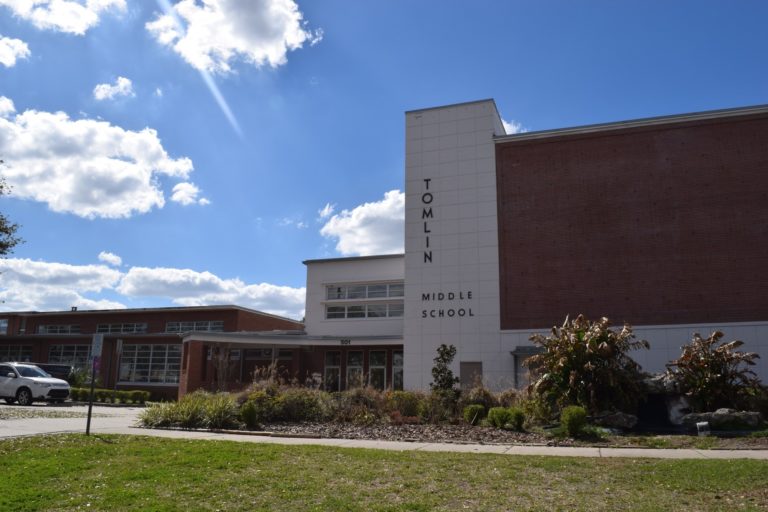 No credible threat was found, but police presence at the school was increased.
It was bright, sunny and deceptively calm outside of Tomlin Middle School Monday afternoon. Inside, though, it was mildly chaotic. Parents streamed steadily into the main office, packing it tight while signing their children out following a social media post threatening gun violence at the school.
The Hillsborough County School District said an investigation found no credible threat of violence after a photo posted to Snapchat began circulating. The photo (which couldn't be traced because Snapchat photos disappear after being viewed) showed a message saying someone was going to shoot at the school, according to the Hillsborough County Sheriff's Office.
"It's sad. You have to pray with your kids and hope everything goes good, everything is safe," parent Reginald Bush said. "It's crazy now."
Bush was working his job at Rooms to Go in Lakeland when, around noon, his wife told him he had to pick up their son, Reginald Jr., because of the threat. While the School District said they didn't prompt parents to pick their children up early or keep them home, many did.
"Everybody I know, most of the kids didn't go to school," Melissa Hardwick, a Tomlin parent, said.
Hardwick, who is also a teacher said her son, Noah, noticed the lack of students on the bus. According to the HCSO, the Snapchat message was posted Sunday and began spreading through social media. Hardwick said some parents who saw it decided to keep their children home. She also said parents have been asked to talk to their children, some barely over 10-years-old, about the dangers of gun violence. Something she said she never thought she'd have to do.
"I think it's sad they have to worry about this stuff," Hardwick said. "But it's good the schools are taking precautions."
HCSO spokesperson Larry McKinnon said despite law enforcement finding no credible threat of violence, any perceived threat is taken seriously, particularly in the environment we live in today. Last week, a student opened fire at Marjory Stoneman Douglas High School in Parkland, killing 17. As criticism rises among accusations that law enforcement ignored warnings leading to the Parkland shooting, McKinnon said all threats are taken seriously. Since mid-January, at least five arrests have been made in Hillsborough County schools related to threats or danger of gun violence on campus.
"A lot of these kids think it might be funny or they might be thinking it's a practical joke and they're gonna scare somebody, but we take this very seriously and you're gonna get arrested," McKinnon said. There's zero tolerance for these types of postings on social media because they spread fear. Whether you think it's a joke or not, we're not taking it as a joke. We're taking it as a criminal offense."
Tomlin had a heightened police presence Monday, but things should be back to normal Tuesday, McKinnon said. McKinnon said Sheriff Chad Cronnister has been adamant about taking threats seriously and encourages people to remain vigilant. According to the HCSO, its often citizens seeing social media posts and helping spread the word that helps law enforcement act quickly.
"I implore everyone to do the right thing when it comes to our children's safety. Don't stay silent or in the shadows. Be heard and maybe save a life," Cronnister said in a statement following the Parkland shooting. "The citizens have my vow that we will work shoulder-to-shoulder with Hillsborough County Public Schools administrators and security to share information and respond to any and all threats. Communication is vital in our vigilance. We owe that to the children. We owe that to our future.''