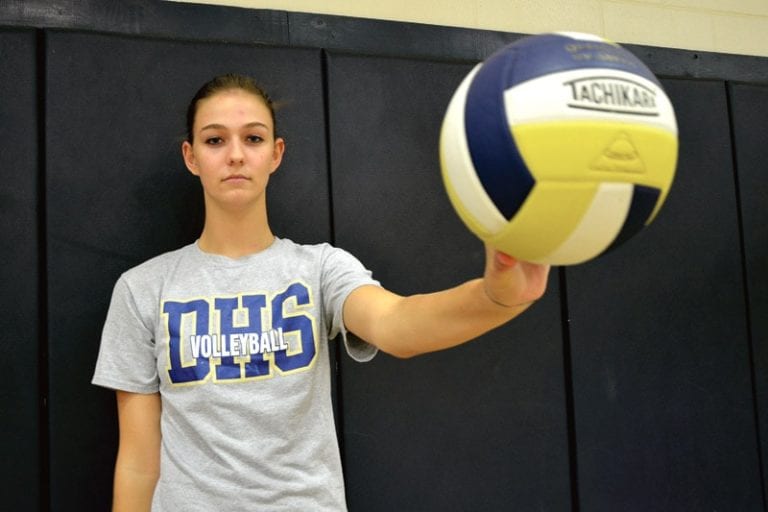 Lexi Thompson and her teammates are constantly reminded of the history and winning tradition of the volleyball program at Durant High School.
Whether its looking up on the gymnasium wall during practice and seeing the banners or hearing stories from family members and coaches, they are all well aware of where the bar has been set.
"My aunt played here and later coached here when they went to state (2007), so I also want to be where she was," Thompson said about her aunt, Dawn Hough. "We're tired of this long lag of disappointment."
Since the program began in 1995, Durant has claimed nine region championships, but it has been six years since its last in 2007, when Hough was head coach.
Current head coach Brittany Wilson Wade believes this year's team can put an end to that drought.
"What will set this group apart is discipline," she said. "If we have discipline, we can go far."
One of the Durant gym walls displays the current school records for individual players. Chelsea Morris currently holds the record for kills in a season with 353, which she set in 2008. Thompson, an outside hitter and University of Mississippi commit, recorded 295 during her junior season. She is also narrowing in on the career kills mark.
They are records her teammates want her to break, but individual records and awards aren't important for Thompson.
"I never check the stats or look to see where I'm at with stuff like that," she said. "That stuff doesn't matter to me. What matters is us as a team getting to November."
Durant finished 2012 with a 12-5 record but had a disappointing end in the district tournament, in which they fell to Wharton 3-2 in the semifinals. It brought on a rare postseason absence for the Lady Cougars.
"With us going down, we're hoping to get a lot further than we have in the last couple years," Thompson said about Durant dropping from Class 8A to 7A. "We really want to make it to November and the state tournament, and we feel like we have what it takes to do that."
NEW FOES
After dropping down, Durant will no longer have to contend with state powers Wharton and Plant.
The Lady Cougars now find themselves in Class 7A District 7, along with area rivals Plant City and Strawberry Crest, as well as Tampa Bay Tech, East Bay and Brandon.
Out of those five programs, only Plant City and Strawberry Crest had winning records last season. Both advanced to regionals, but Durant defeated both rivals 3-0 in regular season non-district matches.
"Our expectations are just to do our best and not worry about anyone else," Wade said. "In reality, whoever you play, it comes down to how you're going to match up to them."
Wade enters her third season as Durant's coach. She played for the program from 2002 to 2006, including as a part of the 2002 state championship team. During those years, Wade saw great players and talented teams, but she feels the group she has this year is equally as special.
"Our expectations are high," she said. "We'd love to be in the state final four."
Durant returns seven starters, including five seniors. Four of those have played varsity since they were freshmen.
"They know that this is it for them," Wade said. "It's now or never for them, really."
In addition to Thompson, the Lady Cougars are led by senior middle blockers Kelsey Morton and Morgan Sistrunk. Durant lost two quality players in libero Raelynn Nichols and setter Macie Jones. Junior Rachel Rice will handle setting duties, while Jasmine Shamberger and Annie Quinn will share responsibilities at libero, a defensive specialist position.
LEADING BY EXAMPLE
Thompson hasn't waited until her senior year to be a leader for her team.
"I work to be a leader, because I want to get everyone upbeat, so they're excited to play," she said.
That leadership doesn't always have to come from being vocal off the court, explained Wade.
"Lexi's leadership is unique," Wade said. "When she's on the floor, everyone wants to be like Lexi."
Coaching Thompson brings a special challenge for Wade, and she says she has enjoyed that challenge.
"When I come out here, I have to coach better because of Lexi," she said. "That's a special opportunity and a challenging opportunity to have."
SMALL-TOWN GIRL
Thompson, a native of Plant City, was a setter for five years before making the switch to outside hitter as a freshman at Sickles High School, in Tampa. She came to Durant as a sophomore and has played the position ever since.
In addition to the year living in Tampa, she also lived for 18 months, in Ft. Myers. But, she says, the city life isn't for her.
"I just like small towns, because everyone knows one another, and everyone is more friendly," she said. "I feel a lot more comfortable walking around outside in Plant City than I do in Tampa."
That's why she was attracted to Ole Miss, a large university set in the small town of Oxford, Miss.
Ole Miss has shown interest in Thompson since her sophomore year at Durant. After visiting the school last May, she made her commitment official.
"What drew me to there was their engineering program, because I want to get my master's (degree) in civil engineering," she said. "It was also beautiful there. I loved the campus and the town was country and reminded me of Plant City."  
STRAWBERRY CREST AT DURANTE
WHEN: 7 p.m. Aug. 29
WHERE: Durant High School, 4748 Cougar Path, Plant City
NOTES: Area rivals face off in the district opener for both teams. Strawberry Crest and Durant are in the same district (Class 7A District 7) for the first time.