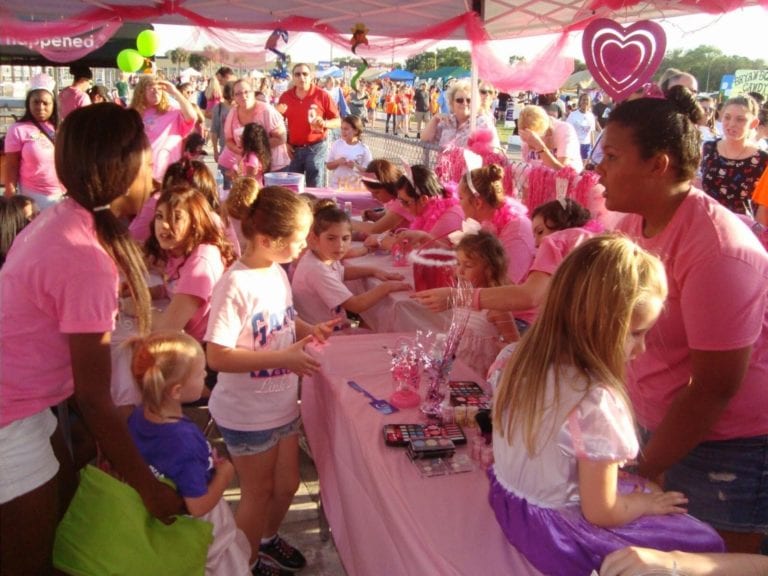 Laurel Candelario has been hosting the Fairy Princess Makeovers at Relay for Life in honor of Megan Carpenter for 13 years. This year, Candelario is Relay's honorary survivor.
Megan Carpenter was 11 years old when she was told she had adrenal cortical carcinoma, a cancer so rare less than one in a million people are diagnosed each year.
Doctors gave her mere months to live, but Megan was able to turn that into a nearly six-year battle, using her positive attitude and faith in God to influence the lives of everyone she met. She died in 2006 and the hole she left in the heart of her community still still prevails.
A few years ago Megan's mom, Dana Carpenter, swallowed her fears of public speaking and shared a moving speech at Relay for Life about the legacy her daughter left behind.
"When Megan was here with us, fighting this disease, going through 11 surgeries, receiving radiation treatments and three different rounds of chemotherapy, she never asked me 'why her?'" Dana Carpenter said in her speech. "I believe that Megan was an angel sent by God to teach and inspire all of us. And she did. Megan had such great faith, strength, courage and hope. She never felt sorry for herself. She loved life, she loved her friends, she loved cheering, she loved sunsets, she loved the small things in life like watching a butterfly, she always tried to be positive and she had such a sweet spirit about her."
In Megan's memory Laurel Candelario, a cosmetology teacher at Plant City High School, began hosting Fairy Princess Makeovers each year at Relay to help share Megan's passion and joy with new generations in Plant City.
The makeovers are $10 and include nail polish, face painting, glitter for a treasure box of treats and crowning as a real fairy princess by the 2019 Florida Strawberry Festival Queen Kendall Gaudens, who is also one of Candelario's students. Parents and loved ones are able to then take photos of their fairy princess at the end of the makeover.
When Megan died, her entire community felt the brunt of the loss. The very next year, Candelario set up the Fairy Princess Makeover tent for the first time. Megan loved everything pink and princess-themed and Candelario felt it was a special way to honor her memory.
"One of my favorite memories from the years of us doing this event is seeing Megan Carpenter's mom just beaming with pride," Candelario said. "She suffered such a great loss and she just gets to celebrate her daughter. I have two daughters and I can't imagine a worse loss. The children that come through here, they melt your heart. They say, 'I'm real, I'm a real fairy princess.' This is just too cute."
Anywhere from 50 to 75 children come through the tent every year and the group has raised more than $100,000 since its inception. Candelario said it speaks volumes for how special Megan was as the community continues to rally in her honor every year. Her family and friends always show up and participate in the event to celebrate her life and the legacy she left.
"The first year that I participated was only a few short months after Megan had gone to heaven and it was so overwhelming," Dana Carpenter said. "Not with just the sadness and emptiness of Megan being gone, but the love and outreach of all of these people that either knew Megan or knew her story and showed up and donated their time and money to this event… Megan's life continues to inspire me and her friends and that is why we need to continue to raise money to find a cure. I learned a lot about cancer. I know that cancer is not prejudice. I know it can happen to any family, to the young, the old, the rich or the poor. And I know we need to find a cure."
Each year the event grows and friends walk away as family. This time around, however, Candelario is experiencing Relay from a completely new and unexpected point of view.
"This year I am the honorary survivor," Candelario said. "I never thought I'd be the one walking that walk, but I'm very thankful. The students are super sweet this year, lifting me up and making sure I'm surrounded by positivity. It's a different twist."
When Candelario left the doctor's office in October with her diagnosis she was bracing herself for what she knew would be the hardest battle of her life. Fate, however, wasn't through. Her husband was diagnosed with cancer as well merely one month later. They had their respective major surgeries one day apart.
The next few months were filled with trips to chemotherapy and the many stages of treatment. Though they were both in the trenches, they walked through it together. In a week they will walk the survivors' lap together. Her husband Rafael is still undergoing treatment, but Candelario said he's tough. As a retired Marine he's using his resiliency to continue the fight and remains positive every step of the way.
The support from family, friends, her school and the exceptional healthcare they've been provided at the hands of their doctors has helped them through the journey. When Candelario was approached to be the honorary survivor this year she said she was surprised, that there were other people that have "gone through a whole lot more," but that she was honored to be able to hopefully inspire others on the night of the major event.
"I'm just going to be focusing on gratitude," Candelario said. "My words will be short. I think I speak right before the Luminaria Ceremony, which is when we remember all the people we've lost. It's very humbling. Why did I get to survive? I don't know, I'm just very very thankful."
Candelario has been involved with Relay for Life for years and, up until last year when she received her diagnosis, was a team captain. Though she was undergoing treatment, when the time came to decide to host the Fairy Princess Makeovers or not she knew immediately they had to continue the tradition.
"It's lonely to have cancer, and it's just nice to feel the love and you definitely do there," Candelario said. "When you lose somebody they don't just disappear, you can't just stop thinking about them. It's so nice to honor those you love. I'm grateful to be able to help play a part in that. I hope people come out and they really enjoy the moments and the memories they make."
If you go:
Relay for Life Plant City Fairy Princess Makeovers
When: March 29 from 7 p.m. to 8:30 p.m.
Where: Plant City High School stadium
Cost: $10 per makeover