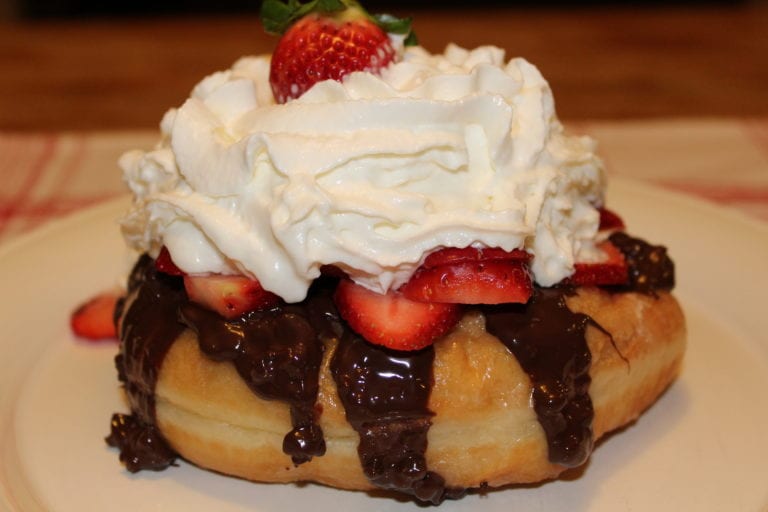 JUSTIN KLINE
I don't know how much I have in common with First Maid Madilyn Conrad, but I do know we share one obsession: Pickle Barrel's sirloin tips.
There's no gaudy presentation for any foodie with an active Instagram account to geek out over. They'll make you a little vessel out of aluminum foil and scoop some mashed potatoes, sauteed onions and green peppers, mushrooms and those delicious little steak tips into it. It'll be hot to the touch and you'll need to go grab a fistful of napkins right away, unless your plan was to wear some more of the steak and mushroom juice that's going to squirt onto your shirt and pants whether you like it or not. You'll give them some money from your wallet and hopefully you'll find a good spot to sit. The benches and tables usually fill up quickly and you'll want to be sitting for this. Once you're seated, you dig in.
Reader, eating that first glob of steak and potato and whatever else didn't fall off your fork on the way to your mouth is just the best. It's a perfect harmony of flavor and texture and heartiness, of protein and carbs and calories. If you're supposed to be dieting, that first bite is when you stop hating yourself for taking this sportswriter's advice and buying it against the pleas of your conscience. If you're not dieting, even better — you've got clear eyes and a full heart, and you can't lose.
Because you've already murdered any chance you had at eating healthy that day, let those sirloin tips digest a while and hang out on the grounds. There's plenty of axe throwing and livestock costume contests and musical performances to keep you busy while you wait to make room for dessert. Once you're ready for that, you have to go get the Amish doughnut.
Look, it goes without saying that you have to eat at least one strawberry shortcake while you're at the festival. I like all of the different varieties you can get, so this isn't about to be an endorsement of one shortcake vendor over another. But those original Amish doughnuts, especially when they're hot and fresh, are so much lighter than they look and pretty much melt in your mouth without feeling like it's all just sugary glaze welding itself to your teeth. It's going to be a top-five doughnut experience of your life. Maybe in the top three if you're not a total doughnut snob. It's my number one. If you woke up feeling extra dangerous that day, try the Sweetheart variety.
BREANNE WILLIAMS
It's hard to spend 11 days at the Florida Strawberry Festival and not delve into some creative culinary creations in-between watching shows and riding rides.
If grazing is your forte, stop at Fiske Fries or the Peachey's — former known as The Amish Baking Company — stand. A cup full of salty fries is easy to inhale while you take in the sights. If you want something truly unique order "The Sweetheart," a giant Amish donut, covered in hot fudge and topped with whipped cream and local Plant City strawberries. It's messy, but can be managed with both hands while you head to a nearby show.
If you're ready to dive in deep head straight to the Mama Jane Harris booth to sink your teeth into a funnel cake full of flavors one would not normally associate with the "dessert." Last year one of her highlighted creations was a loaded fried potato funnel cake. Topped with cheese, bacon, chives and everything a loaded potato should consist of the massive order easily fed three of our team and had us still regretting trying to tackle the beast after just eating lunch.
Yes, there's loads of traditional fair food like turkey legs and hot dogs, nachos and cotton candy. But what's unique about the Plant City's massive festival is the vendors step up to the plate with unique twists to their already delicious grub. We are here to celebrate a strawberry and nearly every booth will have something that is smothered with or filled to capacity with the sweet fruit.
Strawberry crepes are at Sunshine Concessions and massive, fresh strawberry milkshakes can be found all over the festival. But some of the greatest festival foods are the most simple. Plant City organizations, whether they be civic clubs, churches or schools, set up booths to dish out their version of a fresh strawberry dessert.
Shortcakes, jams, pies and cheesecakes, entire bowls of berries, cobblers and strawberry fritters all topped with or made with locally picked berries are all provided by Plant City volunteers at the variety of booths around the festival. It's hard to beat a strawberry dessert made by a Plant City resident. Strawberries are their life, their passion, and that's evident in the careful way they construct each dish.
If you're headed to grab a shortcake adopt a vacation mindset. Eat that dessert for breakfast. The closer to opening you get in line the less you'll have to wait. As the day drags on and more and more guests flood in you will find yourself in a queue similar to those found at Disney World on the Fourth of July. So when the gates open grab a coffee and a shortcake and let the good times roll.