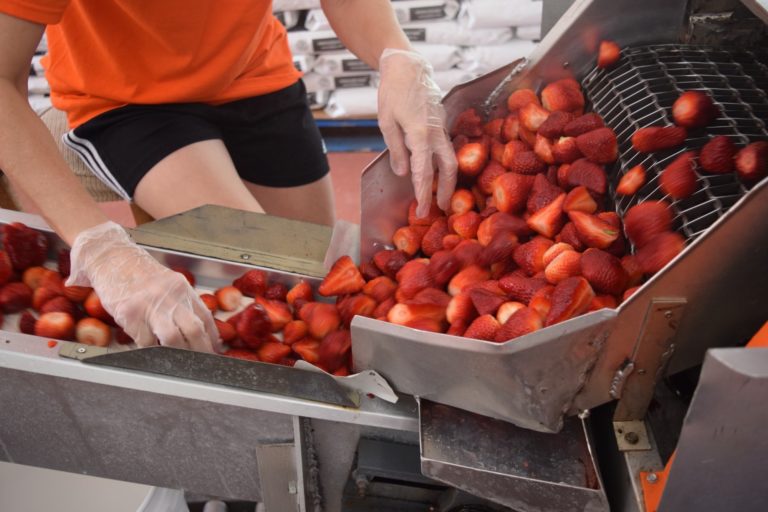 St. Clement Catholic Church is celebrating their 45th year of Make-your-Own Shortcake at the Florida Strawberry Festival and getting ready to serve their four-millionth shortcake.
A light breeze carried the sweet smell of fresh strawberries from Cronin Hall across the St. Clement's parking lot and onto Alexander Street Wednesday morning, marking the beginning of the church's 45th festival season.
More than 100 volunteers gathered to prep the berries, pumping out two and a half buckets per minute as the church gets ready to ask "cake or biscuit?" for the 4 millionth time at this year's Florida Strawberry Festival.
The prep always starts the day before. Volunteers cut the berries and drop them into buckets, which are then loaded onto a conveyer belt where they are washed and sliced, then mixed with sugar and sent off to the festival. St. Clement's iconic "topper berries" will get prepped today.
"That top berry is one of the things that makes St. Clements unique," Jessica Bazely, a spokesperson for the operation, said. "When you see a shortcake at the festival you can tell it's a St Clement's shortcake because of that top berry."
The line at Booth 15 in the Parke Building often stretches far and long while people wait the eight-minute average time to build their dream shortcake. Two crews of 37 volunteers each man the booth every day, while an average of 120 meet in Cronin Hall each morning to prep more berries. Now in its sapphire year with the festival, much of the profit made from shortcakes over the years has helped St. Clement go from a brick building downtown to its current multi-building facility.
"We literally pay the mortgage with shortcake," Bazely said.
Last year, she said the church made $200,000 from shortcake sales, and that's after donating to local food banks, Relay for Life and a number of charitable causes. This year, the church will use some of the funds raised to bring water wells to countries like Haiti, where some have to walk miles upon miles for a five-gallon bucket of water, Program Coordinator Kevin McFaul said.
Each year brings in a batch of new volunteers along with familiar faces. Some, like Ray Rutherford, have been around since nearly the beginning.
St. Clement's congregation started serving up shortcakes at the festival in 1974. Rutherford, 78, started in 1975 when the church was still downtown. He started coming around to help his wife, who was a member of the church at the time. She died in 1985 and he became a member himself in 1986. He never stopped showing up to help cut berries.
"This is a good thing going on and I always want to be part of good things," Rutherford said. "I am proud to be here."
Over the years, his children, who have since moved away, also became members of the church and volunteered during festival season. As long as he can hold the knife, Rutherford will keep showing up.
Make-Your-Own Shortcake has evolved throughout its 45 years. From the cleaning and sorting machines to a special unit designed to wash the topper berries, air conditioning in the booth and a partnership with Publix, which sells advanced tickets for Make-Your-Own-Shortcake in 20 of its stores. Last year, the booth made $42,000 from Publix ticket sales alone.
Sometime after the festival, McFaul said, he'll give back to the volunteers with a dinner and award ceremony. And though the festival only lasts 11 days, coordinating the creation of nearly 100,000 shortcakes per festival can take a year.
"The festival ends March 11 this year," he said. "I'll start getting prepared March 12."