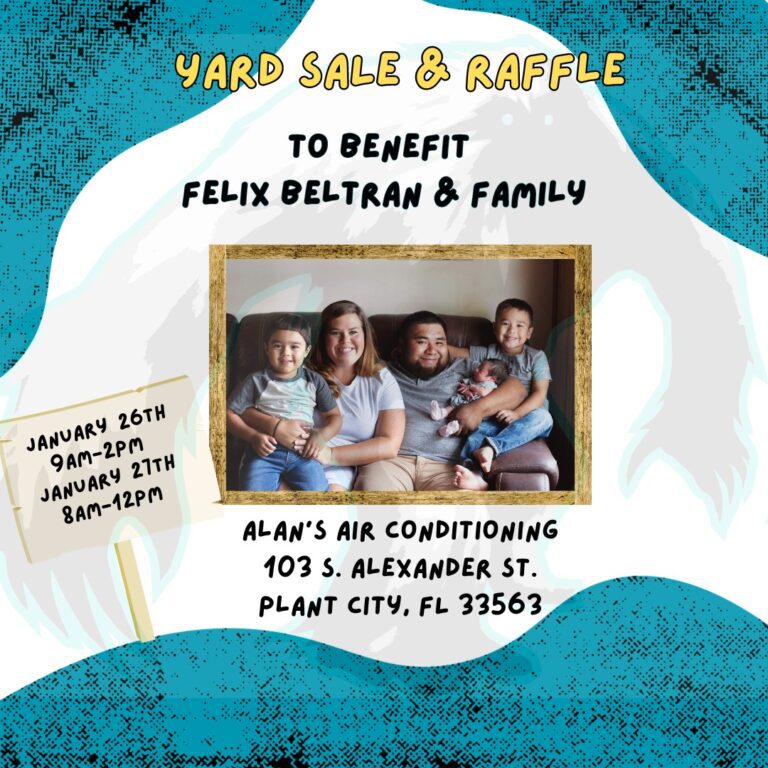 Alan's Air Conditioning employee needs your help.
On Oct. 28 of this year, Felix Beltran was taken to Plant City hospital after collapsing at home. Beltran tested positive for the flu and developed pneumonia. He quickly went into respiratory distress and subsequently, cardiac arrest.
On Oct. 29 he was air lifted to St Joseph's Hospital in Tampa where he has been on life support since. He underwent ECMO (heart and lung bypass) treatment and received a tracheotomy for better respiratory management.
Beltran is 31 years old. He is the father of three young children and husband to his wife, Tiffany. He is employed by Alan's Air Conditioning in Plant City. "Felix is one of our lead installers, works hard and is always willing to lend a helping hand," said Brian Lewis, owner of Alan's Air Conditioning. "He could really use your prayers right now for a full recovery."
Lewis and his staff have been with the Beltran Family since this horrible situation occurred. "We wanted to help the family raise funds for Felix's medical expenses," Lewis said. "So, we decided to host a two-day yard sale event on January 26 and 27."
Felix's wife, Tiffany has been overwhelmed by the support her family has received from her husband's employer. "I'm just so thrilled by the love and support our family has gotten from Alan's Air Conditioning," Beltran said. "They have been by our side since Felix became sick. Their support and offering to host this fundraiser for us means a lot to us in so many ways."
Felix has been an asset to the staff at Alan's Air Conditioning and that is why Lewis and his team want to help the Beltran Family. "Felix is a hard worker and the only time he ever would take off was to help is family," Lewis said. "It's now our turn to help him and his family."
The yard sale fundraiser will take place at Alan's Air Conditioning located at 103 S. Alexander St. in Plant City. For more information about the yard sale, you can visit their Facebook event page at https://www.facebook.com/events/.