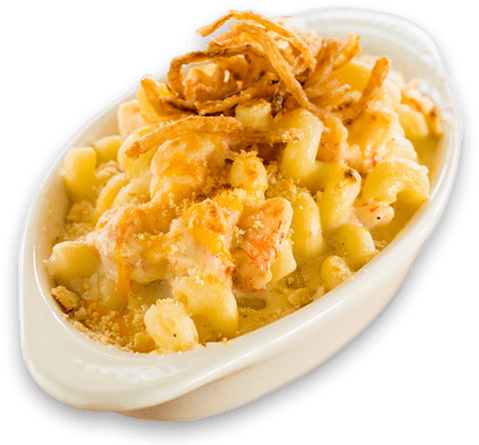 Plant City residents share their favorite holiday dishes.
Baked Three-Cheese Macaroni & Cheese
Recipe Courtesy of Gail Lyons
8 oz. uncooked macaroni
3 TBSP. unsalted butter
2 TBSP. flour
1 12-oz. can evaporated milk
1 cup half and half
1/2 – 1 TBSP. onion powder
2 tsp. garlic powder
1/2 – 1 tsp. Creole seasoning
1/4 tsp. cayenne pepper
1/2 cup mozzarella cheese, grated
1/2 cup sharp cheddar cheese, grated
1/2 cup gouda or gruyere cheese
salt and pepper to taste
Instructions
1. Cook macaroni according to the package directions. Drain.
2. Add butter to a skillet and as soon as butter melts, whisk in flour. Continue whisking until flour is fully mixed with butter, then cook for about a minute to get rid of the flour taste.
3. Slowly add the evaporated milk a little at a time, followed by the half and half; you don't want the mixture to form any lumps.
4. Simmer for about three to five minutes until the mixture thickens slightly.
5. Add seasonings: onion and garlic powder, creole seasoning and cayenne pepper.
6. Bring to a simmer for about two minutes.
7. Stir in the cheeses (reserve some as topping later), and continue stirring until everything is melted, combined and smooth. Add salt and pepper to taste.
8. Add the cooked pasta to the pot, and stir to incorporate.
9. Transfer the pasta mixture to a pan or lightly-greased 2-quart baking dish; top with remaining cheese.
10. Bake at 375 degree oven for 20 minutes or until golden and bubbly.
Pro-Tips: Do not use bagged cheese as it's drier. Get blocks of cheese and shred it yourself. You can also substitute different types of cheese if you prefer another kind.
Homemade Turkey Stock
Recipe Courtesy of Taylor Jenkins
2-4 pounds of turkey bones/neck
1-2 large carrots, rough chop
1 large onion (skin-on), rough chop
2 ribs celery, rough chop
Optional: thyme, rosemary, sage, 1-3 bay leaves, 1/4 cup whole peppercorns
1. Place your turkey bones on a baking rack and drizzle with oil. Roast in the oven at 425 degrees Fahrenheit for 40-45 minutes. Once done, transfer to a large pot.
2. To make the mirepoix; chop one carrot and two stalks of celery into large pieces. Chop one large yellow onion into quarters or eighths. Place all of this into your pot with the turkey bones. Add enough water to cover at least an inch above the bones.
3. Optional: Add aromatics such as bundles of thyme, sage, and/or rosemary, a bay leaf and/or 1/4 cup of whole peppercorns.
4. Bring to a rapid boil, then reduce heat to a low simmer. Make sure to remove any scum that floats to the surface with a ladle. Simmer for four – six hours.
5. Strain stock through a fine mesh sieve to remove all solid ingredients.
Sweet Potato Casserole
Recipe Courtesy of Meghan Finton
6 medium sweet potatoes
1/4 tsp. salt
2 TBSP. butter, softened
2 eggs
1 1/2 tsp. pure vanilla extract
3/4 tsp. cinnamon
1/3 cup sugar
1/4 cup heavy cream
Streusel topping:
4 TBSP. chilled butter
1/4 cup flour
3/4 cup packed light brown sugar
1/2 cup chopped pecans (optional)
Preheat oven to 350 degrees.
Lightly grease a 9" x 13" baking pan and set aside.
Peel, quarter and boil sweet potatoes for 10 – 15 minutes until fork tender, drain well.
When cool enough to handle, place in a mixing bowl and mash with a fork or potato masher.
Add salt, butter, eggs, vanilla, cinnamon, sugar and cream and mix until smooth.
Spoon into the baking dish and spread evenly.
For the streusel topping, in a medium bowl combine the butter, flour and brown sugar. Mi with 2 forks or knives, a pastry blender or your fingers to the consistency or coarse meal. Stir in pecans, if using.
Sprinkle over the sweet potato mixture.
Bake at 350 degrees for 30 – 45 minutes or until the topping is crispy and lightly browned.
Corn Casserole
Recipe Courtesy of Lexie Joiner
1 can corn, drained
1 can creamed corn
1 8 oz. container sour cream
2 eggs
1/4 cup melted butter or margarine
1 box Jiffy cornbread mix
2 cup grated cheese
Mix first six ingredients and pour into a greased 7" x 11" pan. Bake for 35 minutes at 350 degrees. Add cheese on top and bake 10 – 15 minutes longer.
Butter Rolls with Pudding Filling
Recipe Courtesy of Dora Beveard, mother of Dodie White & Marsha Passmore
1 can biscuits (10 in a can)
4 cups milk
3 eggs
1 1/2 cups sugar
1 tsp. vanilla
2 – 3 TBSP. corn starch
2 1/2 sticks margarine
Roll the biscuits out thin and fold over like a turnover. Bake, according to package directions, on a baking sheet until golden brown.
Remove from baking sheet and one at a time place in a deep baking dish sprayed with cooking spray.
Put the eggs, sugar, vanilla, milk and cornstarch in a double boiler and heat on top of stove until bubbly and thick.
Add the margarine when the pudding mixture is thick and hot.
Pour over cooked biscuits and cover with foil.
Bake in a pre-heated 325 degree oven for one hour.
Pecan Tarts
Recipe Courtesy of Michelle Caceres
Crust:
6 oz. cream cheese, softened
2 cup all-purpose flour
2 sticks butter, softened
Filling:
1 1/2 cups light brown sugar
2 eggs
2 TBSP. butter, melted
1 tsp. vanilla
1 cup chopped pecans
Mix crust ingredients and press into mini-muffin tin. Mix filling ingredients and fill muffin cups almost to top. Bake in a 350 degree oven for 30 minutes. Take out of mini-muffin pan immediately and cool on a wire rack.