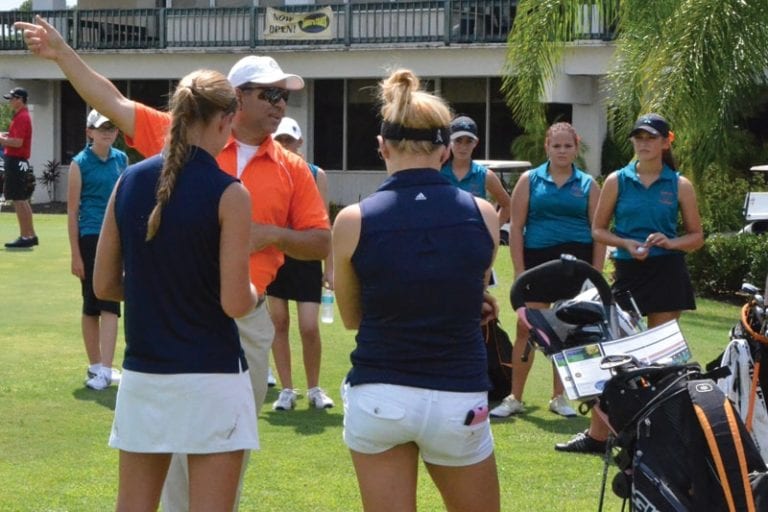 By Matt Mauney | Associate Editor
Area golf teams will tee off early next week in Class 2A District 10 tournaments, and while only a few teams have a realistic shot at advancing to regionals, several individuals have the chance to qualify.
On the girls side, both Plant City and Durant will be looking to take one of the three available team spots to advance to the Region 4 tournament Oct. 22, at Countryside Golf Club in Clearwater.
The Steinbrenner girls team comes in as the heavy favorite this year. In early September, the Lady Warriors handed Plant City its first regular season loss in two years. Plant City came into the season as the reigning district and region champion.
Steinbrenner then handed Plant City another tough loss at home at Walden Lake Golf Club Sept. 19. Plant City is 8-3 as of Tuesday and will enter the district tournament next week with three freshmen in the starting five, a first for coach Meg Jordan.
"I can't say enough about our freshmen," Jordan said. "With a young team, this season has been a maturing process and that's neat to see that progression."
The Lady Raiders three freshmen are Kendall Johnson, Dakota Bozeman and Kaylee McIntosh. Junior Kellyanne Hurst has led the team in the top spot, with a career-low 35 shot earlier this season. Sophomore Lindsey Box has also put in some solid performances throughout the season.
Plant City will host the girls tournament Oct. 15, at Walden Lake.
Durant's girls are 8-2 on the season as of Monday, with both losses coming against Plant City. The Lady Cougars are led by junior Samantha Rentz and sophomores Tori Higgins and Krista Reinhardt. Durant also features two juniors that never played competitive golf before this season – Shannon Bell and Natalie Knopp.
According to Durant coach Richard Sheffield, it will come down to a competition between them, Plant City, Freedom and Wharton for the final two spots behind Steinbrenner.
"The key for us will be the play of players four and five (Bell and Knopp)," Sheffield said.
For second-year Strawberry Crest coach Scott Vomacka, the district tournament will be a good learning experience for his young team. Amanda Miles leads the Lady Chargers with a season-low 49, while Lauren Romeo scored a 50 in the same match against Hillsborough.
On the boys side, several individual players will be vying for regional slots. Three individual spots are available for players on teams that don't quality.
For Durant, Sheffield feels that Chase Levesque has a shot to once again contend for one of those spots. The junior qualified for regionals and state last year and has a season low of 35, shot at River Hills Golf Club in a match with Newsome.
"Our goal is for Chase to advance to regionals and the remainder of the team to perform their best rounds of the year and get experience for following seasons," Sheffield said.
For Plant City, William George has a shot at an individual spot. According to coach Doug Jones, George has a season average of 40.1 but has been averaging around 37 for the past few weeks.
"Our team best this year is 162, so we'll probably fall short in that area, but William has the best chance to go to regionals," Jones said.
Jones added that his team is young and will have promise moving forward. George is a junior, along with No. 2 player Jordan Genevie. Freshman Jared Driskell, a virtual school student, has also had a solid year.
For Strawberry Crest, Greg Crandall has an "outside" shot of qualifying for districts, according to Vomacka. Crandall set a school record with a 40 in a round against Hillsborough earlier this season and improved on that with a 37 Tuesday on the front side of The Claw at the University of South Florida.
The boys tournament will be held  Oct. 16, at Summerfield Crossing Golf Club.
Contact Matt Mauney at mmauney@plantcityobserver.com.