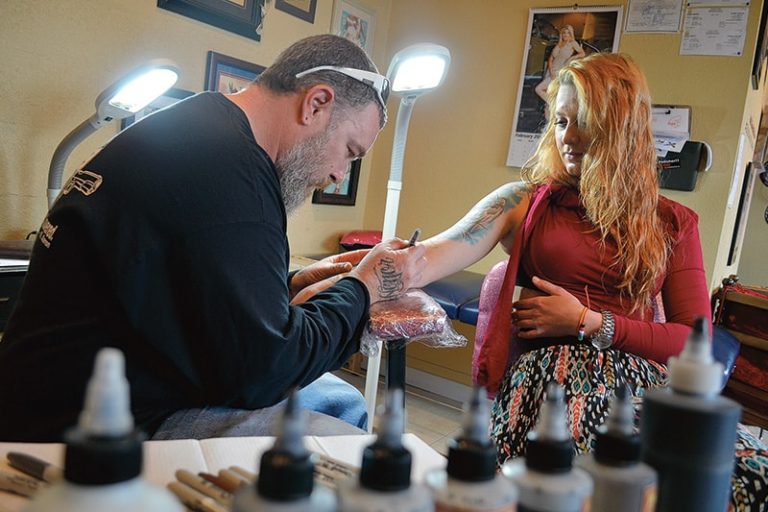 A brick building on Martin Luther King Jr. Boulevard in Historic Downtown Plant City has been sitting vacant for decades. Its beautiful architecture reminds of grander times from long ago. When tattoo artist David Hudder saw the space, he knew it would be the perfect location for a tattoo shop and living quarters upstairs.
He bought the building and worked for months, spending thousands of dollars to revitalize the once dilapidated structure.
There was only one problem: A city ordinance bans tattoo shops from opening in the downtown and Midtown districts.
Now, Hudder, who also goes by Casper, wants to try and change the ordinance to help his business flourish.
"This is where I want to be," Hudder said. "I live here. I love this city. I have my business and want to put down my roots."
BACKGROUND
Plant City has historically had a ban on tattoo shops within city limits. But in 2012, the City Commission voted to change the ordinance, allowing tattoo shops within limits but not in the developing downtown and Midtown areas.
The change came because the Ninth Circuit in 2010 held that the business of tattooing is protected by the First Amendment.
The Planning Board recommended that tattoo establishments be permitted in downtown and Midtown, but the staff did not agree with the position. Instead, it recommended that tattoo parlors be banned from the two areas because "both these areas are being planned for future mixed-use environments encompassing both residential and non-residential development. In many incidences, residential and non-residential uses may be located in close proximity, possibly in the same building, which would offer little opportunity to buffer or screen the impacts of tattoo and body-piercing salons from adjacent residential uses, thereby creating potential compatibility issues," according to a March 2012 agenda report.
Hudder has hired attorney Jeff Blumenauer to draft a plan to bring before the commission. They have met with City Manager Greg Horwedel.
"One avenue is to request the city to revise its zoning restrictions via a change in the city code, and we intend to submit such an application in the very near future," Blumenauer said.
Currently, Hudder owns a quiet-but-bustling shop off Baker Street called Dixie Station Tattoo. An old railroad crossing light signals at the top of the rented building that was once an old shed. Hudder renovated the building and leveled the front yard to accommodate a grassy lot.
"The addition of Dixie Station will undoubtedly improve the location and have a direct impact on bringing economic growth to the downtown area," Blumenauer, said. "Not only is he an extremely talented artisan, but Mr. Hudder is a devoted family man and hard-working small business owner. I am without a doubt that Mr. Hudder and Dixie Station will have a positive impact on the city's downtown core."
AN ARTIST LIKE NO OTHER
People come from throughout Tampa Bay and even out of state to get inked by the master. One military serviceman even came from California, while his wife was stationed at MacDill Air Force Base. For only being open five months, Hudder has attracted quite a clientele.
"There is no artist like Casper," client Cameron Edwards said. "He is warm and friendly, and you immediately feel like part of the family. When you get a tattoo, it's not only excellent and flawless, but the atmosphere is unlike any other shop I've been to.
"The shop is very professional, with a friendly atmosphere," he said. "The shop as a whole is in the position to create a long-lasting relationship with the Plant City community. And if allowed, it could grow into a landmark."
Edwards travels from Jacksonville to see Hudder, who is completing a cover-up on a botched, blotchy sugar skull. Because of Hudder, Edwards wants to move his family and insurance business to Plant City.
"I understand (the city) has an old-school mentality and this is an old town," Edwards said. "But it's 2014. Now, attorneys and doctors have tattoos. It's a growing trend."
The March 2012 agenda report also recognizes the trend.
"Over the past decade, tattoo and body piercing establishments have become increasingly mainstream to such an extent they are now located in facilities as Brandon shopping mall, Tyrone Square mall, Countryside shopping mall, Citrus Park shopping mall, Sarasota mall, Florida mall and The Shops at Wiregrass."
Although clients come from all over, many clients are Plant City residents who live, work and play downtown. One is Jason Hall. He was a high school teacher for three years, with sleeves and a tattooed back. Now, he owns the Cyclestop.
"(The city) hasn't taken the time to know people who are tattooed," Hall said. "Casper moved his family here; he wants to be part of this town. Having a tattoo studio that is paying taxes, restoring old buildings shouldn't be seen as an insult. It should be an opportunity. He's a functioning member of society — whether he's inked or not."
Hudder always has been interested in art. But, before he made the jump to permanent masterpieces, he was a network engineer.
"I wanted more freedom in what I did every day," Hudder said. "I wanted more for my kids — not a 9-to-5 that would make me miss events and my kids."
So, he took a pay cut and apprenticeship and begin working in Ybor. He stayed in Tampa for 10 years. But he had his sights set on Plant City.
"I love the small-town feel, the people," Hudder said.
Contact Amber Jurgensen at ajurgensen@plantcityobserver.com.
INFORMATION
To read about Plant City's ordinance, visit:
• plantcitygov.com/DocumentCenter/Home/View/4616