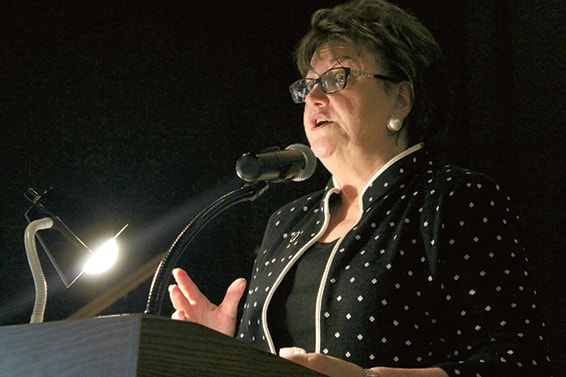 Hillsborough students will take assessments aligned with Florida Standards this school year, but some parents, teachers and students in Plant City expressed deep concerns about the program at an informational presentation July 30. 
Hillsborough County Public Schools Superintendent MaryEllen Elia addressed a full auditorium at St. Luke Missionary Baptist Church to explain what she believes to be the benefits of Florida Standards.
Elia repeatedly said a major advantage to Florida Standards was that they would be more rigorous than the previous curriculum.
"Our students have to be competitive across the world," Elia said. "What we're doing with Florida Standards is raising what we can expect of our students, so they can be better prepared when they leave high school to go to college or career."
She explained how math and language arts questions would be updated to emphasize logic and critical thinking to prepare students for life after high school.
For example, an "old" language arts problem for first graders might have been: "Write about your favorite part of the book, 'Welcome to the Rainforest.' Did you like this story? Why?"
But the "new" problem, still to be used in first grade classrooms, would be: "Using the book 'Welcome to the Rainforest,' write an opinion piece explaining what the most important gift the rainforest plants offer is. State your opinion and support it by using evidence from the text. Reread your writing and check for capitals and periods. Does your writing make sense?"
Elia said updates like this would help children to develop complex analysis skills at an early age.
Many attendees applauded when Elia reminded them that there would be no more FCAT testing. 
"Here's the problem," she said. "I'm not sure what we are going to have (instead)."
When she opened the floor for questions after her 45-minute presentation, many attendees disagreed with her. They spent an hour asking her questions and stating their concerns. Some said they were worried that with Florida Standards, educators would not have the creative freedoms they once did. Others did not support the standardized testing schedule, which takes place statewide in March and may conflict with the Florida Strawberry Festival.
Noah Roam stepped up to the microphone with a copy of the U.S. Constitution in his pocket and a star-spangled bow tie around his neck. Roam has been home-schooled his entire life and will be a senior this year. He told Elia he was concerned because certain large corporations developed Common Core and that he fears they could use the curriculum to promote their own agendas. 
"I can't speak for the corporations, but they're putting money into this, so they're going to have some say in it," Roam said. "It gets kids thinking, but it pushes them to think the way they want them thinking."
Terry Kemple, who is running for the School Board District 4, had arrived at the church nearly an hour before the presentation began. He and some volunteers stood on the street and passed out literature about Florida Standards. Kemple said he wanted attendees to be able to pose specific, informed questions to Elia. 
"I've been campaigning quite a while now for this seat, so the most common question I get asked is, 'Where do you stand on Common Core?'" Kemple said. "Only one person who has ever asked me that question has disagreed with me when I've said I'm against Common Core."
Kemple said he was against it for two reasons.
"Number one, it's never been tested," Kemple said. "We're risking our children's education and their future on an experiment." 
Contact Catherine Sinclair at csinclair@plantcityobserver.com.