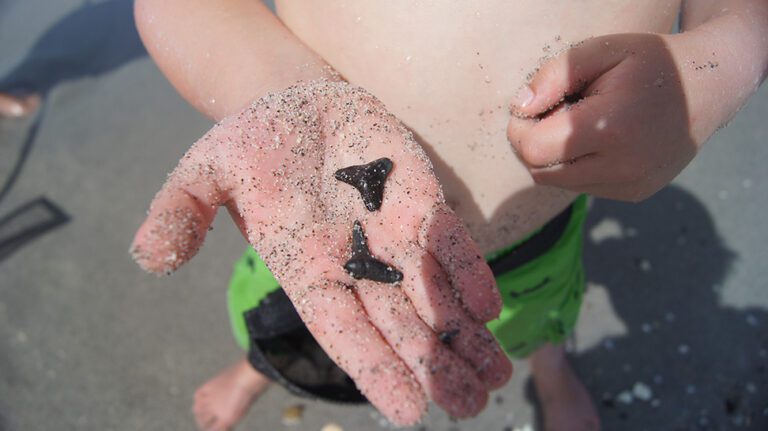 Search For Sharks' Teeth at Caspersen Beach Park in Venice.
'I'm bored'. These two words can elicit anxiety among parents and caregivers as the kids, now out of school for summer vacation. They don't have to though, thanks to the plethora of indoor and outdoor adventures, at little to no cost, that families can take advantage of within a two hour drive of Plant City. The Plant City Observer will highlight one spot each week.
This week's spotlight is Caspersen Beach Park, located at 4100 Harbor Drive S. in Venice.
A day at the beach seems like the perfect thing to do on a hot summer day and drive in almost any direction and you'll find yourself on a sandy beach, the sound of the waves lapping at the shoreline. While all of Florida's beaches have something to offer beachgoers, Caspersen Beach in the coastal town of Venice, located just an hour and a half away, has a claim to fame that is sure to be entertaining for the young and the young-at-heart.
The beach is known as one of the top spots in the state for finding prehistoric sharks' teeth.
Thanks to the Peace River Formation that is fairly near the surface at Caspersen Beach Park, the currents erode away the deposits and the teeth get washed up on the beach (as well as in its offshore waters that attract divers and snorkelers). The best time of day to hunt for the fossils, which are typically darker in color than regular sharks' teeth, is in the morning before other beachgoers begin their hunt. You don't need any special equipment to find them but some people bring a metal sifter with 1/4" holes to wash away the sand from the gravel and shell to better spot the teeth.
"Caspersen Beach is one of the best beaches in the area to find shells and prehistoric sharks' teeth," said Visit Sarasota County Vice President Erin Duggan.
Before you go, strip all preconceived notions about what a Florida beach should look like from your mind. At Caspersen Beach Park you won't find white powdery sand and calm waters. Instead, the sand is darker and rockier. Strong waves, a small slope into the water and rocks that peek out of the water's surface near the shoreline mean swimmers must be more cautious when taking a plunge. There are no lifeguards on duty.
The park, open daily from 6 a.m. – 10 p.m., also features a canoe launch, fishing pier, picnic facilities, a covered playground, restrooms, an outdoor shower and wildlife/birdwatching.
The best part? Entrance to the park is free and so is parking.
For more information about Caspersen Beach Park visit www.scgov.net.