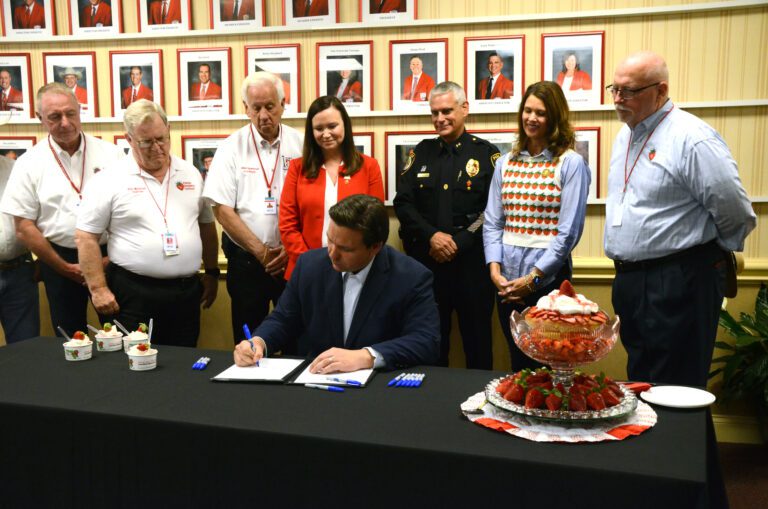 The highly demanded pastry now represents the state in a big way
Strawberry shortcake has risen to another level of prominence, becoming the official dessert of Florida as of Monday.
Florida Gov. Ron DeSantis signed a bill into law that finally gave the all-American treat its new state title and chose Plant City of all places to make Florida history.
The timing was on point as it coincided with the annual Florida Strawberry Festival that takes place from March 3 to March 13 this year.
The sizable turnout was a departure from last year's that didn't see big crowds due to COVID-19.
As thousands of patrons took advantage of the vendors, games, rides and food on the fairgrounds, the signing was taking place upstairs in the TECO Expo Hall.
Those in attendance included Hillsborough County Sheriff Chad Chronister, Plant City Mayor Rick Lott, Florida Strawberry Festival President Paul Davis, and Florida Attorney General Ashley Moody, among other dignitaries.
"What better place to sign this then the 2022 Florida Strawberry Festival," DeSantis said. "This designation of the strawberry shortcake as the state dessert is a way to pay tribute to the strawberry farmers and what they've contributed to our state and our agriculture industry. This is an important part of Florida and the farmers have helped put us on the map."
Davis mentioned that he had recently visited fairs in North Carolina and South Carolina that were selling strawberries from Plant City.
He also acknowledged the strawberry growers who helped to make the festival and the bill possible.
"Signing the bill is kind of whimsical and fun," Davis said. "It's a great tribute to the strawberry…It's just something we're really proud of here and we're known for it all over the country."
An estimated 200,000 strawberry shortcakes are sold at the festival each year.
Strawberries are an economic driver in Plant City, holding over 10,000 acres of crops.
Plant City and its surrounding areas make up 75% of winter strawberry crops in the U.S., DeSantis said.
Florida, which is known for its citrus, has its official pie – key lime.
However, lawmakers wanted to implement another pastry that has become synonymous with Florida.
Florida Senator Danny Burgess of District 20 initially proposed the idea to Florida House Representative Lawrence McClure of District 58 – both of whom represent Plant City.
After presenting the bill before colleagues in the senate and the house of representatives, it was eventually passed on Thursday, Jan. 27. However, the legislature didn't find it fitting to co-sign strawberry shortcake just by itself, so they designed the bill to make the state dessert complete with a "natural Florida dairy topping."
The typical fan of strawberry shortcake most likely wouldn't take any issue with that as the treat is served with a sizable portion of whipped cream on top. This is evident as festival shops that serve the delicacy see no shortage in their lines.
At the table where the governor sat, there was a big bowl of strawberry shortcake on display.
Before signing, DeSantis was handed some in a smaller bowl to taste.
"That's worth signing this bill," he said after sampling.
Vice-Mayor Michael Sparkman is former Florida Strawberry Festival chairman of the board and was all smiles when the red, fruity dessert was designated as the state's dessert.
"It makes me extremely proud," Sparkman said. "The strawberry growers – they're excited about it."
It was a nostalgic moment for Moody who is a Plant City native.
She recalled being the 1993 strawberry queen.
She was thrilled when seeing current Queen Kenley Connell.
Right next to Connell was First Maid Madison Davis as well as court members Chloe Hopper, Tamia Williams, and Bailey Blanton.
"This is a very big deal not only for the State of Florida to now have an official state dessert, but to the City of Plant City," Moody said. "One thing is for sure, title or no title, strawberry shortcake has already proven itself to be a top contender in desserts among its fans.