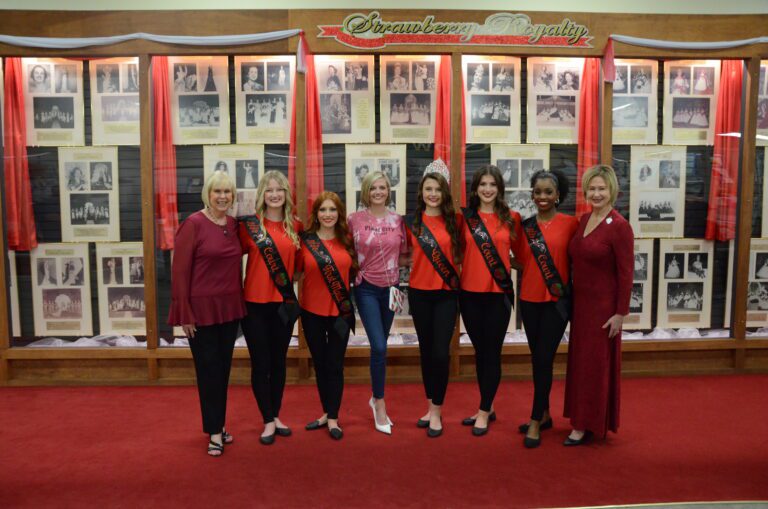 The exhibit allows visitors to take a journey through the history of Plant City's Strawberry Queens and their court.
As you step through the metal doors of Neighborhood Village at the Florida Strawberry Festival grounds, the first thing you'll see is a flowing gown illuminated by the glow of a spotlight, encased in glass and sitting below photos of the 2022 Strawberry Festival Queen Kenley Connell and her court.
The gown not only welcomes you to Neighborhood Village and all of the exhibits that reside there throughout the 11-day festival, but stands as a representative image of the annual Strawberry Queen's exhibit. The exhibit, put together each year by sisters Marsha Passmore and Dodie White, features countless photos and memories that highlight every individual Strawberry Queen – and their court – in the pageant's history, dating back to 1930.
Connell is a junior at Plant City High school, also a member of the school's tennis team, track team, FFA, Interact Club and the National Honor Society.
"In 1952 my great-grandma was actually on the queen's court," Connell said. "But I'm the first one in my family to be a queen so it's a huge honor for me and my family. It's a tradition in my family to do this pageant, so to be the first queen is such an honor and to see how proud my family is means so much more."
Alongside Connell, Madison Davis was named First Maid with Tamia Williams, Chloe Hopper and Bailey Blanton rounding out the queen's court.
On the opposite side of Connell's display is a case that shines a light on this year's featured queen, Kayla Drawdy. Each year the featured queen display honors one former queen, a glimpse into the past that looks to also reflect the character of the woman that wore the crown.
"Kayla is one of the queens that was born here, has lived here her whole life and still stays extremely involved in Plant City," Passmore said. "She's on so many boards and committees and she truly has a servant's heart in the fact that she has served Plant City for so many years and continues to… And another thing about Kayla, what you see is exactly what you get. She is one of the kindest, sweetest, most beautiful young ladies that you will ever see but there's no front there. When you're in the same room, you're just drawn to her because that's just the spirit she has. She draws you to her because she's just so kind."
After serving as queen, Drawdy spent five years as a cheerleader for the Tampa Bay Buccaneers, a part of her life that is prominently highlighted in the featured exhibit.
"That was an important part of her life," White said. "She thoroughly enjoyed working with the Buccaneers and it was huge to her. So when we asked her to bring us things that meant a lot to her in her life since she was the Strawberry Queen, that's what she chose to highlight. She loved the fact that she made so many connections and so many friends and that it was a huge part of her life, so she wanted us to display that and we hope that we displayed it proudly."
Passmore and White mentioned that when choosing this year's featured queen, Drawdy was an easy choice to fit the festival's theme of "#1 For Fun" due to her fun and high-spirited personality.
On Monday night, Drawdy, Connell, each member of this year's court and their families gathered in Neighborhood Village for the unveiling of the exhibit, becoming the first group to witness this year's display.
"It was an awesome experience and was definitely a flashback to 20 years ago when I was queen," Drawdy said. "It was an amazing experience so I look forward to this year and the festival and spending time with the girls… Marsha and Dodie put a lot of time and effort into this, they make it beautiful every year and they make it so that every queen is accounted for and that there's pictures of everybody throughout the years. I think it's wonderful."
The Strawberry Festival has been a passion for the sisters for over 40 years, where they first served as tram captains for several years before transitioning to the festival's ambassador program, working in the Business and Professional Women's Club booth and eventually spending the past eight years bringing the Strawberry Queen's exhibit to life.
"This exhibit is a labor of love for us," White said. "When we were asked to do it eight years ago, we thought about it for a few minutes but said yes. We love that there is so much history here and we wanted to try and expand on what was already here."
And no matter how many years they put together the exhibit, they will both tell you that they never never get tired of doing it, that they only love it more each time.
On the back wall of the exhibit, lined with lace and red carpet, there is an ever-growing collection of photos that displays a more personal side of the queens and their courts, aimed at exemplifying each year's festival theme. As you take a closer look, the display will take you on a journey through the years that countless queens and courts have spent as representatives of Plant City and all of the fun that comes with it.
You can experience the Strawberry Queen's exhibit for yourself in Neighborhood Village at any time throughout the festival.