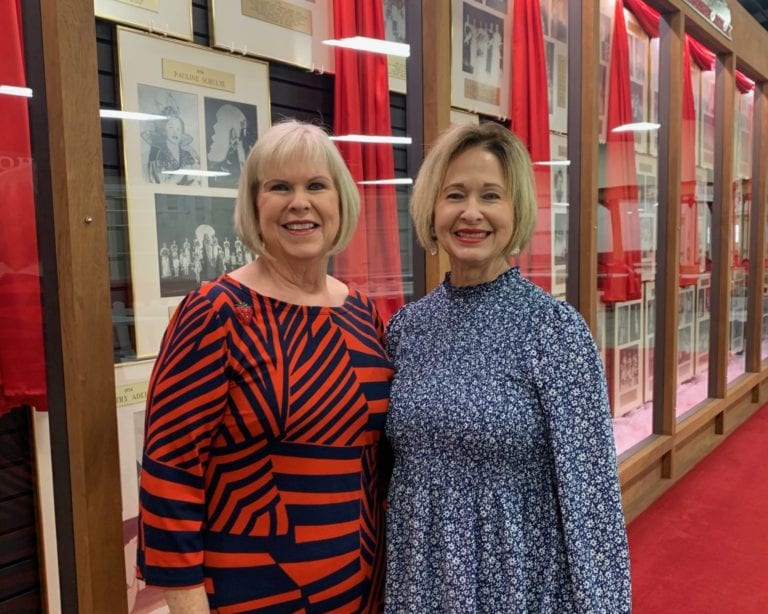 The annual Strawberry Queen's Exhibit is one of the most cherished experiences at the festival. Found in Neighborhood Village, the elegant affair showcases both the history of Plant City and shines a light on this year's Queen and Court.
As you step through the heavy metal doors into Neighborhood Village at the Strawberry Festival, you will be greeted by a number of exhibits. But the first things to draw you in are the roped off red carpet, the one-of-a-kind photos and the softly glittering gown on display in the Florida Strawberry Festival Queen's exhibit.
Adorned with satin, the exhibit is highlighted by photos of this year's queen, Meghan White, and her court alongside the evening gown that she wore for the pageant, glimmering beneath a spotlight.
Along with being named this year's Strawberry Queen after finishing among the pageant's top 10 in 2019, Meghan White also won the Miss Congeniality award. According to Dodie White and Marsha Passmore, only one other competitor in recent memory has been honored with both awards.
This was Meghan White's second time competing for the crown and her experience with the pageant has only further grown her heart for Plant City.
"She had such a great time (last year)," Dodie white said. "She said it was such a wonderful experience that immediately when she came off and wasn't selected in the top five, she said 'I'm going to do this again next year' because she had such an enjoyable time."
Opposite Meghan White's display, after walking down a row filled with reminders and pictures of every former queen dating back to 1930, you'll find a display honoring this year's featured former queen, Ashley Moody. Moody currently serves as Florida's Attorney General, but a little-known fact outside of Plant City is that the state's cabinet member was named Strawberry Queen in 1993.
A native of Plant City and graduate of Plant City High School, Dodie White and Passmore saw 2020's theme of "Our Perfect Vision" fitting for the former queen.
"When we asked Ashley if we could feature her for the exhibit it took her a little while to say yes because she's not one to talk about herself," Passmore said. "When she said that she was honored, not only to be asked but to be spotlighted, we were thrilled."
Moody sent her crown, the gown she wore as queen and multiple pictures of her and her court to be displayed.
The exhibit, a grand representation of queens past and present, also serves as a testament to the dedicated community of Plant City's faithful, even those who have moved away over the years.
"I think (the Strawberry Queens) are just role models for our city," Passmore said. "The ones that we've had experience with, they do an excellent job. They promote Plant City in the way that they should be promoted. They love it, they clearly love it as they worked so hard during the pageant in hopes of having the honor to represent the Strawberry Festival and Plant City for a year. I think just their love for their community does that."
That's a mindset the sisters themselves have adopted and lived by their entire lives.
Dodie White and Passmore have served as volunteers for the Strawberry Festival for over 40 years, starting right around 18 years old as long-standing tram captains before transitioning to the festival's ambassador program, working in the Business and Professional Women's Club booth and eventually spending the last 15 years working with and organizing an exhibit in Neighborhood Village.
"I just think that it should be noted that over 2,000 volunteers help with this festival, and I don't think that it gets noticed enough," Passmore said. "I know that Paul Davis and his staff, whenever they're at an event they'll mention that but they go to festivals all over the United States and they say that is one thing that's clearly lacking in other festivals and they recognize it. Others are always asking our festival, 'How do you get so many people to help?' Because as they've said, if they had to pay 2,000 volunteers then they couldn't afford to do this festival, but I think that only speaks volumes to the board of directors that manages this festival and the staff that runs it because clearly it's a labor of love for a lot of people. Honestly, it shows by the fact that we all continue to volunteer year after year."
As representatives of Plant City, the queen and her court are no exception. Along with the process of being honored as a queen or court member, they can be found attending many of the city's cornerstone events throughout the year.
"Unless they've gone off to college, you'll see the queen and at least two or three of the court members, whoever can do it, you'll see them at other community events," Dodie White said. "You saw them at Celebrity Chef, you'll see them at all these other local events that shows that they're not only representing their crown but they're representing the Strawberry Festival and representing their city."
So while the Strawberry Queen's exhibit paints the picture of a shining moment for the young women who have been honored with the crown and their courts, it's the young women themselves that embody what makes Plant City so unique, their overwhelming love for their community and one another.
They're representatives of a special city that houses an even more special community of individuals that all come together for the Strawberry Festival.
"Everything that we have done at the Strawberry Festival has been a good memory," Passmore said. "There's so much negativity in the world so if something as simple as festival can bring people together in a positive way, that's a good thing and in my opinion, that's exactly what the festival does. It's not a popularity contest or anything, it's just a lot of people in the community getting together and having fun. I think that's what there should be a lot more of."
You can check out the exhibit for yourself anytime during the Strawberry Festival at Neighborhood Village.