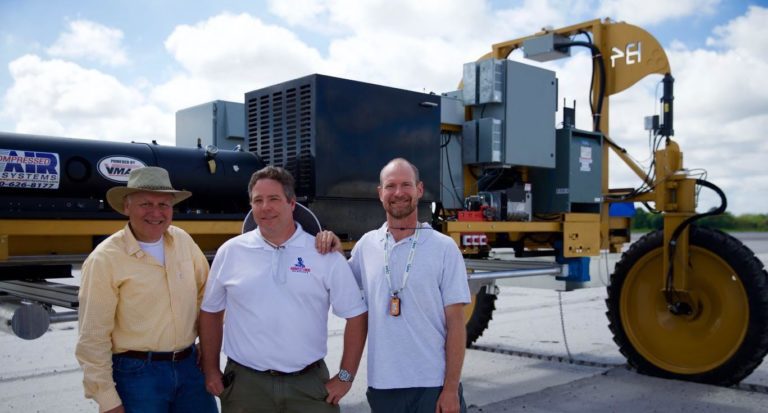 Within 10 years, Florida strawberry farming could be priced out of viability.
The countdown has begun. Farmers and economists agree, the Florida strawberry industry has 10 years to drastically reduce production costs or the nearly $1 billion-per-year industry could see its last harvest.
Faced with a labor shortage and high labor costs compared to the growing Mexican strawberry industry, farmers are looking to new technologies as the answer to as the answer to shrinking profit margins.
"If we don't automate American agriculture and these specialty crops like strawberries, they're either going to be very expensive or non-existent," Gary Wishnatzki, owner of Wish Farms, said. "Within the next 10 years, it could happen. However, it is my plan and our company's plan to not let that happen."
To address the issue, Wishnatzki and engineer Bob Pitzer founded Harvest CROO (pronounced crew) Robotics in 2013 to develop an automated strawberry picker. The first pre-production unit of the automated picker should be ready by the coming winter, Wishnatzki said, but he estimates at least five years before automated harvesters can make a significant impact on the industry.
In the meantime, however, the profitability of strawberry farming in Florida continues to decline as the Mexican market booms.
The problem, Wishnatzki said, is twofold. In addition to the danger of being priced out of the market by Mexico, Florida farmers are faced with a shrinking pool of workers willing to take on the back-breaking work of picking strawberries.
"For the last 50 years, the majority of the labor has been coming from Mexico," Wishnatzki said. "There was a time that there was a lot more people coming than we had work for and there was a very ample work force through the '70s, 80s and 90s. That situation has completely changed now."
Labor costs
According to Zhengfei Guan, an economist with the University of Florida studying the Florida strawberry industry, domestic strawberries can cost more than $6,000 more to harvest per acre than those harvested in Mexico.
Data from the U.S. Department of Agriculture shows more than 360 million pounds of strawberries were imported into the U.S. from Mexico in 2016, compared to 240 million pounds produced that year in Florida. It's an increase of nearly 400% from the 93 million pounds of strawberries Mexico exported to the U.S. in 2004, a startling figure that threatens Florida and Plant City's status as the Winter Strawberry Capital of the World.
"Mexico's competitive advantage in labor cost is a fundamental driving force that led to the surging export," a recent study co-authored by Guan said.
In a recent paper, Guan and research partners from UF conducted a survey comparing labor costs of the 2014-2015 Florida harvest to the 2013-2014 Mexican harvest. Using wage growth statistics from the Organization for Economic Cooperation and Development and current valuation of the Mexican peso, the paper states labor for Florida strawberries costs $10,774 per acre compared to $3,853 per acre in Mexico for a difference of $6,921 per acre.
Wishnatzki said labor costs in Florida are only increasing. He said his farm's labor costs were about $13,000 per acre and "not dissimilar to other producers in Florida."
The difference in production costs leads to Mexican strawberries being sold to consumers at lower rates, Guan said. In order to stay competitive, Florida strawberries are sold at the same or similar rates, leading to increasingly slim profit margins for growers as labor costs continue to rise.
"To the average consumer, they receive basically the same price on the market," Guan said. "We cannot sell at a higher price. If both sources of strawberries are on the market (at different prices), consumers will switch to Mexican strawberries."
Where have all the workers gone?
According to the American Farm Bureau Federation, unemployed Americans simply do not want the jobs willing to be done by an immigrant workforce. Farmers, Wishnatzki said, have often relied on first-generation immigrants, part of the domestic work force, to work the fields. But those new arrivals aren't there anymore, he said.
A 2015 study by the Pew Research center shows a sharp decline in the number of Mexican immigrants staying in the United States. Between 1995 and 2000 there was a net migration of more than two million immigrants. By 2014, as Mexico has become more developed and offered better opportunities for its citizens, that number had dropped to -20,000.
"Our immigration policy is getting more strict," Guan said. "More immigrants and undocumented workers are leaving the country than coming in. On the Mexican side, there are better economic opportunities. More workers are going back to Mexico and fewer are coming to the U.S."
Increasingly, farmers are relying on the H-2A guest worker program for labor. The program is costly, Wishnatzki said. On average, using domestic workers, strawberries cost about $3 per box to harvest. With the H-2A program, they cost about $4 to harvest.
The H-2A program, Wishnatzki said, is time consuming, tedious and expensive. It's becoming the major supplier of farm labor, but isn't sustainable, he said. For the strawberry industry to survive the five years he thinks it needs to reach automation, there needs to be reform to the H-2A program.
That solution, Guan said, would, however, only be temporary.
"Birth rates in Mexico are down," Guan said. "Over time, the labor pool will be decreasing."
According to the World Bank Group, the Mexican fertility rate between 1960 and the early '70s was almost seven births per woman. Births during that period would have supplied Wishnatzki's "ample work force" of the '80s and '90s. By the mid-80s that number was closer to four births per woman and dropped to near two births-per-woman by 2015
"That is a preview of what the next 20 years looks like," Wishnatzki said. "It is easy to extrapolate that the trend of a shrinking and aging labor force is going to continue, based on these demographics."
Mr. Wishnatzki goes to Washington
On July 12, Wishnatzki appeared before the House Agriculture Committee to discuss the next farm bill and the importance of technology and innovation in farming. He was joined by a panel of farmers from around the country to discuss the future of specialty crops, like strawberries.
"Currently in Florida there is no private access to research funds without partnering with a university," Wishnatzki told the committee. "This usually involves giving up intellectual property rights. This is problematic to our outside financial investors."
Private access to research funds is difficult to secure in Florida, he added, encouraging congress to adopt policies that would make it easier for the private sector to be involved in innovation.
"Collaborative private sector technology startups could advance at a faster pace, if given direct access to agricultural research funds," he said.
Wishnatzki also asked for improvements to the H-2A guest worker program to mitigate short-term labor issues. He said if guest workers had to find their own housing, earned the same wages as domestic workers and were not tied to a single farm, it could increase fairness to the worker and ease some of the financial burden of the farmer.
Currently, H-2A workers are tied to a single farmer for a season and that farmer must secure housing and transportation for the workers.
Additionally, Wishnatzki said issuing guest workers a stipend while in the U.S. and withholding full payment until return to the home country could reduce the amount of undocumented immigrants resulting from expired visas.
Wishnatzki said he is hopeful for the future of automation in strawberry farming. The committee, he said, seemed receptive to reforming policies to help innovation. However, there was less enthusiasm and a seemingly rougher road to any immigration relief.
The road ahead is likely tough, he said, but Florida strawberries will make it through.
"I believe we're going to muddle through until automation," Wishnatzki said. "But it'd be nice to have a little certainty about the next five years."