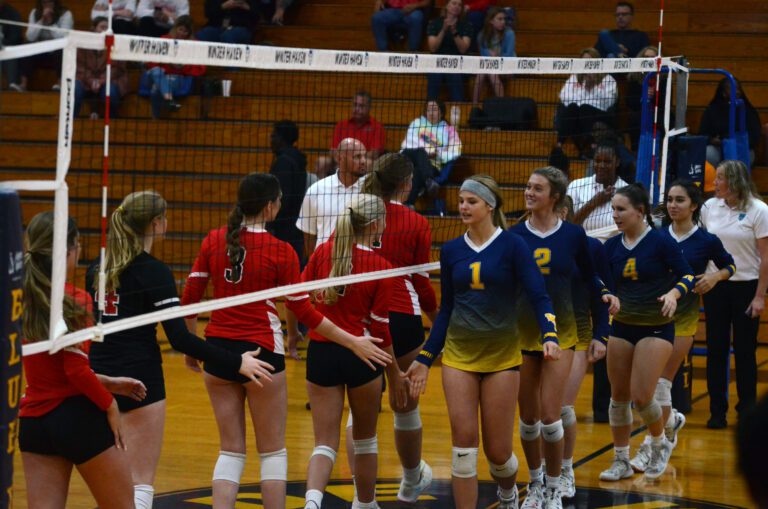 The Chargers' successful 2022 campaign ultimately ended with a district runner-up finish following their loss to Winter Haven last week.
After earning a first-round bye on the heels of a 13-10 regular season, Strawberry Crest volleyball defeated Ridge Community High School in three straight sets last Tuesday to advance to the 7A District 10 finals against Winter Haven, a match that ultimately spelled the end of a successful first season in 7A competition as they fell to the Blue Devils on Thursday.
Entering the evening at 17-7, Winter Haven came away with a 2-0 victory over the Chargers in their only other meeting earlier in the year, coming in a September tournament while Strawberry Crest nursed injuries to their starting lineup. With a healthy roster, Crest was hoping for a different outcome in district but were ultimately bested in three straight sets.
"This was our first year in the top bracket, playing in 7A, and it was a good season," head coach Robert Dodson said. "14-11 out of the gate, their third coach in three years, but it is what it is. They're only going to get stronger and stronger and stronger. Lillian Terrell stepped up big as a freshman on the right side. Savannah Schwarz was amazing in the middle all night long, stuff block after stuff block. Our libero Amanda Siomiak stood on her head. Kiera Folsom coming in off of the outside edge and doing what she needed to do, Presley Rader coming in off of the back line and doing what defensive specialists do, giving us the digs and giving us opportunities, and then Morgan McGuire again, a standout night after night after night. I think she had over 1,300 touches this year and half of the season she did it with a sprained thumb but no one would know that because she wouldn't talk about it. I can't be more proud of the way the team performed. The bench was alive tonight, they did what they needed to do to bring energy against a very spirited crowd."
Winter Haven took a quick 2-0 lead in the first set and pulled out to a 9-3 advantage before Crest could break the Blue Devils' run at 9-4. But the momentary lapse in momentum wouldn't stop Winter Haven as they continued to roll out to a 15-6 run before a kill from junior Savannah Schwarz began a rally for Crest. Four consecutive points from the Chargers cut the Winter Haven lead to 15-10, but the Blue Devils would answer back with 10 of the next 12 points to take the first set 25-12.
In the second set it felt as though the Chargers would break through, opening the set with a quick 4-0 run and continuing to battle point-for-point as they clawed their way out to 9-4 lead – their largest lead of the night – before Winter Haven ended the run. Crest held their lead for much of the set, leading 17-13 late, but the Blue Devils refused to roll over and eventually drew even at 20-20 before taking their first lead of the second set at 21-20. Despite the intensely hard-fought set from the Chargers, Winter Haven would outlast Crest to take a two-set lead with a 25-22 victory as the two teams headed to the third and final set.
In the third, Winter Haven wasted no time jumping out to a 10-5 lead and while the Chargers were able to keep pace over the next eight points as they later faced a 14-9 deficit, the Blue Devils proved too much to overcome for the resilient Crest squad. Winter Haven ultimately came away with a 25-14 win in the third set to take the match 3-0 and punch their ticket to a regional quarterfinal berth as a four seed where they faced fifth-seeded East Lake on Wednesday night. Unfortunately for the Chargers, they weren't granted a wild card spot for regional play despite finishing the season with a 14-11 record.
Although any season that ends with a loss may in the moment feel like a bitter ending, the Chargers' 14 wins marked their highest single-season win total since posting a 15-9 record in 2015. And despite the loss of three key senior captains in Alissa McBee, Morgan McGuire and Brooklyn Zajac to graduation this coming spring, the Chargers have the potential to once again field a supremely talented and experienced roster next season after their rotation featured five juniors and six sophomores in 2022.
"We knew that it was going to be a tough match but we came in and I think that we gave them everything we had," Dodson said. "And shoutout to our seniors Alissa McBee, Morgan McGuire and Brooklyn Zajac. We gave them every bit of a season that I hope makes them proud."