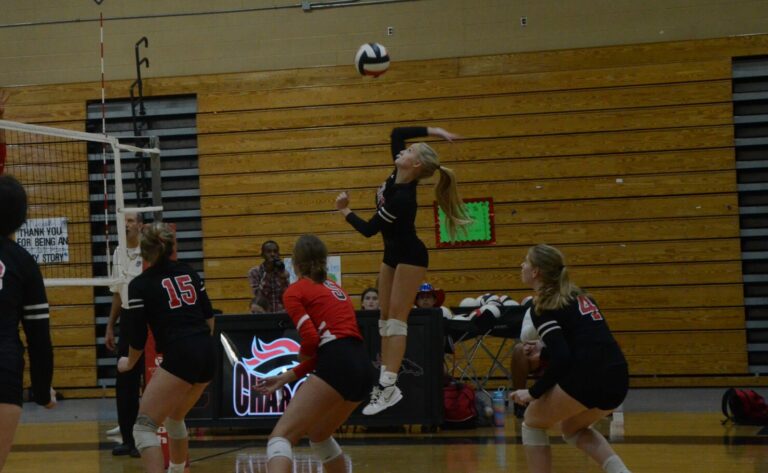 Under new head coach Robert Dodson, the Chargers have raced out to 4-1 in non-tournament play.
Led by new head coach Robert Dodson, Strawberry Crest volleyball came away with a 3-1 victory over Freedom on Tuesday — a team that entered the evening 4-1 on the season — to move the Chargers to 6-4 on the year. While going 2-3 in tournament play earlier in the month, their win on Tuesday leaves Crest at 4-1 in regular season play.
"A couple of those losses in the tournament were to some really, really good schools and when we went to the tournament we weren't quite full strength with everybody," Dodson said. "We've had some injuries plague us a little bit already this season but we put up a heck of a match against Newsome, we just had a really nice match against this Freedom team, they've got some extremely great players so they're a tough team to beat."
The first set of the match was neck-and-neck throughout, with both teams exchanging points before Crest battled back from a 10-8 deficit to take a 11-10 lead, only to trail 16-14 shortly after. But Crest knotted it back up at 17-17 before rallying to win the first set 25-22.
In the second set, Crest quickly jumped out to a 6-1 lead but Freedom clawed their way back into the set to tie it at 10-10. More back-and-forth play left the two teams tied late at 18-18 and despite Crest keeping the set alive after trailing 24-21 — tying it up at 24-24 — they would ultimately drop the set 26-24 to leave the match tied at 1-1 after two sets.
Despite razor thin margins separating the first two sets of the match, Crest would run away with the third and fourth sets to take the match win. After an 11-11 score in the third set, Crest would go on a huge run to hold a 19-13 lead late — the largest set lead of the night to that point — and would cruise to a 25-18 victory. The ensuing set saw much of the same, with Crest commanding a 15-3 lead early before clinching the win with a 25-13 victory in the fourth and final set.
Dodson is currently in his second year as a staff member at Strawberry Crest, now in his first year as head coach of the volleyball program featuring over a decade of previous head coaching experience at Middleton High School. He takes over a program that finished the 2021 season with a 13-8 record, earning a district final appearance and regional quarterfinal appearance in their lone season under head coach Jamiee Marino.
"I'm just excited," Dodson said. "We've got all the talent in the world here, it's just a matter of time before we put it all together. Being that this is my first year at the helm, I'm at the mercy of the team trying to learn my offenses and my defenses and some of these girls have now had three varsity coaches in three years and every one of us has had a different offense and different defense. So I'm trying to incorporate what Coach Jamee did last year with us, putting my own little twist on a couple things here and there, but I'm also just trying to keep them together and trying to have that family atmosphere. And we've got such great leaders, Brooklyn Zajac, Alissa McBee, Morgan McGuire, Savannah Schwarz. This team is deep and they're hungry, they're ready and if we can just pull it all together I think we're pretty much an unstoppable team in my opinion."