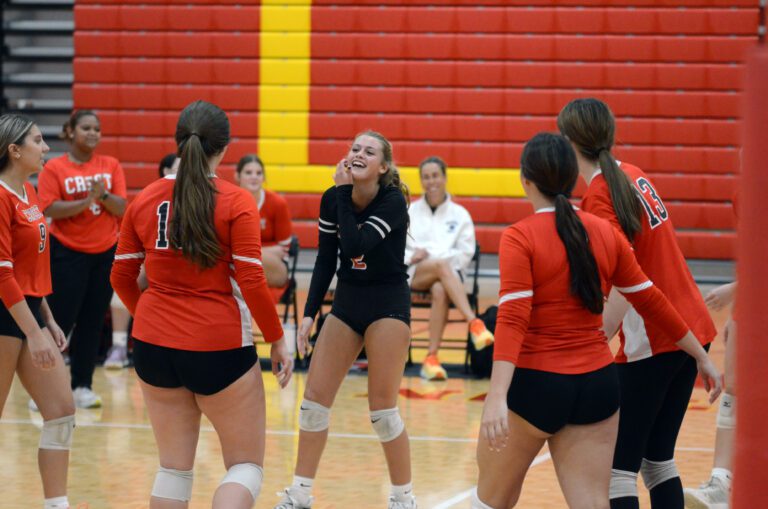 The 3-0 victory moved the Chargers to 13-5 on the year.
After a 2-2 start to the season, Strawberry Crest volleyball went on to win 10 of their next 12 matches throughout regular season and tournament play before a 3-1 loss to Steinbrenner last Thursday brought their six-match win streak to an end.
Making their way to Leto on Tuesday night, the Chargers made their way back into the win column as they swept the Falcons in three straight sets and moved to 13-5 on the season.
In the first set, Crest immediately moved out to a 2-0 lead before Leto responded with a pair of consecutive points to tie the set at 2-2. A kill from junior Layla Lee put the Chargers back in front and Leto knotted the contest up again at 3-3 a few moments later, but Crest quickly asserted their dominance with seven consecutive points to build a commanding 10-3 lead before Leto stopped the run. Leto did their best to battle back, momentarily cutting the deficit to just five as the Chargers held on to a 12-7 lead, but another strong run from Crest — capped by a stellar kill from senior Savannah Schwarz — put them up 18-7 en route to a comfortable 25-9 victory in the first set.
Moving to the second set, the Chargers once again jumped out to a quick lead as they tallied the first four points of the set before Leto halved the Crest lead to 4-2. Leto was able to hang around for a while, trailing 9-6, but Crest once again rattled off a strong run of nine consecutive points to take an 18-6 lead that they were able to ride to a 25-10 victory in the second set. Despite the Chargers winning in three straight sets, the third set was by far the most contentious as Leto refused to roll over and go down quietly. With the Falcons battling point for point with the Chargers to leave the set at 4-4, Leto continually battled to knot the contest at 6-6 and then 8-8 and the 10-10. Four consecutive points from the Chargers put them up 14-10, but Leto once again battled to close the gap and tie the set at 14-14. But despite the Falcons' resilience, the Chargers proved too much for Leto to handle as Crest subsequently rallied for nine consecutive points to take a 23-14 lead, ultimately winning the third set 25-18 and claiming the 3-0 victory.
Now sitting at 13-5 on the year, the Chargers will return home on Thursday as they host 10-9 Wharton.