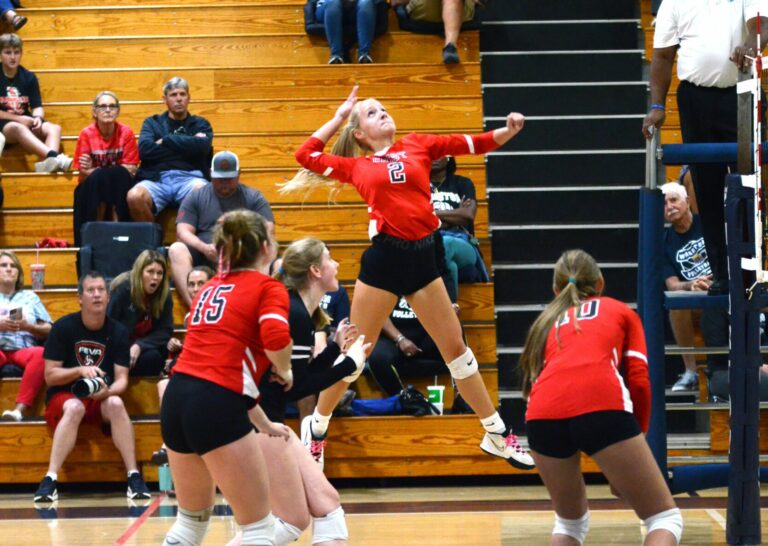 The Chargers fell to Wharton in three straight sets on Tuesday night, moving to 13-9 on the season.
The Strawberry Crest Chargers volleyball team fell to Wharton in three straight sets on Tuesday night, moving to 13-9 on the season and breaking a stellar run in which they had entered the contest off of three consecutive match wins and six over their previous seven.
"We tried a couple of different defenses to stop some super big powerhouses that Wharton has on the outside coming in and this is a good ball club," head coach Robert Dodson said. "Their lineup has changed since the beginning of the season, they were able to add some players during the season and it's made such a difference in their lineup. And Strawberry Crest hasn't beaten Wharton lately, it's just one of those things where it's now become a bit of a mental block and it took us a set and a half to kind of get moving but once we got going we went point-for-point with them."
Crest battled to open the first set, keeping pace with the Wildcats as the two teams found themselves knotted up at 5-5 before the Chargers pulled out to an 8-5 lead. But despite the early deficit, Wharton battled back to tie the set at 8-8 and the two teams again went point-for-point to 11-11. Wharton then began to rally as they soon held a 17-14 lead before eventually rattling off the final eight points of the set to take a 25-14 victory.
Moving on to the second set, it was once again tight early as the two teams sat tied at 5-5 but Wharton began to pull away quickly, jumping out to a 15-6 lead before the Chargers were able to stop the red-hot Wildcats' run. Crest tried to claw their way back into the set but Wharton continued to thwart any hope of a comeback as they raced out to a 25-13 victory in the second set to take a 2-0 lead in the match.
The third set was by far the most tightly-contested set of the evening as both teams battled back and forth throughout much of the match, with Crest falling behind 7-2 early before rallying quickly to take a 9-8 lead. Neck-and-neck the teams found themselves tied up at 10-10 and once again at 14-14 before Wharton was able to respond with five unanswered points to ultimately outlast the Chargers' last-ditch effort to take the third set 25-17.
But while the win moved Wharton to just 11-9 on the season, it's come on the heels of a fantastic second half in which they've gone 8-3 over their past 11 contests after starting the year 3-6.
"This is this team's first year in 7A and that was only our second regular season loss," Dodson said. "All of our other losses we have are either in tournament play or in extra matches we picked up to try and get something going. We've fought through the injury bug this season but if you look at our original regular season schedule, we're 9-2. Not too shabby. That brings us to 13-9 on the season and no matter what happens at this point this team will be a winning team at the end of the year. We're going to have a winning record no matter how the rest of the season unfolds and I'm proud of them because we graduated so many players last year and there were so many young players that hadn't seen a lot of court time that got thrown into the fold, said go and I can't be more proud of this Chargers team and how they've carried themselves."
And for the Chargers, getting healthy has been a focus this year as some major players in senior captains Alissa McBee, Morgan McGuire and Brooklyn Zajac, along with sophomore Kiera Folsom, have all dealt with injuries throughout the campaign. And with their strong regular season play setting them up for a first-round bye in the district tournament, it gives the Chargers even more valuable time to get fully healthy and prepared for the playoff games ahead.
"It looks like we're going to be number two heading into districts so we'll get a Monday bye and we can use that to kind of re-tool a couple of things. We're nursing a couple of injuries so hopefully those can heal up with that bye too," Dodson said. "We'll play a Polk County team that we really don't have much information on and then we're going to get a Winter Haven team that we've already seen once this year but when they saw us the first time we had one girl with a concussion, one girl with a shoulder injury and they're two massive starters for us. So we kind of had to tool the lineup around that, do what we had to do and they're going to see a whole new version of the Chargers and I think we can make a run at districts. The goal right now is a district title and beyond."
The Chargers will end their regular season play on Thursday as they head to Sumner High School for a non-district match against the Stingrays before playoffs begin the following week.
"We've got so many bright stars on this team," Dodson said. "The senior leadership is doing what they need to do and the future is so bright for this Strawberry Crest program. I have no doubt that they will make their run, they will do what they need to do."