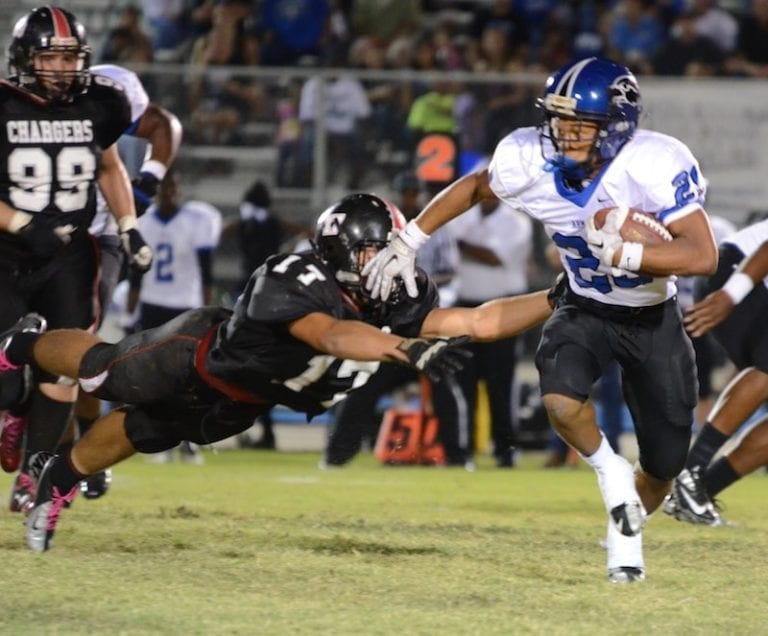 By Matt Mauney | Associate Editor
With the two schools separated by just a few miles on I-4, it makes sense for Armwood and Strawberry Crest to be natural rivals. Given recent meetings, including the 80-0 embarrassment Armwood put on last year, the series could barely be called a rivalry.
That is, until Friday night.
The Chargers went toe to toe with perennial power Armwood and trailed by one score with five minutes to play, before falling 35-18 to the visiting Hawks.
"Obviously Armwood is an elite program, but we're going to get there some day," said Strawberry Crest head coach John Kelly, who coached and played for Armwood coach Sean Callahan. "I'm disappointed that we lost. We had our opportunities tonight, but Armwood is a good program and we have to take advantage of those opportunities if we want to win against a team like that."
Down 25-12, Strawberry Crest (2-4, 0-3 6A District 8) mounted a drive to begin the fourth quarter that was capped off by a 1-yard run by Chris Perez. The two-point conversion attempt was no good, bringing the score to 25-18. The Chargers defense held Armwood on the ensuing drive giving the ball back to their offense, halfway through the fourth, but the drive stalled.
Armwood (6-1, 4-0 6A District 8) would drive down and score on an 18-yard run by Nehemiah Miguel. Strawberry Crest quarterback Tristan Hyde would throw a pick on the next drive on the Chargers' last hope at a comeback. Armwood tacked on a field goal with 11 seconds to play.
Hyde once again put up big numbers, passing for 298 yards, but threw two picks to go along with a pair of touchdown passes. Both of those touchdown passes were long strikes to standout wide receiver Karel Hamilton, who had a huge game with 13 catches for 223 yards.
Strawberry Crest will be looking for its first district win of the season next week when the Chargers host winless Leto for their homecoming game.Power full