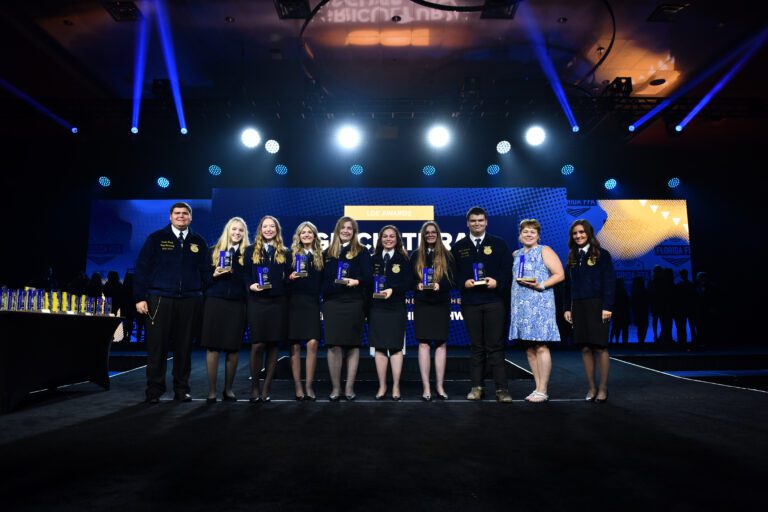 The all freshman team won at the state level and will now advance to the national competition in Indianapolis.
Strawberry Crest FFA was represented at last month's 2022 Florida FFA State Convention & Expo in Orlando, where their team of seven freshmen competed and later came away victorious in their Agriculture Issues Forum Leadership Development Event.
The Agriculture Issues LDE is designed to stimulate interest and critical thinking around local, state, national and international issues related to agriculture, food and natural resources. And this event, open to one team per high school FFA chapter throughout the state, required teams to investigate and research these topics before completing a written portfolio that details their selected issue, holding a number of in-person presentations within their local community and ultimately presenting their portfolio at the Convention for judging.
Crest's selected topic was, "How are consumers' perception and selection of food choices influenced by social media and confusing food labels?"
"It was mostly about finding a relevant issue in agriculture so we kind of sat there and I said, 'I think this would be fun to do,' with my team," member Milee Hasting said. "So we just started throwing ideas out there with social media and how relevant it is and then we were thinking, what's confusing when we go into the store? Food labels. There are all of these practices that people don't know about so that really sparked our interest. So we turned it into a presentation, a really fun one with jokes but also a lot of information as well. That's kind of how it all started up and the kids wrote everything. Our teacher helped us with a couple of things but she really left it up to us."
Their preparation began in October of 2021 before they thoroughly researched their prompt, developed a presentation and held forums before the Florida Farm Bureau, the Rotary Club of Plant City and the Rotary Club of Brandon, among others. The team used all seven members to represent two different social media groups in their presentation, with one group representing those who are very knowledgeable about food labels and are very involved on social media and advocate for the food industry and another group that was misinformed and lacking knowledge on the food industry while spreading false information. Then the seventh member of the group served as the moderator.
Through their skit, the team portrayed both groups going back and forth on issues such as GMOs and gluten and antibiotics on the food products that everyone sees in stores as they shop.
Members of Crest's state championship team include Tess Aguero, Jaden Ausburn, Jaylene Carey, Alivia Eben, Milee Hasting, Rachel Moore and Hope Storter, led by advisor Susan Mayo.
On the heels of their state championship, Crest's team will represent the state of Florida as they present at the 2022 National FFA Agriculture Issues LDE, scheduled for October 26 and 27 during the 95th National FFA Convention & Expo in Indianapolis, Indiana.