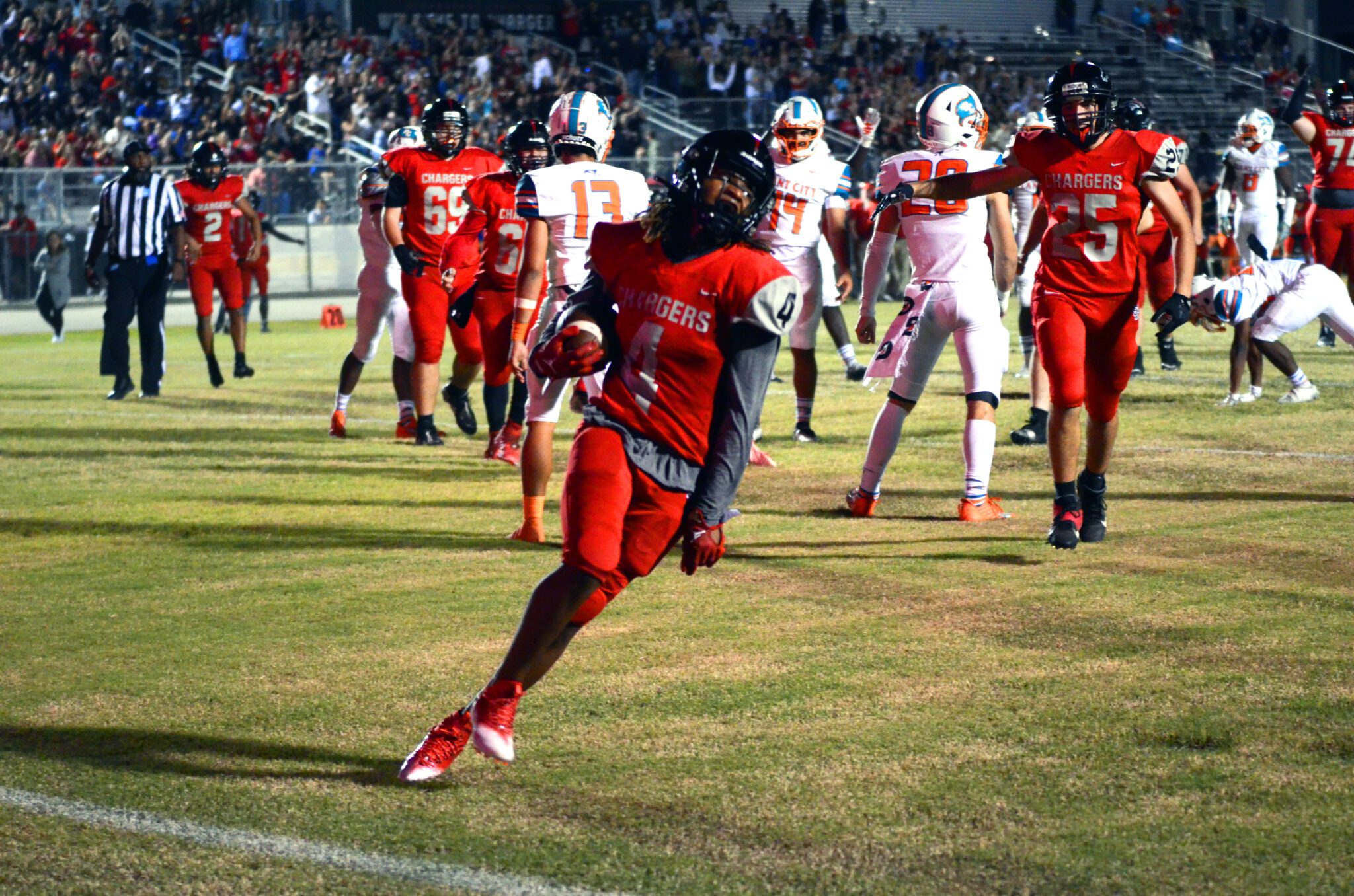 2023 Football Preview: Strawberry Crest
Hired just weeks before his first season as head coach at Strawberry Crest kicked off in 2019, Phillip Prior saw the Chargers total just three combined wins in his first two years. Taking over a program that was not accustomed to winning, or even the feeling of it with much regularity since opening their doors in 2009, Prior was facing the challenge of not just trying to claw out wins during the season but to instill a culture that could develop players and establish a level of sustained success.
By 2021, the Chargers posted their first .500 season in eight years as they finished with a 5-5 record, a massive improvement from their 1-8 finish in 2020. And in 2022 their 6-4 finish marked their largest single-season win total since going 7-5 in 2013.
"Winning cures a lot of different things and if you win, that gets people excited about the program, it gets more kids coming out for football, it gets more community support," Prior said "The question is, why are we winning? We feel like we've done a really good job of establishing a culture and creating a platform and a way for when our guys enter our program as freshmen, they're entering a system that's going to develop them to become a great high school football player and a great young man. Those are the things that we strive for and that we aim for and we believe that if we do those things, if we can take care of those little things that we can control, then we'll have sustained success and to me that's the number one mark that we want our football program to experience. The last couple of years we had a 5-5 season, we had a 6-4 season and I don't like to put any numbers on any season but we want to maintain that success that we've had and that's always relative to our football team. I tell the kids all the time, if we get beat, let's get beat because we're not faster than the other team or we're not as strong as the other team or we're smaller than the other team. Let's not get beat because of discipline, effort, being aware, using our technique, all of those things that are within our control because at the end of the day, if we take care of the things that are within our control and we just get beat because we got beat by a better football team, we can live with that. If we get beat because we didn't do one of those things that we can control then that's on us, that's what we strive for."
Last year the Chargers were led by an experienced secondary full of four-years starters that anchored the back end of their defense — some that have since committed to play football at the college level in Marcus Springfield and Ryan Weems, alongside fellow senior Quincy Hart and junior Devin Blunt. At linebacker and defensive line there was a mix of upperclassman manning the front seven, with seniors Steel Craig and Deegan Fearnow leading the defense in total tackles at linebacker. But from a defense that was experienced and shined in the defensive backfield, the Chargers find themselves in a totally different scenario heading into 2023 as they will deploy just four returning seniors on defense — coming in the form of defensive linemen Quintin Walker, who led the unit in tackles for loss with 17 in 2022, and Didier Godonou Dossou, linebacker Abe Craig and defensive back Devin Blunt.
"Defensively we're going to be a little bit inexperienced in our secondary," Prior said. "That's where we lost a lot of guys, in our secondary. We've got four returning starters on the defensive side of the ball, those are our four seniors on defense so we need those guys to really kind of carry our team and be that experience while those other guys go through some of the lumps while getting varsity reps, because those are the only four guys that have received varsity reps at their positions… The experience up front now takes some of the pressure off of those guys in the secondary. Last year it was kind of the opposite, we kind of had the opposite approach. We knew going into the season that we had a wealth of experience in our secondary so we put a lot of pressure on those guys to kind of help our box out a little bit more. But now it's, again, kind of the opposite a little bit. We need our box to take a little bit of that pressure off of our secondary while those guys gain some valuable reps and I'm excited to see that as we get through that first half of the schedule — because every time we step on the field we're going to get better. There's no doubt about it. It happened this summer, every time we're stepping on the field we're going to get better. As those guys come along we'll all benefit because virtually all of those guys are then going to come back next year, so that's another way to look at it. Again, they have very limited varsity reps so every time we step on the field we're going to gain some valuable experience. We're going to make mistakes, but can we make the adjustments as we make those mistakes and get better."
As opposed to what amounts to an relatively inexperienced defense for the Chargers, Prior noted how excited he is for the talent and experience that Crest will have on the offensive side of the ball — including a new quarterback in junior Riverview transfer Zy Floyd.
"Obviously we lost a lot of seniors off of last year's team, a lot of experience at certain positions, but we have some experience at other positions," Prior said. "We had 20 seniors on our team last year. Our offensive line, for the most part, we're bringing most of those guys back. We're bringing two of our leading rushers back. We're very excited about our wide receiving corps this year and Zy Floyd's going to be our quarterback, we're excited about what he can bring through the air on the ground."
Across the rest of the offense, high school teams are regularly forced to utilize players on both offense and defense, and often on special teams as well. It's something that the Chargers have done a lot in the past, most notably looking at Springfield and Hart as they finished last season as the two of the Chargers' receiving leaders while also leading the defense in passes defended and combining for five interceptions. In the backfield, Blunt, Weems and Reibsome were three of the team's leading rushers in 2022 alongside quarterback Jordan Lewis. When those players subsequently graduate it can then serve as an even larger hurdle to replace production as team's essentially lose a player on each side of the ball, but 2023 marks a significant improvement toward a shift away from such a heavy reliance on two-way players according to Prior.
"We definitely lost those guys and they had a wealth of experience,"Prior said. "They were four-year varsity starters on both sides of the ball for us so absolutely, we'll lose a lot of that. However, as far as our receiving corps, this is the first year since I've been the head coach here where our receivers are not two-way football players. That's going to benefit our pass game, that's going to benefit our secondary. Now Gage Reibsome and Devin Blunt are still going to be two-way players. Those guys will be our running backs and play in our secondary as well so we're not quite out of the woods when it comes to being a one-way football team but for the most part we've been able to avoid that a little bit."
Under center, Crest may have found their quarterback for the immediate future in Floyd as he prepares for his junior season. It's a position that the Chargers have used flexibly under Prior, often utilizing a wildcat approach with a number of different players stepping in at quarterback depending on the specific package being used. Two years ago the Chargers added Lewis midseason and he started five games for Crest, leading the team with 181 of their 279 total passing yards on the season while throwing their lone two passing touchdowns on the year. As a senior last fall, his numbers jumped to 752 passing yards and seven touchdowns as the team total also lept to 806 passing yards. With Floyd, he may provide crucial stability to the position, as well as being an additional threat on the ground.
"We're excited about Zy," Prior said. "He brings a lot of energy, he brings a lot of effort, he works his butt off, there's not doubts about that. We're just as excited about what he can do on the ground with his legs as we are what he can do through the air. He's got a good group of receivers that he'll have an opportunity to throw to this year and he'll really have the opportunity to extend plays for us. So that's what we're going through now, fine-tuning a lot of that stuff and getting out of the seven-on-seven summer mode because there's a lot of bad habits that get developed in that stuff, so we're trying to break that stuff in the first part of camp."
But while the addition of Floyd at quarterback could certainly provide an instant influx of talent at any team's most important position, Prior argues that the versatility of their offensive packages has always been an attempt at highlighting the strengths of their offensive players and won't necessarily change the looks that they deploy or the way they've attacked their opponents in recent years.
"There's so much that goes into it," Prior said. "One of the reasons that we do what we do offensively is managing our personnel. What type of running backs do we have? What are the skill sets of those running backs? What's our offensive line? What's the skill set of that offensive line? It's really like trying to come up with your offense. In the past, even if we had receivers that are going both ways, what we believe in as a football team is resting those guys on offense, we don't rest them on defense. We play defense first, defense gets the priority. There's a lot that goes into that. So our offense is still going to look very similar to what it has in the past but we will try to call plays and kind of tweak some things to highlight the skills of our guys and Zy is no different from that. He can do a lot with his legs so the more we're under center, the less we take that away from him. It's trying to find out that balance and how we can maximize the potential of our guy's skills."
With experience lost at some positions but other position groups coming back stronger off of their six-win season in 2022, Prior was confident in the fact that he doesn't at all consider 2023 to be a rebuilding year for the Chargers, but yet another chance to build on that sustained success that Crest has been establishing throughout the past two seasons.
"This is not a rebuilding year for us, I don't see this as a rebuilding year," Prior said. "We've got experience coming back on the offensive side of the ball, we're going to be better at some positions and we're not going to be as good at some positions but that's football from year to year. I'm excited about this team but that being said, every single team, every win that we got on our schedule last year, every single one of those teams is going to be better. We know that. A lot of those teams are going to take us seriously and we're going to get everyone's best football this year, there's no doubt."