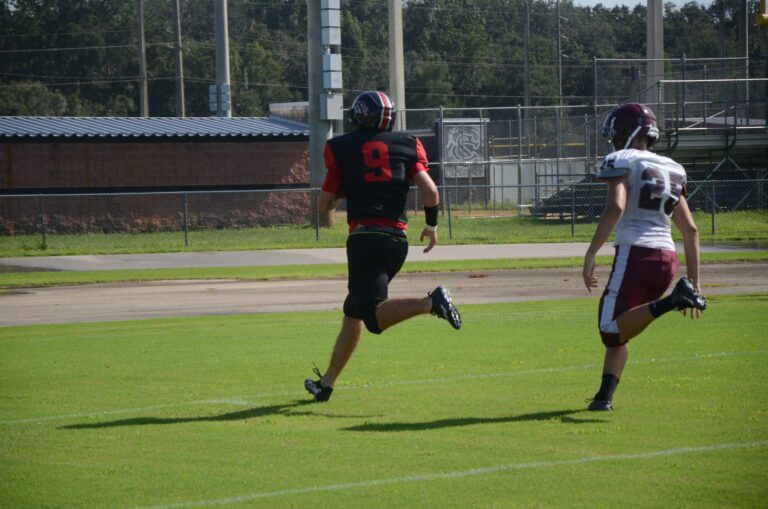 2022 Football Preview
After three combined wins in his first two seasons as head coach, Phillip Prior was still trying to instill a new culture within the Strawberry Crest football program heading into last season. Hired just weeks before the 2019 season and then met with the COVID-19 pandemic in 2020, the 2021 season was his first chance to enter the year on the heels of complete spring and summer workouts.
With the benefit of a full offseason, the on-field results began to shift last fall as the Chargers were able to come away with four regulation wins and a fifth coming by way of a forfeit from Armwood. A 26-12 victory over Leto in their final game of the year marked the end of a 5-5 season and Crest's best regular season record since going 7-5 in 2013, just the third season that the Chargers have finished .500 or better in school history.
With the foundation laid, Prior and the rest of Crest's players and staff are ready to continue building on their upward swing from last season.
"We're very excited about this season," Prior said. "We've got a lot of experience and we've got a lot of guys returning. We experienced some success last year, we got four wins and a forfeit for five total, but this is the year where we believe that we can win every game on the schedule. We believe that's a reality and that we have a chance to win the district and that hasn't been the case in the past. So we believe it but now we have to put it into action."
A very young team last season, Crest will be bringing back nearly their entire starting lineup on both sides of the ball, with another year of size and experience under their belt.
Offensively it all starts up front with the offensive line, a unit that looks completely transformed heading into the 2022 season.
"Last year we averaged about 200 pounds on our offensive line and this year we're at about 250. We've had a lot of guys that really progressed in the weight room, we lost a couple guys and one came back from injury, so we feel really good about those guys. We're still going to commit to running the football and we're going to be better in our passing game this year but we'll go as far as those guys take."
Another key addition to the offense will be a full year with senior quarterback Jordan Lewis under center at the quarterback position. A starter on the Chargers' basketball team, Lewis joined the football program during the middle of the 2021 season and ended the year as the team's leading passer despite playing in just five games. Despite limited football experience at the high school level, Lewis should make an immediate impact on the Chargers' passing game as he adds not just size and athleticism to the position, but consistency.
"He didn't really have a whole lot of experience with football, he'd just played some little league ball, but he came out here and made a lot of progress last year and we kind of struggled a bit in our passing game last year so I really believe that he's going to help improve that area of our team," Prior said. "He throws a very good ball to our guys that love catching it, he throws a very catchable ball, and the thing is that he's an athlete too. When things break down he'll be able to escape the pocket, scramble and make things happen with his legs and we'll run the ball with him too. He can do a lot of different things."
Last year Crest ran an extremely variable offense, with a number of players moving in and out of the quarterback position in an attempt to manufacture touches to some of their best athletes. Even with the addition of Lewis, that's something that will likely continue for the Chargers offense as they continuously look at new ways to attack opposing defenses.
"We've got a lot of guys on the team that are worthy of touching the ball," Prior said. "Coby Burger did some really good things for us last year and we've got other guys too. Quincy Hart, whenever he touched the ball he scored touchdowns, he had explosive plays for us, he did a lot of good things in the spring game. So we've got other guys that we want to showcase and that we want to get the ball to. So we'll still be pretty multiple, still do a lot of things offensively, but at the same time we want to expand on our passing game. We'll really talk a lot about how to get touches to certain guys."
But even with what would appear to be an improved passing game, the Charger's offense will still flow through their run game. Burger led the team in rushing yards last season with 358 yards and six rushing touchdowns on 82 carries, largely from the quarterback position, but senior Ryan Weems may very well handle his fair share of work out of the backfield, followed by junior Devin Blunt. In 2021, Weems totaled 354 rushing yards and four rushing touchdowns while Blunt finished third on the team with 231 rushing yards and one score. At receiver, Hart is a player that has really excited the coaching staff due to his explosive plays last season and his performance in their spring game. With 153 receiving yards and two touchdowns on just five receptions in 2021, good for 30.6 yards per reception, Hart led the team in receiving yards and will surely get his fair share of touches this year. Along with Hart, Burger and Marcus Springfield will be threats on the outside as well.
Defensively, Crest has consistency up front with four juniors all returning along the defensive line, but the strength may very well lie in their experienced secondary made up of seniors Weems, Hart and Springfield.
"We have three seniors in that group but all four of them, Devin Blunt being the other guy, this will be the third year of all four of those guys starting together and that's really special," Prior said. "And we've got a couple of other guys that we'll rotate in there but that's going to be the strength of our defense so we'll put a lot of pressure on those guys and we're going to really rely upon those guys to do their thing, and they have been. These guys have been starters for four years, Marcus Springfield started the very first game he ever played here as a freshman and here he is. We've got a lot of experience back there and they'll make a big difference for us."
SCHEDULE
Note: All games are scheduled to start at 7:30 p.m. Games are broadcast live online at
NFHSNetwork.com.
8/26: @ King
9/2: Spoto
9/9: Robinson
9/16: @ Leto
9/23: @ Zephyrhills Christian
Academy
9/30: @ Plant
10/7: Middleton
10/14: @ Alonso
10/21: Riverview
10/28: Plant City
THE DETAILS
Location: 4691 Gallagher Road, Dover
Established: 2009
Head Coach: Phillip Prior (fourth season)
2020 record: 5-5 (1-2 district)
ROSTER
1 Jordan Lewis QB Sr.
2 Devin Blunt RB/DB Jr.
3 Ryan Weems RB/DB Sr.
4 Marcus Springfield WR/DB Sr.
5 Jaden Baker WR/DB Sr.
6 Quincy Hart WR/DB Sr.
7 Coby Burger WR/DB Sr.
8 Stevie Parkmond WR/DB Jr.
9 Brady Schmidt TE Sr.
10 Brice Schmidt LB So
11 KJ Canady WR/DB Sr.
13 Gage Reibsome RB/DB So.
14 Thimothee Woods WR/DB So.
15 Abe Craig LB Jr.
17 Dillon Warren K So.
18 Trey Revoy K So.
20 Quintin Walker DL/FB Jr.
22 Aiden Brown LB So.
24 Josh Mukendi DL Sr.
25 Troy Eskew TE/DL So.
30 Steel Craig LB Sr.
32 Radek Shah FB Sr.
34 Deegan Fearnow LB Sr.
42 Dominic Bledsoe LB Sr.
45 Grayson Haynes FB Sr.
50 Ethan Dentmon DL Sr.
51 Gabe Almeida DL Jr.
52 Didier Godonou Dossou DL Jr.
53 Jace Eldridge DL So.
54 Tyler Oblow OL Jr.
55 Dylan Weaver OL Sr.
56 Ben Bradford OL Jr.
57 Daniel Cruz LB Sr.
59 Jared Jirau DL Sr.
65 Victor Hernandez DL Jr.
66 Austin Gardner OL So.
69 Cody Craft OL Jr.
70 Samuel Shiver OL Sr.
74 CJ Vaughn OL Jr.
75 Daniel O'Connor OL Jr.
99 Rodney Addison DL Jr.