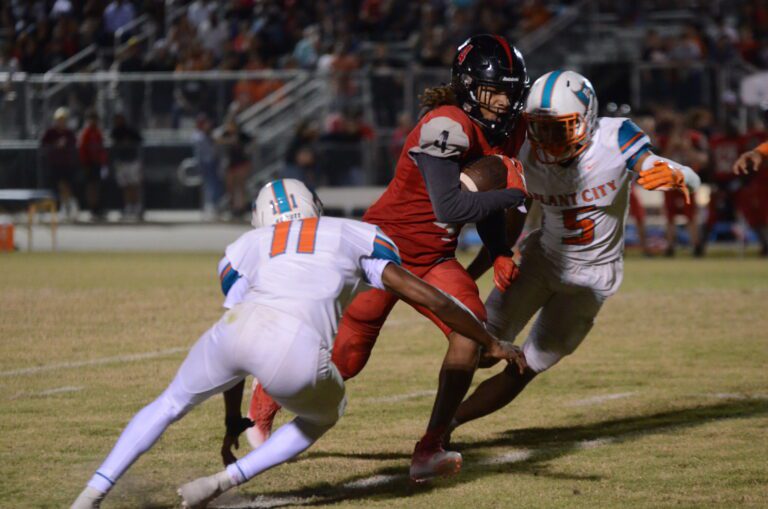 The Chargers escaped with a 14-6 win over Plant City to finish the season at 6-4.
After opening their season on a five-game win streak, the best start in school history, Strawberry Crest wrapped up their season on Friday with a 14-6 win over Plant City to end the year at 6-4.
"I think that this is just great for football in the Plant City area to begin with because Durant and Plant City have played competitive football and we've been late to the party but now we're here," head coach Phillip Prior said. "And we've proven that there's some great football over here in eastern Hillsborough County, specifically in the Plant City area, but this was really just a great win for us to kind of establish that. We're really proud of our guys for that but it's also a really special game because a lot of these guys know eachother, growing up together and playing youth football together and all of that stuff, so it means a lot to the kids too."
Plant City took the opening kickoff and wasted no time moving into Chargers territory on their first drive of the game, later moving all the way down to the Strawberry Crest 25-yard line on a completion to receiver Jaylen Smith, but would ultimately move no further as the ensuing first down carry went for no gain, followed by a false start penalty, a sack and a short run on third down to set up a punt from the 34.
Crest's Marcus Springfield returned the punt to the 19-yard line but the Chargers would go three-and-out.
Plant City opened their next drive near midfield as the Crest punt rolled out of bounds at the Raiders' 45-yard line and running back Jaden Mccants immediately broke off a big run to the Crest 25-yard line. Mccants then gained nine more on a first down run and picked up another first with a short carry to the 16-yard line on third. After entering the Crest red zone the Raiders would stall out once again, moving no further on the next three downs as they ultimately settled for a field goal attempt that was blocked and turned the ball back over to Crest.
On Crest's next possession they were able to run the ball with success, picking up first down after first down on the backs of quarterback Jordan Lewis, Springfield and running backs Devin Blunt and Gage Reibsome. Facing third-and-five at the Plant City 30, the Chargers moved into the red zone for the first time as Lewis rolled out to his right and found receiver Quincy Hart open for a 10-yard gain to the 20. Carries from Springfield and Blunt kept the Chargers moving downfield but a fumble would mark the end of the long drive as Plant City defensive back Chase Dexter recovered to give the Raiders possession back at their own 10-yard line.
On their next offensive possession the Raiders moved the chains just once as they worked their way up to the 30 before a third-and-seven pass over the middle of the field was intercepted by Crest linebacker Abe Craig at the Plant City 40-yard line, and Crest would finally cash in. After a quarterback keeper gained one yard on first, Lewis dropped back and found a wide open receiver in Thimothee Woods down the left sideline as he hauled in the diving reception to put Crest down inside the Plant City red zone at the 10. And one play later, Springfield took the first down carry to the left side and into the end zone untouched to give the Chargers a 7-0 lead with 4:15 left in the first half, a lead they would take into the locker room after the first two quarters.
Coming out of the break, Plant City immediately took advantage to steal a possession as they recovered an onside kick at their own 48-yard line, but one play later the Chargers would flip the field in their own direction as a strip sack put the ball on the ground and Crest was able to jump on it and to take right back over at the 50-yard line. On their next drive the Chargers deployed a wildcat formation spearheaded by Springfield. Blunt took the first down carry for four yards and Springfield gained just one yard on second before breaking free for a 25-yard run up the middle on third and five, moving the Chargers down to the 20-yard line. Reibsome gained three yards on the next first down carry, then Springfield gained five on second and picked up a first down on third with three-yard carry to the nine-yard line. After a four-yard carry from Springfield put the Chargers at the five-yard line, a false start penalty backed them up and they were faced with second-and-goal from the 10, but running back Ryan Weems took the direct snap on a sweep to the left for a 10-yard touchdown run on the next play as Crest extended their lead to 14-0 with 5:54 left in the third quarter.
The Raiders would finally find the end zone in the fourth quarter. Starting at their own 35-yard line, back-to-back completions to Smith and receiver T.J. Knighten gave Plant City a first down at midfield. After a gain of two on first down, Mccants broke free for another big run as he scampered 28 yards up the right sideline to put Plant City at the 20. Three plays later the Raiders were facing a fourth-and-one but Mccants kept the chains moving with a run down to the five. Two more carries from Mccants had the Raiders down right at the goal line and running back Dominic Jones surged forward for the one-yard score to get Plant City on the board, cutting the Chargers' deficit to 14-6 after the unsuccessful extra point attempt.
Despite the Raiders breaking into the scoring column late and narrowing the contest to a one-score game, Crest was able to dominate possession for much of the final quarter and their defense stood tall late as the Chargers escaped with a win to move to 6-4 on the year.
"I'm just so incredibly proud of our kids," Prior said. "We knew that this year had a chance to be special. We set out with a lot of goals that we wanted to accomplish and we fell short of them but we also accomplished some of them. That was one of the goals right there, to beat Plant City. We knew that game was right there in Week 10, waiting for us, to end our season. And our kids kept fighting, we went through a rough patch there losing four games in a row but they came out this week, we had a great week of practice, they were motivated, we knew that we could get this one and we did."
Lewis completed three of his six pass attempts for 46 yards and added 11 rushing yards on five carries as much of the Chargers' offense was predicated on their strong ground game, a rushing attack that totaled 229 yards on 43 carries. Out of the backfield, Blunt paced the unit with 106 yards on 16 carries, followed by 77 yards and a touchdown from Springfield, 21 yards and a touchdown on six carries from Weems and 14 yards on five carries from Reibsome.
Defensively, senior Deegan Fearnow led the unit with 11 total tackles, followed by senior Steel Craig and junior Quintin Walker. Freshman Malachi Johnson and Steel Craig had one sack each while Walker and Fearnow each notched a half-sack of their own. Johnson totaled three tackles for loss, followed by Fearnow and Walker with two each and Steel Craig with one. In addition to his team-high three tackles for loss, Walker was also credited with both of the Chargers' fumble recoveries on Friday, coming by way of one forced fumble each by Steel Craig and senior Daniel Cruz.
Offensively for the Raiders, quarterback Champ Mitchell completed eight of his 14 pass attempts for 74 yards while Mccants totaled 111 rushing yards on 14 carries, good for 7.9 yards per attempt. Behind Mccants, Jones totaled nine yards and a touchdown on five carries. Out wide, Smith led all receivers with 46 yards on four receptions, followed by 15 yards on two receptions from Knighten and 13 yards on one reception from junior Judah Bendorf.
After just three combined wins over the first two years under head coach Phillip Prior, the Chargers made huge strides in 2021 as they finished the year at 5-5 — their best record since going 7-5 in 2013 — before improving on that finish in with a 6-4 record in 2022. For Plant City, the loss puts them at 2-7 as they host another 2-7 team in Jefferson next Friday to wrap up their first season under head coach Michael Clayton.
Across town Durant wrapped up another winning season with a 30-26 district win over Riverview to finish the year at 8-2. And despite previously securing their district title with a win against Newsome last month, holding the tie-breaker over Sumner, the win over Riverview leaves the Cougars alone at the top of the standings with a 3-0 district record.
Offensively, quarterback Mike Ryan completed just seven of his 17 attempts for 34 yards but added 83 rushing yards on 13 attempts. Out of the backfield, running back Alex Daley returned from an ankle injury and exploded for a season-high 171 rushing yards and a touchdown on 16 carries, good for 10.7 yards per attempt. Behind Daley and Ryan, sophomores Jarelle Franklin and Jayden Cornelius totaled 28 yards on four carries and 10 yards and a touchdown on two carries, respectively, followed by seven yards and a touchdown on four carries from senior Calub Connell and four yards and a touchdown on one carry from feshman Treon Williams. At receiver, junior Jayden Forte led the unit with 23 yards on three receptions, followed by 10 yards on three receptions from Cornelius and one yard on one reception from senior Jeremiah Gines.
Defensively, sophomore Hale Sollmann led the unit with 12 total tackles, followed by 11 each from senior Ty Merkle and sophomore Justin Zinke. Sollmann, Zinke and Greg Smith each notched 1.5 tackles for loss, Gines added an interception and junior Luther Scarlett came up with the Cougars' only fumble recovery of the contest, forced by senior Anthony Giovenco.
With playoffs once again on the horizon for Durant, the Cougars have now secured at least eight wins in their first two seasons under head coach Claybo Varnum after finishing 2021 at 8-3, their highest single-season win total since going 8-3 in 2016. In his two years at the helm, Varnum has now led Durant to 16 total wins, two playoff appearances, two wins over rival Plant City, their first win over rival Newsome since 2017 and their first district championship since 2014.