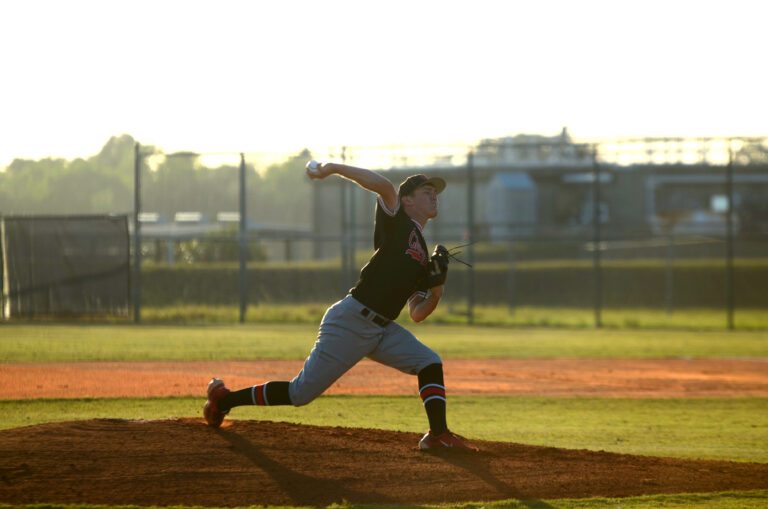 In a game that took nine innings to find a winner, the Chargers ultimately came out on top to extend their lengthy win streak.
As Strawberry Crest made their way to Durant last Thursday night, both teams entered the contest with lengthy win streaks on the line. For Durant, their six-game win streak — and winners in 12 of their last 13 games coming into Thursday's matchup — had them sitting at 16-3 on the year. For the Chargers, their five-game win streak signified a major mid-season turnaround as they had climbed to an impressive 13-6 after entering the month of April at just 8-6 on the year.
But in a game that ultimately took nine innings to find a winner, seeing a pair of scoreless appearances of eight innings from both starters, the Chargers were able to outlast the Cougars to extend their hot streak and move to 14-6 on the season.
With the Chargers gearing up to hit in the top of the first, Durant sent their ace in junior Blaine Rowland to the mound. After a strikeout opened the contest and a ground out marked the first two outs of the inning, senior Arjun Nimmala marked the first baserunner of the game for Crest as he reached on a hit by pitch. But Rowland would lock back in with a strikeout to end the inning. And for the Chargers, it was senior Luke Richardson on the bump to face the strong Durant lineup. After Richardson notched the first out of the inning by coaxing a fly out to second base, a base hit through the left side from Durant's senior catcher Dylan LaPointe gave the Cougars their first hit of the game. But much like Rowland in the top of the first, Richardson put a halt to any potential threat by inducing a 4-6-3 double play to get out of the inning in an instant.
Crest saw another runner reach with one out in the top of the second, another hit by pitch to put freshman Dillon Knight on first with one out, but that would be it for the Chargers as a fielder's choice at second signified the second out and a pickoff at first ended the top half. And in the bottom of the second, Richardson showed that he had completely found his groove with a pair of groundouts and a strikeout to work through a perfect bottom of the second. Both pitchers continued to dominate throughout the third, with both offenses managing just one baserunner but failing to break through.
And in the top of the fourth it appeared as though Crest had finally found a way to jump out in front, but a terrific response from the Cougars defense shut down the threat. After Crest freshman Reuben Vasquez reached safely with a walk to open the inning, Nimmala came up huge as he roped a double down the left field line. Durant left fielder Gavin Florio raced to the wall to get the ball in quickly while Vasquez was racing around the base paths looking to score all the way from first. But a strong throw in, cut off by third baseman Aidan Welsh and fired home to LaPointe, nabbed Vasquez at the plate to keep the potential go-ahead run off the board and mark the first out of the inning. Rowland responded with a strikeout and while Nimmala was able to move up to third on a ball in the dirt and senior Zach Redner drew a walk, a groundout to short would end the scoring opportunity.
A two-out base hit from senior designated hitter Jeremy Ortiz would amount to very little in the bottom of the fourth as Richardson came right back with a strikeout to end the frame and both starters would enter a flawless run for the rest of their nights.
As the fifth, sixth, seventh and eighth innings rolled on, both pitchers were able to work through each inning without surrendering a single baserunner over their final four innings of work. And in the ninth, both teams would turn to their bullpen in relief.
For Rowland, he finished the night with eight scoreless innings pitched, two hits allowed, two walks allowed and 12 strikeouts. On the other side, Richardson left the contest after eight scoreless innings of his own, allowing only three hits, surrendering no walks and totaling eight strikeouts — miraculously doing so on just 89 pitches.
"I think everyone saw it," Strawberry Crest head coach Eric Beattie said. "Richardson had everything working, he was dialed in and he executed pretty much every pitch that he needed to execute all game so it's one of those games that you just love to have as a pitcher."
In the top of the ninth, the Cougars turned to Florio in relief. After a strikeout opened the inning, Crest put back-to-back baserunners on with a base hit from Vasquez and a walk from Nimmala. A ball in the dirt moved the runners up to second and third but a fly out to LaPointe behind the plate left the Cougars just one out away from escaping the jam. With a chance to give the Chargers the lead, Redner poked a high chopper to the left side — what seemed like an opportunity to get Durant out of the inning — but the ball was misplayed, allowing both runs to score unearned from second and third to give Crest the first runs of the ballgame and a 2-0 lead heading into the bottom of the ninth.
In the final frame, just moments after putting the Chargers on top, Redner took the mound and quickly induced three consecutive ground ball outs to seal the 2-0 victory, elevating the Chargers to 14-6 on the year while simultaneously ending the Cougars' second six-game win streak of the season as they fell to 16-4.
"I felt good tonight," Richardson said. "The main thing for me was being efficient, trying to get quick innings to get my offense back up to the plate. I had a lot of short innings, just trying to get contact and let my defense work — which they did. They made a bunch of great plays, especially Jace (Raburn), he had a couple of great snags on deep balls in the outfield. I was just trying to be efficient. I felt like my main pitch that I was comfortable with that was working tonight was my changeup, I got a bunch of strikeouts with that and a lot of weak contact which is what I look for, making it easy on my defense while getting some quick innings. It was great, it was a fun win, I think that was the first game we've had all season where both teams went seven innings without scoring runs, it's intense. Redner pulled through big time with that hit, then closing it out. And my catcher Damien Bennett, he called the entire game, I love that man. I've been throwing to him for so long and we just have that pitcher-catcher connection that just works."
After their win over Durant, Strawberry Crest returned to action with a 10-0 win over Sumner before falling 2-0 to Bloomingdale, ending their season-high seven-game win streak and moving them to 15-7 on the year. Crest will wrap up their regular season against Newsome on Thursday before playoffs open next week where they will chase their fifth consecutive district championship.
"There's a lot of energy in these games," Beattie said. "Durant's a heck of a team. They've got great pitching, a great defense, they've got some very dangerous hitters and a lot of really good hitters around them so it's a really big win for Luke, it's a big win for our team and I'm definitely proud of Luke. Luke's a winner."
Durant also got back into the win column after their game against Crest with a 7-0 victory over Chamberlain on Saturday before falling to Sickles 9-4 in their regular season finale on Tuesday, now gearing up to enter the district playoffs at 17-5.