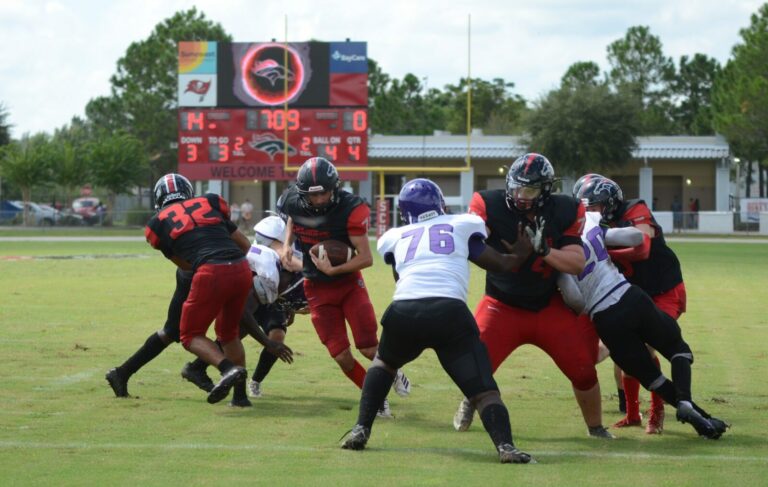 Strawberry Crest moved to 2-0 for only the second time in school history with their win over Spoto on Saturday.
After a 28-7 win over King in their first contest of the season, Strawberry Crest had their game rained out on Friday evening but returned home with a 21-0 shutout win against Spoto on Saturday morning to move to 2-0 for the first time since 2010 and just the second time in school history.
"The biggest thing that we've tried to set out and do with our program is just change the culture, not just the culture of the football program but the culture of the school and I really think that it's starting to happen," head coach Phillip Prior said. "I think that the stands were going to be pretty packed last night and unfortunately we had to push the game to this morning but there's a buzz going around the school. People are excited about our football program and our kids have done a great job. They represent our school well in school, out in the community, here on the football field, so it's just a great group of kids to rally behind."
The opening kickoff from Crest was sent out of bounds, giving Spoto a start at their own 40-yard line for their first drive, but the possession would be short-lived. On just the third play from scrimmage, the Chargers would force a fumble and recover at their own 44-yard line. Back-to-back first down carries from seniors Marcus Springfield and Quincy Hart would put Crest at the 27. Senior Coby Burger came in at quarterback and took two rushes for five yards on first and second down and a short third down carry left the Chargers facing fourth-and-3 from the 20, but senior Ryan Weems would battle through tacklers on the do-or-die play for a first down to the 15.
After moving inside the five-yard line, facing third-and-goal, quarterback Jordan Lewis rolled out to his right and dropped a perfect pass in the corner of the end zone — hauled in by Springfield— for a touchdown as Crest took a 7-0 lead in the first.
The two teams exchanged punts on their following drives.
On the first play of their third offensive possession, Spoto was immediately pushed back with a sack from Crest defensive lineman Quintin Walker – his first of three sacks on the day – to set up second-and-14. Spoto then faced third-and-long after a second down incompletion and turned the ball over on a deep pass over the middle of the field that was hauled in by a diving Springfield, allowing the Chargers to take over at their own 43-yard line.
"He had a heck of a game, Marcus is such an impactful player," Prior said. "The toughest part is that we want those guys out there the entire game but we can't, so it's just managing their usage, but man, he flew around and made plays that we know he's capable of making. I think he's one of the best guys around, back there in our secondary."
But Crest's drive would end as quickly as it began, failing to take advantage of the promising field position as they quickly lost a fumble of their own. Both teams exchanged punts once again as the first half came to a close, with the Chargers holding on to the razor thin 7-0 lead.
To begin the second half, Crest took over at their own 17-yard line and a series of plus runs from sophomore running back Gage Reibsome and senior quarterback Jordan Lewis kept the Chargers on schedule and up across midfield to the Spoto 45. On third-and-6, following two short carries on first and second, Lewis escaped the pocket and broke free into the open field for a 41-yard touchdown run to extend the Chargers' lead to 14-0.
Spoto finally found some offensive consistency on their first drive of the second half, led by run after run from quarterback Z'orey Cotton – who ended the day with a team-high 105 rushing yards on 15 carries – and moved deep into Crest territory. But once reaching the Chargers' 30-yard line, the drive began to flame out as Walker met junior defensive lineman Didier Godonou Dossou at the quarterback for a first down sack to set up second-and-15. An incomplete pass on second, a short carry from Cotton on third and a holding penalty on Spoto forced them into a fourth-and-20 that was too much to overcome as the ensuing pass attempt fell incomplete and the Chargers took back over right around their own 40.
Carries from junior Devin Blunt and Ryan Weems moved the Chargers back into Spoto territory and down to the 25-yard line before three carries from Reibsome set them up with a goal-to-go situation at the seven. Blunt and Weems both rotated back in for a carry each as the Chargers worked their way to the two-yard line and Burger once again entered at quarterback, punching a QB keeper in for a touchdown up the middle and extending the Chargers' lead to 21-0. Crest was able to continue their strong defensive showing and run out the clock, moving to 2-0 on the season with the shutout victory.
"We've done a great job of responding after halftime," Prior said. "Against King we went into halftime tied 7-7 and we responded well and put 21 points on the board in the second half, this week it was the same thing. We responded well. We kind of got off to a slow start, I think that's the biggest thing that we have to improve. We've got a tough Robinson team next week so we have to start better, but I'm very proud of the way our guys responded. We've told them for the last two weeks, this is what we have to do in the second half and our kids have done it. Now we just have to start off a little bit better."
Lewis led the way for the Chargers' offense on Saturday, completing five of his 10 passes for 40 yards and a touchdown while also leading their rushing attack with 69 yards and another touchdown on seven carries, followed by 47 yards on 10 carries from Weems, 39 yards on eight carries from Blunt and 21 yards and a touchdown on five carries from Burger. Springfield's lone 14-yard touchdown reception was enough to pace the team's receiving unit, along with fellow senior Grayson Haynes who hauled in one reception for 14 yards, while Springfield also tallied three passes broken up and an interception on defense.
"Marcus has been in our program for four years and we finally got him in the end zone there so we're happy about that but Jordan made a good throw, did a good job of managing the game, but he also had that long touchdown run there," Prior said. "So we've got a lot of guys that can make an impact in a multitude of different ways. We've got a lot of guys that can catch, a lot of guys that can throw and a lot of guys that can run."
Blunt also led the defensive side of the ball with five total tackles while Walker's three sacks were followed by one each from senior linebacker Steel Crack and Godonou Dossou. The Chargers' defense allowed just 132 total yards, with 122 coming on the ground and 10 receiving yards on two total completions.
Across town, Durant returned home as the moved to 2-0 on the year with a 38-6 victory over Middleton while Plant City fell to 0-2 on the heels of a 26-0 loss to Wharton.
For Durant, sophomore quarterback Michael Ryan finished the day with 11 completions on 21 attempts for 100 yards, topped off with a 21-yard touchdown pass to freshman receiver Treon Williams, his only catch of the day. Senior running back Calub Connell led all receivers with 34 receiving yards on two completions, followed by Williams, then junior Jayden Forte with 17 yards on two receptions and senior Elian Gonzales with 14 yards on two receptions. But the Cougars' 38-point performance was anchored by their stellar ground game, led by the running back duo of Connell and junior Alex Daley, each eclipsing 100 rushing yards on the day. In addition to his team-high 34 receiving yards, Connell led Durant with 131 rushing yards and two touchdowns on 13 carries, followed by Daley with 101 yards and one touchdown on 15 carries and Gonzalez with 38 yards on three carries. Defensively, senior linebacker Jacob Reed paced the unit with six total tackles, followed by junior linebacker Brant Bovee and senior defensive lineman Ty Merkle with five, each also racking up a team-high 2.5 tackles for loss. Merkle tallied two sacks and Bovee added one of his own while junior linebacker Luther Scarlett and senior defensive back Xavier Peavy each totaled a half-sack. The Cougars' defense forced two takeaways, coming by way of a fumble recovery from Bovee and an interception from Scarlett – his second in two games to start the year.
Stats were not made available following Plant City's game.
After cruising to two comfortable wins to start the year, Durant will look to remain undefeated as they host Bloomingdale on Friday, with the Bulls entering the week at 0-2 following a 44-32 loss against Sumner and a 28-14 loss against Armwood. Strawberry Crest will be doing the same as they host 2-0 Robinson, with the Knights coming to Dover undefeated as well following a 61-32 win over Spoto and a 41-12 win over Lennard. For Plant City, the Raiders are still searching for their first win under new head coach Michael Clayton after a two extremely tough opponents to open the year, hosting Steinbrenner who find themselves in a similar situation as they currently sit at 0-2 following a 28-21 loss to Gaither and a 44-0 loss to Tampa Bay Tech.