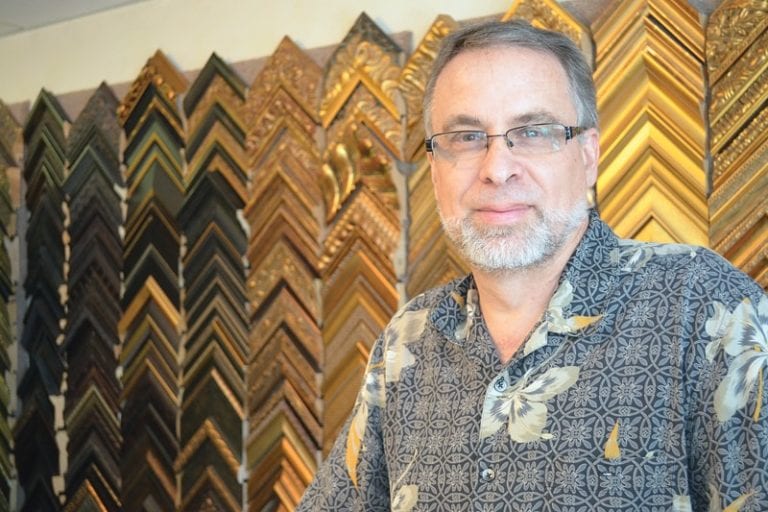 By Amber Jurgensen | Staff Writer
When a customer brought a Clyde Butcher photograph through the door of Walden Lake Art and Frame about a month ago, owner Michael Kidde was ecstatic. He was even more thrilled to know the customer was trying to sell it.
"It was a very unusual piece that I was happy to purchase," Kidde says.
Butcher is famous for taking black-and-white photographs of the Florida Everglades. But this particular photo of what looked like a Caribbean beach was in color. Kidde framed it, and now, it sits on display in the front window as a testimony to his skill.
Walden Art and Frame has been around for 20 years in the same shopping strip off South Alexander Street. Kidde assumed ownership of the longtime business in June.
Kidde has a history working as a licensed landscape artist. Several years ago, he started framing art out of his garage for his friends and family. He jumped at the opportunity to own his own framing business.
The framing process is a simple — but involved — one. First, the customer and Kidde will consult on the different color combinations available through mattes and frame samples. They also discuss different types of protection for the piece. After ordering the final supplies, Kidde cuts the glass, matte and backing. Then, he puts the frame together, pulling all the materials together to create a presentable hanging piece.
Kidde can frame anything from diplomas and certificates to photos and posters. He frames mostly fine art, but once in a while, a quirky request comes in. Recently, Kidde donated his framing services by framing a series of pro wrestling posters for a charity. The posters were to go to children.
"It's one of those things that makes me want to come to work," Kidde says. "I'm happy to give back to the community. It's a small gesture on my part, but I am happy to do it."
Kidde loves art and in the future wants to work with local artists and join some of the art guilds in the area. In the front room of Walden Lake Art and Frame, Kidde displays several fine art pieces that the previous owner painted with Kidde's frames polishing them off.
Kidde also is an artist himself and creates stained glass. He also builds furniture such as cabinets, benches, wine racks and tables.
BASICS
Walden Lake Art and Frame
ADDRESS: 1514 S. Alexander St., Suite 104
PHONE: (813) 752-7460
HOURS: 9 a.m. to 6 p.m. Monday through Friday; appointments available.Vzlomer vzlomer.com