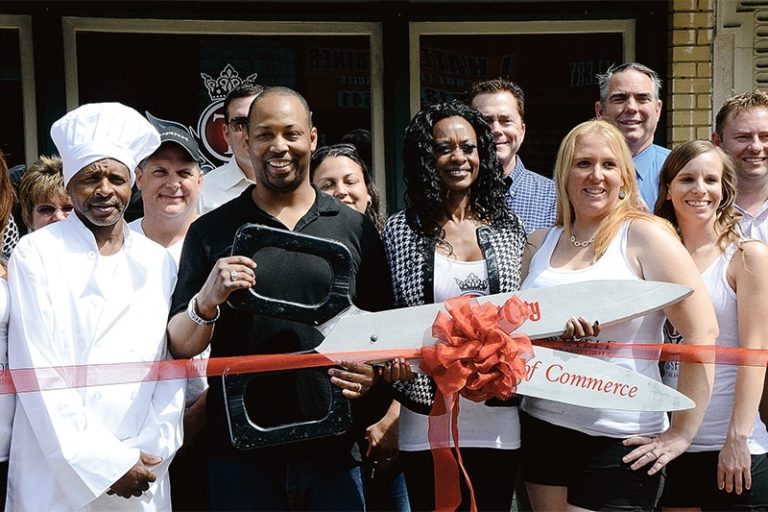 Hooters. Ker's WingHouse. Twin Peaks. For many people, the term "sports bar" is going to evoke one or more of these images.
The owners of the Winter Strawberry Capital of the World's newest restaurant, Top Shelf Sports Bar and Grill, want their bar to be included in that conversation.
Top Shelf was born from an idea that owner Lawrence Brown had had for 15 years, and he and his wife — co-owner Zee Brown — finally were able to turn the idea into a reality May 1, when they celebrated the opening of their Plant City establishment.  
"I just figured that, if you can open up a sports bar in Plant City and make it, you can do it anywhere," Lawrence says.
The Browns plan to be a big part of its day-to-day activities. Lawrence, an analyst for Publix, plans to move on from that venture to put all of his energy into Top Shelf. Zee, who has worked in insurance for some time, plans to stay in that field but also will be found working on the restaurant floor often.
"They say, in life … if you go 200% and, maybe, if you fall short, then you're only going to land at everyone else's 100%," Zee says. "We're just going to try our best."
The two have been together for 14 years and met while Lawrence was working on a finance degree at the University of South Florida. Zee graduated cum laude from University of Tampa, before completing grad school at University Miami — hence the Bulls and Hurricanes helmets that adorn one of the bar shelves. They knew that, together, they wanted to get to work and create something about which they can be proud.
"And, we can put these expensive degrees to work," Lawrence says.
"Top Shelf" was the first name that came to mind when the Browns started to seriously consider starting the business, and it proved to be the one that stuck.
"It was just like a wedding dress or the perfect pair of shoes," Zee says. "Nothing, to me, conjured up what we wanted to do except for that name."
Once they had the name, they started working on the logo and branding. When the Browns settled on a look that they liked last year, they incorporated Top Shelf.
Right away, the Browns have found themselves in a spot with a few advantages. Many restaurants in Historic Downtown Plant City are closed on Mondays, but Top Shelf is not one of them. It's also one of only two restaurants in the downtown area that serves burgers — and the only one with six on the menu. They also have received help in the kitchen from Davy Miles, known for his work with the Smokin' in the Boys Room barbecue team.
The Browns say they would love to see the brand go national one day, but for now, they will work to find success in Plant City.
"We just want to serve good food and have good service," Lawrence says.
Contact Justin Kline at jkline@plantcityobserver.com. 
BASICS
Top Shelf Sports Bar and Grill
ADDRESS: 110 E. Reynolds St., Suite 100-B
HOURS: 11 a.m. to 10 p.m. Mondays through Thursdays; 11 a.m. to 1 a.m. Fridays and Saturdays; and 11 a.m. to 10 p.m. Sundays
ON THE MENU: Burgers, chicken wings, nachos, steak, salads, seafood, sandwiches and 18 different appetizers. Full-service liquor bar and domestic beers on draft.
WEBSITE: topshelfsportsbarandgrill.com
PHONE: (813) 704-6994